 England all but assured they would not be defeated in Rajkot but will have to defy the odds with ten wickets on the final day if they are to earn a surprise victory.
Ashwin leads the Indian defence whilst Rashid takes four wickets
India resumed on day four with 319-4, 176 runs behind the tourists' mammoth first innings total as the match continued to balance on a knife's edge. England assumed control in the opening overs though as Ajinkya Rahane and Virat Kohli fell quickly for 13 and 40 respectively to the spin duo of Zafar Ansari and Adil Rashid. The latter dismissed hit-wicket.
With their hosts toiling at 361-6, England would have hoped to pounce but a defiant display by Ravi Ashwin and Wriddhiman Saha added 64 for the seventh wicket partnership. Ashwin in particular was looking comfortable, biding his time and playing an array of shots off the back foot.
Eventually Moeen Ali joined his spin partners on the wicket haul, dismissing Saha caught behind for a gutsy 35. That wicket sparked a flurry of dismissals at regular intervals, with Rashid picking up the duo of Ravi Jadeja and Umesh Yadav for just an extra 34 runs. The spinner was causing a wealth of problems with a mixture of loop and balance, allowing him to return to the pavillion with four wickets to his name.
The issue for England was that Ashwin was still toiling away and he put on an extra 29 with Mohammed Shami as India made 488 before Moeen Ali secured his second wicket of the innings. With a lead of 49 it was advantage England, though time was beginning to tick away.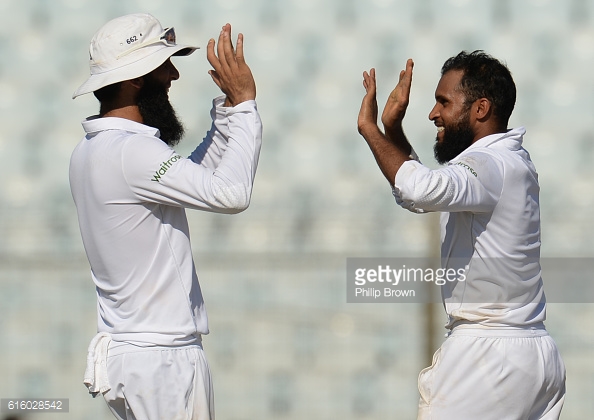 Cook and Hameed dig in
The key now for the tourists was to build upon that lead without losing many wickets and reassess how aggresive they would be overnight. Captain Alastair Cook and opening partner Haseeb Hameed did just that as they remained at the crease for the rest of the evening, building an impressive unbeaten partnership of 114.
19-year old Hameed made 62, outplaying Cook who finished the day on 46. Hameed's maiden Test half century on his debut ensured he became the third youngest England player to reach that milestone. An extra 38 runs will allow the youngster born in Gujarat to become the youngest England player to reach three figures in an innings.
The mature display in a tense situation earned Hameed plaudits from across the world of cricket. Compared to Geoffrey Boycott in his style of play, the man himself suggested: "Hameed has done everything, from being able to defend sensibly and then when he has looked to attack he has stroked with precision and timing. He looks like a proper player."
The question now for captain Cook is whether the tourists settle for a draw or look to execute a victory on a pitch that is beginning to show more turn. Can England add enough runs for their trio of spinners to defend and pick up ten wickets? Only time will tell.