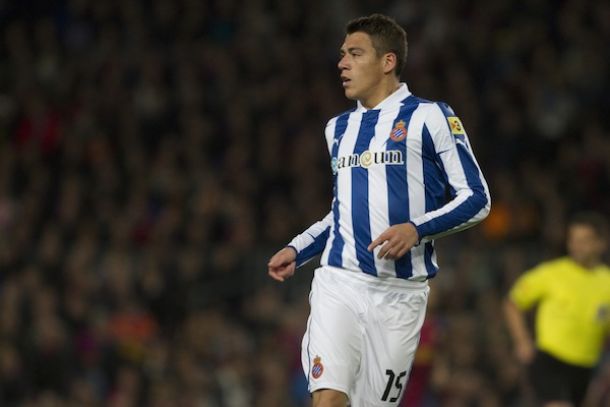 After it was confirmed that Mathieu Debuchy had suffered a dislocated shoulder during the opening stages of the 3-0 win over Stoke, Arsene Wenger admitted defeat, confirming that he would be looking for defensive reinforcements throughout the January transfer window.
Since then, Arsenal scout Brian McDermott was spotted at the Espanyol - Valencia Copa Del Rey tie on Tuesday night. He was reportedly looking at Espanyol's centre-back Hector Moreno. The 26-year-old put in a solid defensive performance, keeping players such as Alvaro Negredo at bay as the Catalonian club secured a 2-0 win, progressing to the quarter-finals of the competition.
Moreno has been ever-present in the Mexico national team, picking up 57 caps so far. He played a key role in their excellent World Cup campaign, but only returned to fitness in December after suffering a broken leg.
It was reported that Espanyol were demanding as much as €10 million for the defender in the summer, but the club would accept an offer of as little as €5 million for the left sided centre-back. Somewhat of a bargain compared to the €40 million fees being reported for defenders such as Mats Hummels.
The centre-back has many at tributes that would suit the Premier League. Unlike Per Mertesacker, Hector Moreno is blessed with a fair amount of pace.
Although he does have a number of similar qualities with the German. His pace coupled with his ability to read the game, means that Moreno can aptly play in a high line, something which Arsenal play a lot as they like to attempt to catch their opponents offside.
Furthermore the Mexican has the ability to dominate players in the air, despite being only 6ft tall, he possesses an impressive vertical jump height. This would come in particularly handy when coming up against physical teams such as West Ham and Stoke. Moreno can also make recovery challenges similar to that of Laurent Koscielny.
As it seems, Hector Moreno would be a perfect fit for the Premier League, but his fitness concerns will ultimately cast doubt on any move going through.