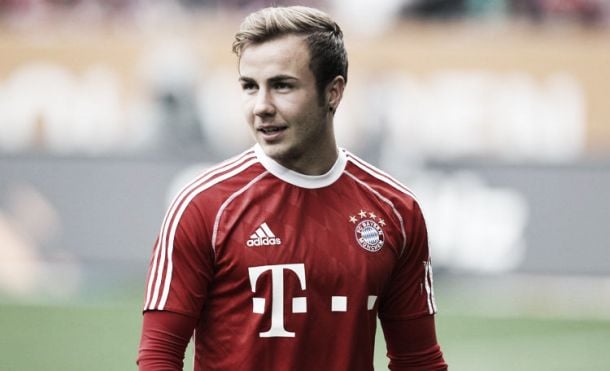 Following last week's revelation that Mario Götze is unsettled at the Allianz Arena, it appears that Arsenal are among the clubs on high alert. But where would the German World Cup winner fit into Arsenal's squad?
Gotze's agent Volker Struth has been outspoken about his representative's situation,
Struth told Bild am Sonntag: "Of course I would have liked if Mario had felt more support in one or two situations.
"I am fully convinced that when Mario feels this support, it is easier for him to show his incredible potential.
"Then he is one of the best players in the world."
Mario Götze's Bayern predicament
On April 23rd 2013 Götze became the most expensive German player in football history when he made the move from Borussia Dortmund to bitter rivals Bayern Munich for €37 million which was later broken when Mesut Özil moved to Arsenal from Real Madrid, despite the price tag he has struggled to hold down a first team place for coach Pep Guardiola's Bundesliga champions, making most of his appearances coming off the bench.
Götze, who is still young at the age of 23, still has a lot to learn but if his agent is to be believed he could well be ready to move on providing a suitable bid is tabled for his services.
The German attacker was a target for Arsenal back in 2011 where he reportedly came "tantalisingly close" to moving to the Emirates, but at the time he was holding out for Barcelona so a move never quite materialised.
Do Arsenal need Götze?
Arsenal are currently at the stage where he may not be a priority, as many fans are adamant that what is needed is some more defensive acquisitions. However, the former Dortmund forward is the kind of attacker that Arsene Wenger admires and has always been interested in.
Götze can operate anywhere in the final third which includes through the middle as a striker, this worked incredibly well for Germany in the 2014 World Cup where he grabbed with winner in extra time, and denied Lionel Messi and his Argentina side a long-awaited triumph.
Arsenal are in need of a top striker and while the German's goalscoring record is not necessarily emphatic his signing would make another statement of intent following the signing of Mesut Özil and Alexis Sanchez in the previous two summer transfer windows.
Where would Götze fit in to the starting XI?
At the tail end of last season Theo Walcott returned with a vengeance, completely destroying West Brom on the final day of the Premier League season and opening the scoring for Arsenal in their FA Cup final victory eventually winning 4-0.
Olivier Giroud would be the likely man to make way if indeed Wenger opts to give Walcott his wish and play him in the central role, this would free up space on the right for Götze to play in his preferred wide role.
Of course any deal is still pure speculation and a betting man would wager that the player remains at the Allianz Arena next season, it would take a substantial bid to capture Götze but it may well be worth testing their resolve.