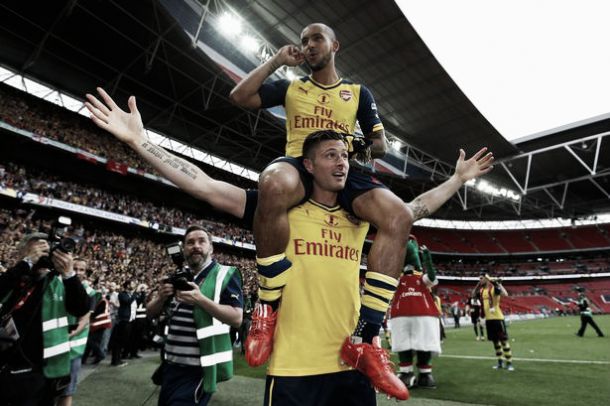 After a disappointing defeat to Dinamo Zagreb, which saw Olivier Giroud ​being sent off in the first half and Theo Walcott​ scoring nothing more than a consolation goal, ​Arséne Wenger ​will need to have a long and hard think about who he decides to start in the centre forward role against a struggling Chelsea. Wenger's only options are ​Theo Walcott ​and ​Olivier Giroud ​as Danny Welbeck is set for a long spell on the sidelines.
Goalscoring form
Both Olivier Giroud​ and Theo Walcott​ have scored two goals in six games, which is nothing remarkable in generally what has been a slow start for Arsenal​. With that in mind, both players can be accused of squandering a number of chances in-front of goal.
Despite the fact that Chelsea have been playing poorly in recent weeks, the Gunners will have to be at their attacking best to counter José Mourinho's side - who ultimately have a point to prove as they entertain their London rivals on Saturday.
​​Goal-scoring threat
​In terms of who would be more of a goal-scoring threat, my personal pick would be Olivier Giroud​. ​​So far Theo Walcott​ has yet to convince many supporters that he can play against top sides with his back towards goal. The centre-back pairing of ​John Terry and Gary Cahill​ could turn out to be too strong for Theo Walcott​ and his pace could henceforth be more effective on either wing as Chelsea's ​wing-backs have had a torrid start to the season. Generally, Arsenal look a lot more dangerous when Walcott ​is playing on the right-hand side, whilst ​Giroud ​is operating down the middle, giving the wingers an option when crossing.
Mental state
As of now, logically ​Theo Walcott​ would be the player who is mentally stronger as he bagged himself a goal in midweek, which will boost his confidence. On the other hand, ​​Olivier Giroud​ - who received a red card midweek, leading to even more criticism being hurled his way - would be wondering what he's doing wrong right now in an Arsenal shirt but could also be very determined to make his presence felt to the Chelsea backline.
​Drop Ramsey or Cazorla and start both
​Throughout last season, as well as the start to this campaign, ​Arséne Wenger ​has insisted on utilising Aaron Ramsey​ on the right-hand side, which has worked in a few games but however removes the width within their play - due to the Welshman always drifting inwards. ​
With Walcott fit and naturally being a right winger himself, perhaps it's about time Wenger​ picked either Santi Cazorla or Aaron Ramsey​ to be dropped to the substitutes' bench and started both ​Olivier Giroud and ​Theo Walcott​, with Alexis Sánchez being deployed ​on the left hand-side, enabling Arsenal​ to play against The Blues ​with their strongest attacking trio. Last year, the trio of Ramsey, Cazorla and Francis Coquelin​ seemed to work beautifully in the second half of the season, but this season it's yet to click. With ​Aaron Ramsey​ being known playing deeper in the midfield, making late runs and getting on the end of things, Wenger ​will have yet another selection problem on his hands ahead of kick-off.