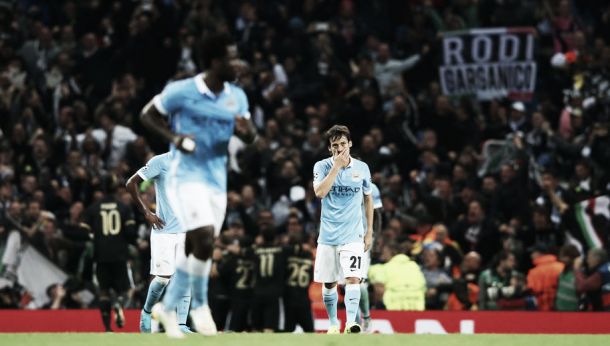 Manchester City got their Champions League campaign off to another typically frustrating start in midweek as they threw away the lead to lose 2-1 at home to last year's runners-up Juventus. Ahead of Saturday evening's clash at with West Ham in the Premier League, what lessons can be learned from their defeat at the hands of the Italian champions?
City's Tempo
One thing that was obvious throughout the game was the speed at which City were playing. Manuel Pellegrini is renowned for his high-tempo attacking style of football, and it was clear that Juventus set up to slow the game down as much as possible. They set up with a high backline in which Giorgio Chiellini played Wilfried Bony off the park.
Every long ball towards the Ivory Coast forward was comfortably won by Chiellini in the air; the constant pressing on Bony was too much. This ended up nullifying him for the full 90 minutes.
There were times when City were comfortable keeping the ball in possession on the halfway line but never once tried to find the decisive ball through Juventus' strong back line. This lead to plenty of Juventus counter-attacks after they eventually crowded out all of City's attacks. Juan Cuadrado on the wing was a real problem all night, drawing fouls from Aleksandar Kolarov and Fernandinho on countless occasions.
Juventus' patience
Some would describe it as a typical Italian performance, one that we are used to seeing. But in truth, it was much more than that. The patience Juventus showed was excellent throughout; they came to the Etihad following a poor run of games, as well as hearing the bad news that one of their key midfielders, Claudio Marchisio was out for the game.
After hearing this news many fans counted them out of the game, however, Massimiliano Allegri set his team up perfectly. Chiellini and Paul Pogba were the stand-out players in the team, helping to lead them to victory. They wore City down, and overtime City began to get frustrated and wasteful in possession, allowing plenty of counter-attacks to happen.
Pressing
City's lack of pressing when they were off the ball was quite worrying as a spectator, especially when City went 2-1 down. They lacked urgency for the vast majority of the game, and seemed content to come away with a draw. If Pellegrini's men really want to succeed in Europe they need to be willing to put the effort in, no matter what the scoreline is, or the team they are facing.
Although City are known as a powerhouse, they have never really excelled in Europe, and if they want to attract the biggest names in football they will have to start booking their ideas up and make a run in Europe. However, it's not over for City at this point. This was only their first game in the group stages, and looking at the other teams in their group you would perhaps fancy City to come away with the win against both other teams, Borussia Mönchengladbach and Sevilla.
City's lack of a backup striker
This game was screaming out for change up front for City, whether that would have been Raheem Sterling starting up front or even taking a risk on playing an unfit Sergio Agüero.
The exclusion of Kelechi Iheanacho from the Champions League squad is looking like a mistake, as though he is an inexperienced young player, he has shown signs in pre-season against top sides like Real Madrid that he is more than up to the task of playing against the big boys.
His goal at the weekend against Crystal Palace is one that has created a lot of hype around the young Nigerian and City fans should try not to get carried away with themselves. However, yesterday's game was begging for something different up top for the Citizens.
Paul Pogba
The 22-year-old French international, who had been linked with a summer move to City all transfer window, dictated the game from the outset. Off the ball he was organising his team in the absence of a number of last season's veterans in Marchisio, Arturo Vidal and Andrea Pirlo and on the ball he was impeccable, his ball for the first goal summing up his whole performance.
He had Yaya Touré chasing shadows all game, his long legs making what he does look so effortless and easy, leaving Touré stranded in the distance. Don't be surprised to hear more and more rumours of City heating up their interest in the Frenchman next summer.