 Manchester City will be pleased with how their Champions League campaign has begun, with three wins out of five, qualification to the next round secure, all that is left is guranteeing a top of the group finish, hopefully meaning a kinder draw in the round of sixteen.
However, every season City always face losing someone for a long period of time, whether it be Vincent Kompany, Sergio Aguero or any of the usual suspects. This time, it fell to Samir Nasri - who hasn't had a lot of luck recently as injuries go, having been battling a string of muscle injuries as of recent.
As a result the Frenchman successfully underwent surgery in an attempt to rectify this, the recovery period is set to keep him out till April 2016 so he will miss the vast majority of the 15/16 campaign. This means there is a gap to plug in the Champions League squad now, but who?
Raft of options to replace the cultured midfielder
The first thought would be to bring in Kelechi Iheanacho, and why not? The ninteen year old has made a promising making ten appearances across all competitons bagging two goals and two assists. However there's a problem, as Iheanacho wasn't included in the Champions League squad initially, he can't be then inducted midway through the tournament even if to replace a critically injured player. Many will wonder why the young Nigerian was left out in the first place, a mistake City may rue, with Bony's injury and poor form and Aguero only just returning from a month long injury himself.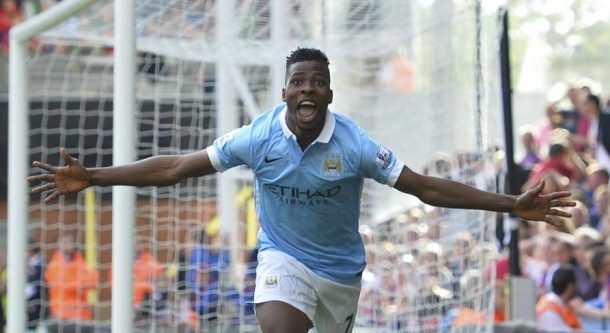 Iheanacho netted a late winner against Crystal Palace, but won't be seen in Europe (photo: getty)
Talented trio vying for spot?
The only remaining option then would be to pluck somebody from the Youth League squad, and a richly talented one it is too. With stand out talents like Manu Garcia, Bersant Celina and Kean Bryan all key members of the youth all have something to bring to the table in light of Nasri's absence.
U-21 Norwegian international Bersant Celina is a player who could make the step up to the first team, netting five times and assisting twice in all competitions. A set piece specialist, Celina is at his most deadliest when standing over a free kick, boasting superb accuracy would make him a useful addition to the squad and a free kick specialist is something City's squad lacks with Yaya Toure inconsistent and Aleksandar Kolarov battling injury and faith in Celina was proven when he was named on the bench for City's away fixture at Juventus although not featuring perhaps a debut is closer than we may think?
Or perhaps some solidity is needed in the midfield, something U-20 England international Kean Bryan may offer. The tough tackling youngster captained the EDS to its first International Premier League title. With the injuries of late that Fabian Delph has been troubled with, Bryan could emmulate the role effectively. The Champions League is a huge step up for any young player given the intensity and quality og opposition, but it is a challenge that any upcoming player would relish, especially when a solid performance may secure a spot in the domestic tournaments.
Manu Garcia, considered to be one Manchester City's and Spain's brightest prospects, is a player many City fans have got behind recently following his superb form of late for the EDS and scoring his first senior goal in the Capital One Cup during City's 5-1 destruction of Crystal Palace. With the all the hall marks of David Silva, Garcia has superb positional awareness, always in the danger areas, a talented midfielder who also shines just behind the striker, the Spaniard has excellent vision and passing range, loves to dictate play and seeks to do damage between the lines, a worthy addition given the injury prone nature of City's attacking contingent.
Samir Nasri's injury, whilst dire, has a positive side to it, the emission of the Frenchman will see Manuel Pellegrini having to shuffle the deck and perhaps give some of our best prospects make a cameo in what is shaping out to be City's best Champions League campaign of the last five years.