Atletico Madrid and France forward Antoine Griezmann has assured Manchester United fans that Paul Pogba's return will be special as he will provide the spectacular.
Pogba can be special for United, says Greizmann
Pogba completed his move back home earlier this month from Juventus in a world-record transfer and has already shown what he can do during his debut versus Southampton on Friday.
Griezmann, who knows the midfielder well during their time spent together with the French national team, has said that Pogba is in the perfect place to keep achieving.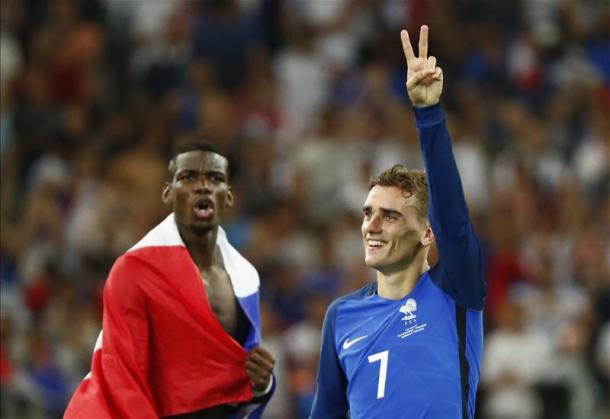 In an interview with the Guardian, Griezmann says that the "supporters in England won't be disappointed" with what Pogba has to offer as he is that good and he will only improve the team. The attacker continued on to say that "they can expect the spectacular from Paul" as he has the confidence to show his ability on the pitch which he has plenty off.
Griezmann says that Pogba "deserves" his big move to United saying that he "works hard" and this will only make him an "important player" for the team going forward. He went on to say that Pogba "loves" the Premier League and that "United is the perfect club for him" and it is the right time for him because with "Mourinho they are making something new" which excites a lot of players who might join the club.
Could Griezman be hinting about joining his friend at United in the future?
It's clear so far that Pogba is exactly the type of player Griezmann says he is as he impressed during his debut at the weekend. Pogba can be the player that drives the team forward and attract a number of different players to the club.
Griezmann could be one that joins in the future as he is a player that many clubs would love to sign at some point in the next few years and it could be that he wants to join Pogba at United to be reunited with his friend.