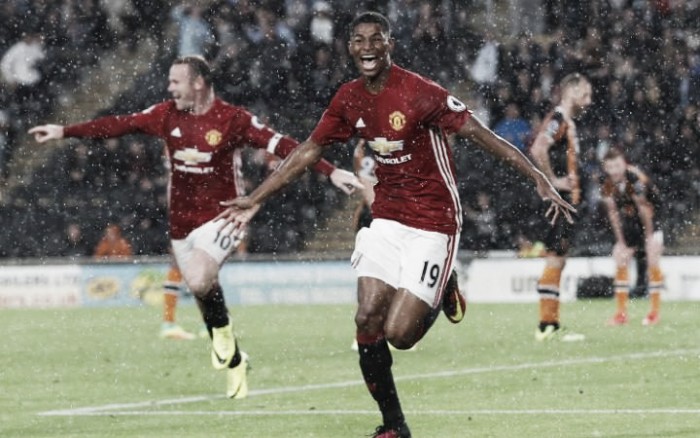 Hull City fought a heroic defensive battle against a star-studded Manchester United team who kept asking questions for the entirety of the game before finally getting their goal in injury-time when captain Wayne Rooney played Marcus Rashford in who bundled the ball home.
It was a one-sided game in terms of opportunities, with Hull having a rare number of chances with Tom Huddlestone, David Meyler, Abel Hernandez going closest, but Mike Phelan's side never really looked like converting.
The substitutes, Henrikh Mkhitaryan and Rashford made a huge difference to the game, as the attack looked sharper and crisper and the link-up play was much better and as it turned out, Rashford's introduction made all the difference.
Front-two starting to form solid partnership
In the first-half, Hull looked to play on the counter whenever they got the chance to do so, with Hernandez and Adama Diomande looking to break and challenge Daley Blind and Eric Bailly. Unfortunately for the Yorkshire side, they failed to make any real sort of chances for themselves and the other chances were speculative long range efforts with Meyler going closest.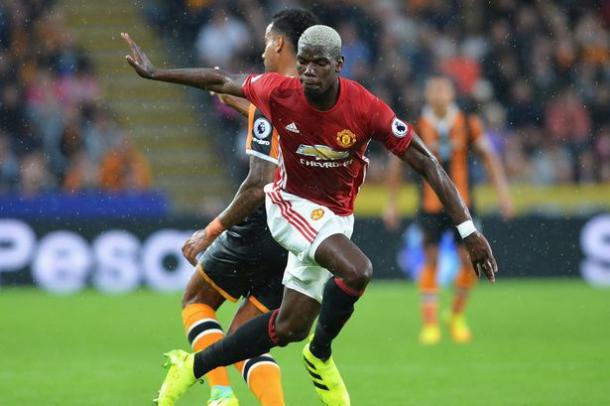 Paul Pogba looked a man on a mission to get his first goal for the club and unfortunately failed to do so. The Frenchman often found himself outnumbered in midfield and he didn't get the kind of freedom he likes to enjoy to make striding runs from midfield into attack and as the game wore on, his performance got better and better.
The partnership of Zlatan Ibrahimovic and Wayne Rooney looks like it's gaining fluidity as both players are finding each other with more ease and creating chances for one other.
Let's take a look at how the players performed:
Red Devils perform well at the KCOM Stadium
David De Gea: Rarely at fault, did well whenever called upon and had one heartstopping moment with Huddlestone's deflected shot but other than that, did not have much to deal with. 8/10
Antonio Valencia: Did his usual work down the right hand side and looked caught out on one or two occasions with the pace of Diomande and Robertson, but recovered well and was always the preferred option out wide until Mkhitaryan and Rashford came on. 8/10
Daley Blind: Was his usual calm and collected self and was not fazed at all by the pace of Hernandez and Diomande and intercepted all passses that came his way and made the right tackles. Typical day at the office for him. 9/10
Eric Bailly: Played fearlessly and was not afraid to drift into midfield to help United with build up from the back, used his pace well to counter the threat of the pace that Hull presented on rare occasions. 9/10
Luke Shaw: He was beaten for pace on a couple of occasions by Ahmed Elmohamady and the Hull midfield's compact nature didn't make things easy for the Englishman but as Hull dropped deeper into their own half, he got more space and had a better game after the break. 7/10
Marouane Fellaini: The Big Belgian got himself booked in the first half and was involved in a few unnecessary challenges, but like other players, he too improved in the second half and had a decent game. 7/10
Paul Pogba: The Frenchman wanted it to be the night he got his debut goal and tried really hard to make it happen, but then again, the Hull midfield limited Pogba's options. They never really allowed him play the game the way that he wanted to, but he got more used to the physical battles of the game and had a good performance in the second half. 8/10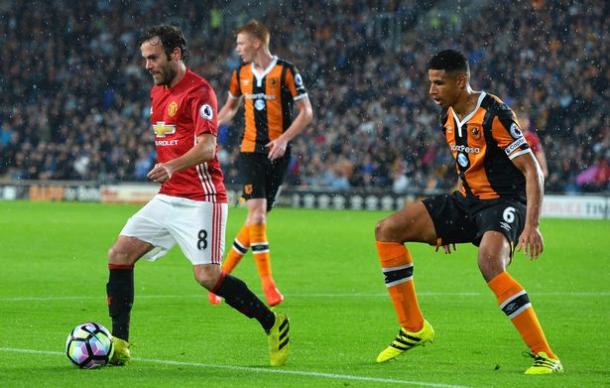 Juan Mata: He had a sluggish start to the game but got better as he found more spaces in between the Hull defense and midfield and drifted into a more central position. Like he has done in recent games, his work rate has imporved significantly and his efforts to get back and defend were commendable. Replaced by Rashford to add more pace to the attack as United searched for a winner. 7/10
Wayne Rooney: Exchanged positions well with Ibrahimovic and linked up well with him, slowed the game down with his lack of pace, but took up some good positions throughout the game and did well to keep going till the end and assist Rashford well for the winner. 8/10.
Zlatan Ibrahimovic: The Swede wasn't on the scoresheet today, but showcased his skill and vision in the game, battled well in the physical tussles with the Hull defense and would've gotten on the scoresheet if his brilliant backheel creeped in at the near post or if he had gotten a touch on Rashford's pin point cross into the box. 7/10.
Substitutes
Marcus Rashford: Came off the bench as an impact player and did just what was required of him and scored the goal in superb fashion as he tapped in an accurate cross from Rooney to score the winner,always looked to get at defenders and take players on one-on-one. 9/10
Henrikh Mkhitaryan: Got some more game time this time around and made good use of it as he showed good speed and technical skill but looked hasty in getting his first goal for United. 7/10
Chris Smalling: Came on for Rooney as Mourinho looked to waste time following Rashford's winner. N/A.
Jose Mourinho cites stability for lack of changes
Jose went with the same lineup he's been using for the past two games and cited "stability" as one of the reasons for making no changes to the team while admitting that "he felt bad" about leaving out players for the matchday squad, who also had worked really hard to be in the team.
It was a good performance from United, and they go into the international break with nine points from nine which is as good as could be hoped from the first three fixtures under a new manager.