Six games played, six games won. 18 goals scored in that time, and just five conceded. Manchester City are quite the test for Tottenham Hotspur to come up against on Sunday.
Hosting the table toppers at White Hart Lane is going to be a tremendously difficult task, but there is slight hope, albeit whispered, around North London that Mauricio Pochettino's side could become the first team to beat Pep Guardiola's team this season. But how do they go about doing it?
Spurs must continue their current form
There's a reason for people thinking that Spurs can win on Sunday, and a large part of it is their current form, as they join City in being the only two teams yet to lose a league game this season.
After drawing two of their first three games, Tottenham have kicked into life domestically, flying to second in the league, although that was reduced to third as Liverpool took advantage of having the early Saturday kick-off.
Since the first three games, Spurs have won three on the bounce, scoring seven and conceding one in that time, and they'll hope to make it four in a row against City.
Strike the right balance without Kane
One loss for Pochettino on Sunday will be Harry Kane, who is still sidelined with an injury. Kane netted twice against City last season as Spurs did the double over them, but they'll have to find a way to win without him on Sunday.
There is debate over how exactly they do that, with Pochettino seemingly having a choice to make regarding whether to use Heung-Min Son or Vincent Janssen up front.
Janssen hasn't quite lit things up since signing in the summer, and is yet to register a Premier League goal, but does pose a physical threat that Son can't claim to have. However, the South Korean is in wonderful form, having scored two away at Middlesbrough last weekend, before bagging the winner against CSKA Moscow in midweek. Crucially, Son scored that winner after being moved up front in place of Janssen, and there's a possibility that such a performance might sway Pochettino's thinking.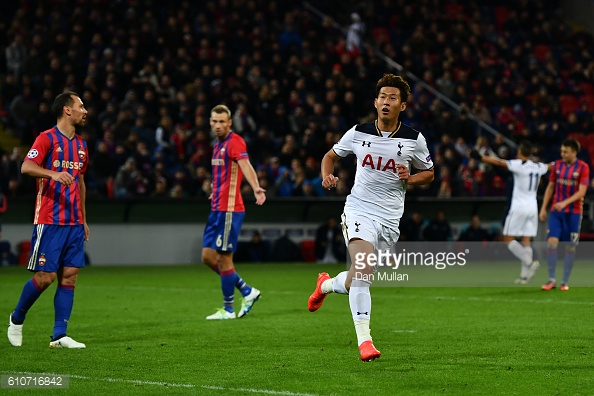 Shackle City's superb attack, with Spurs' superb defence
City are the league's top scorers, but Spurs have got the best defensive record so far, having only conceded three goals, and it's crucial that they continue in this vain to beat the Citizens.
It's a relief that Kevin de Bruyne is sidelined, but even with him out, the Tottenham backline will still have the likes of Sergio Aguero, David Silva, Nolito and an extremely in-form Raheem Sterling running at them.
City have won lots of penalties this season already thanks to their superb movement in the box, and Sunday's home side can't afford to give one away through slack defending.
Believe, and put away chances
Although City are a different beast under Guardiola, admittedly, they were in this sort of form last season when Tottenham played host to them, and everyone at White Hart Lane remembers the commanding performance that led to a 4-1 victory.
With this in mind, it's the sort of clinical finishing that was shown on that ocassion that needs to come around again to win this time around.
There may be a psychological advantage for the Lilywhites, having also won at the Etihad last season, with the 2-1 away win being something of a watershed moment in terms of their season going from a top four battle to a title challenge. If there is, it must be used to full advantage.