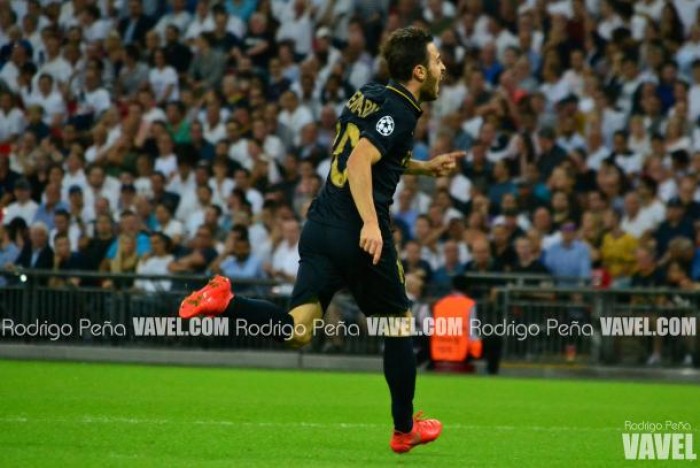 Unfortunately, that's all we've got time for tonight. I've been Oliver Emmerson, taking you through AS Monaco's 2-1 win over Tottenham Hotspur in the Champions League.
Pochettino's side again disappointing, and their final game against CSKA Moscow will be to decide who goes on to play in the Europa League.
All over, Tottenham Hotspur out of the Champions League with a game to spare.
Full-time: AS Monaco 2-1 Tottenham Hotspur
90+4: Straight at Mendy, headed out for a corner. Into the last minute of stoppage time. Corner cleared, that will be that.
90+3: Harry Kane brought down on the edge of the area, last chance for Spurs to swing one in from the side. It's now or never...
90: Janssen ambitous from range, blasting one way over from distance. That just about sums up Spurs' European campaign. Into four minutes of added time.
89: Raggi on for Falcao. Spurs' dream is slowly dying.
86: Subasic can't catch a powerful effort by Kane in the area, scrambled behind for a corner, from which Alli slices wide at the back post.
81: Monaco have done well to stifle things in the last few minutes as Spurs begin to realise how desperately they need a goal. Lemar off, Moutinho on.
74: Hugo Lloris again! Falcao turns Eric Dier too easily in the area and gets a decent shot away, but it's a brilliant save from Lloris to beat the ball away. It'd be four or five if not for Lloris. Winks replaced by Sissoko.
71: Brilliant ball from Janssen to pick out Eriksen on the left hand side of the area, he drops his shoulder and aims for goal, deflected wide off Glik's hip.
68: What a save! That's one of the saves of the season from Hugo Lloris. Spurs weak from a free-kick swung in, Glik peeling off at the back post to volley at goal from five yards, Lloris somehow reacting so quickly to push the ball over. Simply majestic.
65: Two changes for Tottenham, Eriksen and Janssen on for Dembele and Son. Not sure how that's going to solve their problem of a lack of width, but there you go.
63: Bernardo Silva allowed too much room to dip onto his favoured left-foot as Monaco counter, forcing another good save from Hugo Lloris.
59: Chance missed for Spurs as Alli can't connect to an inviting Trippier cross. Wanyama pushes the rebound into Son, but the South Korean is flagged offside as he shoots straight at Subasic.
53: It's shocking from Tottenham! Kane's penalty goes in depsite Subasic getting a touch on it, but just 38 seconds after kick-off, Monaco are back ahead as Lemar drills the ball past Lloris following Sidibe's cross. Absolutely horrific from Pochettino's side, shooting themselves in the foot once more.
GOAL! Monaco back ahead immediately!
GOAL! Harry Kane scores from the spot!
51: Glik hauls Dele Alli down in the area, gets a yellow for his troubles. Kane with a chance to equalise...
PENALTY TO TOTTENHAM!
48: It's far too easy for Mendy to get forward down the left, crossing for Sidibe who emerges in the area to thump a free header past Hugo Lloris. Tottenham heading out of the Champions League, as things stand.
GOAL! Sidibe puts Monaco ahead!
45: The referee blows the whistle for the second half, and we're off again.
You have to wonder if Pochettino might be tempted to take Dembele off fairly soon. He is crucial to Spurs' play, but is already on a yellow and has looked a little leggy. Does the Argentine trust him to continue without getting sent off?
The scores from the rest of Europe make intriguing reading - Borussia Dortmund 5-2 Legia Warsaw, Sporting Lisbon 0-1 Real Madrid, Copenhagen 0-0 FC Porto, Leicester City 2-0 Club Brugge, Dinamo Zagreb 0-0 Lyon, Sevilla 1-1 Juventus.
That's it for the first half, a lively one despite the lack of goals, with Spurs missing a glorious opportunity through Son before Hugo Lloris brilliantly kept out Radamel Falcao's penalty. Chances have been missed since then, and you'd expect that an opening goal isn't too far away.
Half-time: AS Monaco 0-0 Tottenham Hotspur
43: Lemar shoots from the edge of the area, a deflection taking some pace off the ball and almost allowing Falcao in, but Lloris springs back into life to claim the ball.
39: Big chance for Kane to get his first ever Champions League goal as a Danny Rose cross finds its way to his feet, but the striker hits from left-foot onto right, spurning the opportunity.
38: Regarding those goals around Europe. Borussia Dortmund - Legia Warsaw has been something of a highlight, it's 5-2 to the hosts in that one! Elsewhere, Real Madrid, Sevilla and Leicester City all lead. Full update to follow at half-time in this one.
35: As goals reign in around Europe (I'll update you briefly), this is actually a fairly exciting stalemate so far. Son's poor pass means that Spurs fail to capitalise on space at one end, before the lively Germain strikes just wide of Lloris' post at the other.
29: Slight penalty shout for Spurs as Son goes down under pressure in the area, before Kane has Subasic scrambling to stop the striker getting on the end of a cross. Dealt with, eventually.
26: Germain gets some space in the area momentarily and looks to cross, but Wimmer is across quickly to block. Lemar then given the chance to shoot from distance, the ball gobbled up by Lloris.
23: Quick passing from Spurs in the midfield area presents Kane with an opportunity to turn and shoot from the edge of the area, but he fires wide. The flag was raised anyway, so it wouldn't have counted.
21: Dembele picks up an early booking for bringing down Bernardo Silva as the Portugese charged towards goal. That was a debatable one, for me. Still, he's now got to be careful.
18: Improved stuff from Spurs as Dembele manages to get on the ball in the midfield area, playing a quick pass to Alli, who is subsequently brought down. Son whips a ball in, but it's claimed by the 'keeper.
15: Monaco having too much of things for Mauricio Pochettino's liking at the moment, Germain peeling off at the back post to get on the end of a cross, but he can't get enough power on the ball to hit the target.
14: And again Lloris saves Spurs! Mendy down the left for Monaco, lashing an effort at goal which is at first parried by the 'keeper, who is then on hand to claim Germain's rebound.
11: Hugo Lloris on hand again to save Tottenham in Europe, getting down brilliantly to his right to save Falcao's penalty and keep Spurs level.
SAVED!
10: Lazy swing of the leg from Dier, brings down Fabinho in the area. Falcao to take...
Penalty to Monaco!
6: What a chance! Son gets in-behind the defence and is clean through on goal, but doesn't shooot, attempting to go round Subasic, and he's forced too wide before an eventual cross goes to nobody. Brilliant early chance wasted for Tottenham.
0: Kick-off, underway!
The two teams emerge from the tunnel and onto the pitch. It's almost time!
All over in Russia, CSKA Moscow 1-1 Bayer Leverkusen. That means that Spurs only need a draw to stay in the competition tonight, although a win would help hugely.
AS Monaco XI: Subasic, Mendy, Jemerson, Glik, Sidibe, Lemar, Bakayoko, Fabinho, Silva, Germain, Falcao.
Jan Vertonghen only on the bench for Spurs, as is Kyle Walker and Christian Eriksen. Pochettino backs his youngsters with starts for Trippier, Wimmer, Alli and Winks. Monaco team news to come soon!
Tottenham Hotspur XI: Lloris; Trippier, Dier, Wimmer, Rose; Wanyama, Dembele, Winks, Son, Alli; Kane.
Some team news is in! Elsewhere in the group, Bayer Leverkusen have been leading Moscow for most of the evening, but a CSKA penalty has just made it 1-1! That means that, as it stands, Spurs don't need to win this evening to stay in the competition.
Spurs' injury record has certainly played a part to their form, and it's set to continue troubling them tonight, with both Toby Alderweireld and Erik Lamela set to be sidelined for the game. Dele Alli could return to the starting 11 after a knee problem meant he was only on the bench against West Ham, whilst it'll be interesting to see if youngster Harry Winks retains his role in the side.
Tottenham's form is nothing compared to Monaco's, with the North London club having only just overcome a seven game winless streak. Pochettino couldn't buy a win before the weekend, where it looked like they would lose again, 2-1 down at home to West Ham in the last few minutes. However, Harry Kane struck twice in the dying minutes to secure a much needed 3-2 win.
The Ligue 1's form coming into this clash is strong enough to make Tottenham fear them tonight, with Monaco having won four of their past five games, scoring 19 goals in that time-frame. They've managed six goals in a game twice in that period, so Spurs' defence certainly have something to worry them about.
For Monaco, it's all gone like clockwork so far as they've won two and drawn two of their four matches. They need a draw minimum to secure qualification tonight, whilst a win would see them win the group with a game to spare if Leverkusen don't beat CSKA.
Tottenham's Champions League away form so far this campaign will give them hope going into this one, as they've taken four points from six so far outside England, beating Moscow in Russia and drawing to Bayer in Germany. It's their form back in Brittania, at Wembley, that's troubled them, with defeats to Leverkusen and Monaco souring things for Mauricio Pochettino's men.
Interestingly, the CSKA-Bayer game takes place earlier on this evening, meaning that by the time Tottenham kick-off, they'll know what they have to do. If Bayer lose, Spurs can actually go up into second by winning, but a draw would still leave them into contention going into the final matchday.
This group, Group E is extremely tight with two games per side left in it. Tottenham are in a rather precarious position, potentially needing a win tonight to remain in the competition. They sit in third, four points off Monaco in first, and two behind Bayer Leverkusen in second. If Leverkusen beat CSKA Moscow, then Tottenham will need a win to stay in the competition, and will have to really go for it this evening.
Good evening everyone and welcome to VAVEL UK's live minute-by-minute commentary of Tottenham Hotspur's Champions League fixture away against AS Monaco. Kick-off in this heavily anticipated clash is set for 19:45, but stick with me, Oliver Emmerson, until then as we build up to the game in France and get the confirmed team news.