The usual English Premier League transfer rumour mill has been working hard for the last month and more to link Atletico Madrid striker Antoine Griezmann with a summer transfer to Manchester United. However, on Tuesday Griezmann downplayed the speculation.
Griezmann won't consider decision for time being
The Frenchman stated to French outlet RMC that he will not consider his future until the season comes to a close.
"Who knows how the season will finish. If it finishes badly, maybe I will ask myself the question. For the moment, it is not relevant," he said.
From there, he proceeded to just about rule out a move to any other club in Spain.
"Aside from that, I am asking myself where I could go. In Spain, there is Barcelona and Real Madrid.
"Barcelona have the three up top. Real Madrid, that is impossible because of the club I am at. I think that between them, there is a pact."
Griezmann continued to work his way around Europe's top leagues, considering whether or not a transfer would be feasible ruling out Germany and France and stating his doubts about England.
"Germany, the league does not attract me much. France, not for the moment.
"And England, I have a lot of doubts about my private life. Everything like rain, bad weather... I need to feel happy outside."
United looking for another center forward
Although United's attacking play has been significantly more interesting to watch this season than last, they've struggled to convert chances created into goals and have been overly reliant on Zlatan Ibrahimovic.
Thus, manager Jose Mourinho is targeting another star striker this summer.
Griezmann long linked with United
Griezmann's brother is a noted United fan -who enjoyed toying with Red Devils fans about a potential transfer over social media -and the forward has been linked with the Reds off and on since he was with Real Sociedad. However, his friendship and desire to play with fellow French international Paul Pogba has increased the recent transfer speculation.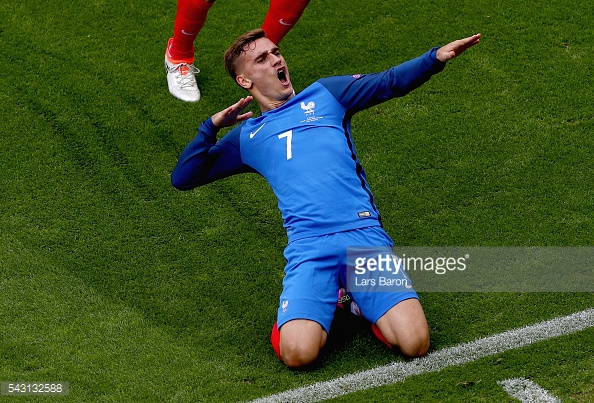 So frenzied has it been that English papers reported a deal has already been agreed in principle for a summer transfer.
Griezmann's comments on Tuesday appear to cool speculation that any deal is completely done. Then again, this wouldn't be the first time a player said one thing publicly in an effort to focus on the games ahead while allowing transfer dealings to continue in the background.
United will be back in action on Thursday against Saint-Etienne in the UEFA Europa League.