 Speaking to MUTV on Wednesday in preparation for Manchester United's Europa League last-16 tie against FC Rostov, defender Eric Bailly explained why he craves cup success.
Near miss still frustrates him
The Ivorian defender explained that the reason he so desperately wants to win the Europa League this term is his prior experience in this competition. Last season, he reached the semifinals with Villareal before falling on aggregate to Liverpool. This season, Bailly wants to go two better and enjoy the experience of both playing in and winning the final.
He outlined the high expectations at Carrington and Old Trafford when he stated that "we always aim high in everything we do here."
He went on to speak about his experience at Villareal, saying, "I managed to get to the semi-finals last year but that wasn't enough. We didn't win the cup or even get to the final itself so, for me now, it's all about taking things a stage at a time."
However, Bailly was quick to state that United aren't looking past Rostov to the competition's latter stages, noting, "As I've said before, this competition brings plenty of surprises in a season so, first of all, we have to focus on getting through against Rostov and then we can think a little further ahead after that."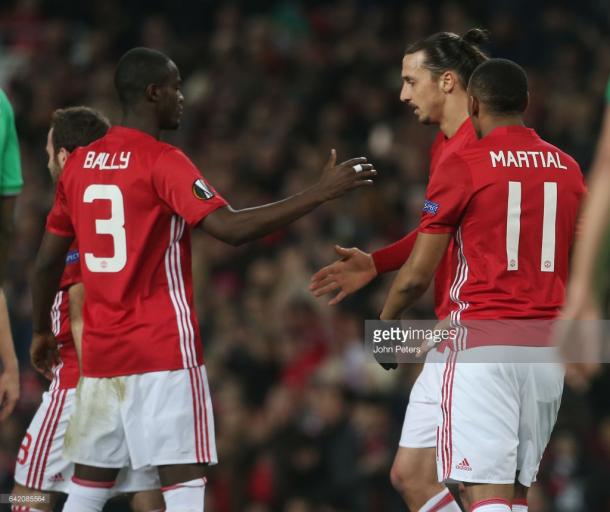 He went on to promise that United would not start slowly, and would be up for the tie because they all know how important it is to maintaining momentum and a push for Champions League football next season.
"It's really important that we make the quarter-finals in this very difficult competition," said Bailly. "All the players are aware of how much it means to make it through and so, when the day of the match comes around, we'll be ready and prepared to ensure we start well."
Bailly hails home support
The Ivorian centre back also praised the home support supplied at Old Trafford as United's "12th player," and expressed his desire to "get the victory needed and send the fans home happy."
After a professional performance last week in Russia, the Reds return to friendly confines with the tie level at 1-1 on aggregate and with a crucial away goal. A scoreless draw or win by any score would be enough for them to move on to the quarterfinals. However, a loss or draw in which both teams score two or more goals would see them knocked out of this competition for the third time by Russian opposition.
United don't have the happiest of memories of playing Russian teams in Europe, having been knocked out by Rotor Volgograd and Torpedo Moscow in the UEFA Cup in the 1990s. Yet, if things go to plan tomorrow evening, they will look forward to Friday lunchtime when the quarterfinal draw is to happen.