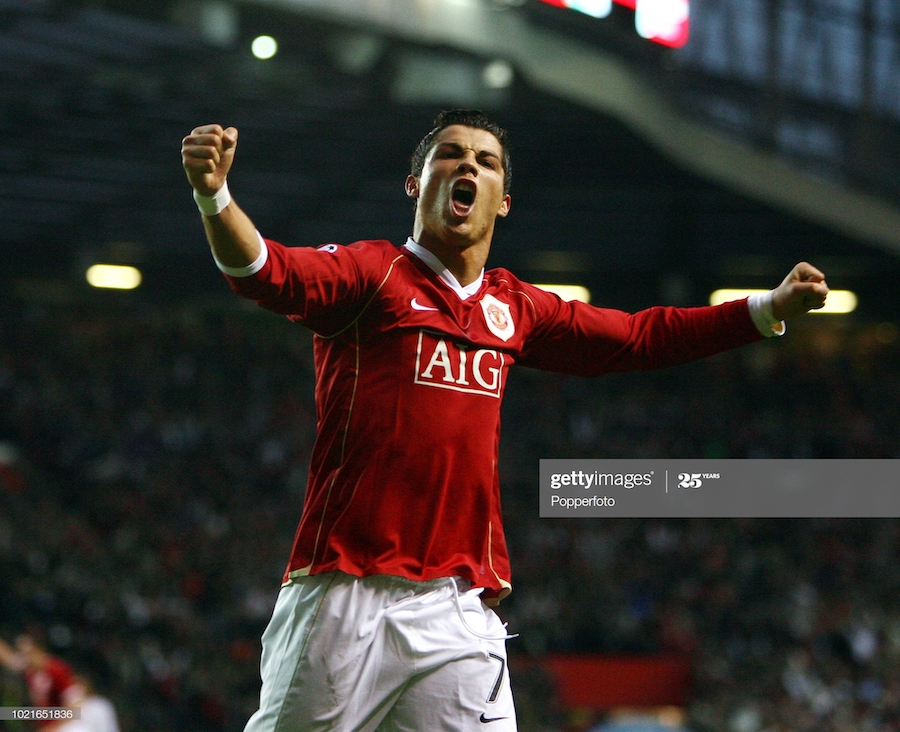 "You got the sense that this was a real spectacle," Clive Tyldesley explains.
It's April 10th and on this day in 2007, Sir Alex Ferguson's young Manchester United side achieved a win of such great proportions that it was deemed "a feat that is without precedent and, quite possibly, beyond repetition."
It was the first time that United had hosted AS Roma and the tie was marred by significant trouble between fans in both Manchester and the Italian capital.
"There was a little bit of edge around the game," Tyldesley tells the Manchester United Weekly Podcast.
"There had been some crowd trouble in Rome, which was not unusual for English teams going there. I remember there being one or two skirmishes reported outside Old Trafford before the match. There was a definite feeling between the two clubs, which was intensified over the following year when they met again, and again [six times in the space of 13 months]."
United headed to Rome first. As Paul Scholes was sent off for two bookings in the first half, Rodrigo Taddei gave Roma the lead. Wayne Rooney equalised in the 60th minute but Mirko Vucinic came off the bench to provide the Romans with a much-needed winner. United headed home with some small hope; the away goal had done them some good.
United had a terrible record from behind in Europe
Nevertheless, United had trailed five times going into a European second-leg prior to this, and five times they had failed to progress.
"I think you also have to put it into the context that Manchester United hadn't reached a Champions League semi-final for a little while - I think it's five years - and they were trailing from the first leg, against a Roma team with Daniele De Rossi and Francesco Totti.
"I remember driving up with a little bit of trepidation. Obviously it was to our [ITV's] benefit as the sole broadcasters of Champions League back then for the English teams to progress.
"I think Ole Solskjaer had actually come back into the team for the first leg after injury. Alan Smith had been injured and was rather surprisingly recalled for this game. And while Wayne Rooney and Cristiano Ronaldo were in their pomp, it did represent an awkward assignment for Manchester United."
A coming of age for Rooney & Ronaldo's teammates
And yet, this awkward assignment became a coming of age performance for the third great set of players that Ferguson had assembled (1994, 1999 and later 2008).
"And Manchester United hit the front," Tyldesley said on commentary. "A superbly taken goal by Michael Carrick, inside of 11 minutes, and the fuse has been well and truly lit. 1-0 will do for Manchester United."
Remembering the opener, which was dug-out shot from Carrick as the ball threatened to stay put as he marched forward, Tyldesley describes it as not just "an early goal but an uplifting goal in the nature of it."
It was Carrick's first goal in European competition for United. Thanks to the English press, he'd been dumped into the boots of Roy Keane despite being far from a direct replacement for United's former captain.
Carrick had to step into ill-fitting shoes of departed Keane
"We almost feel as if Michael Carrick has been at Old Trafford all his career and of course he hasn't, far from it," Tyldesley continues.
"That was his first season and as you say he was stepping into some big shoes and very different shoes to his own.
"Manchester United did score some really good goals on the night."
The next of those was perhaps the best, at least from a team perspective. Carrick, involved in the majority of the seven, passed it to Heinze who found Giggs. He found a way through to Alan Smith and within a second Tyldesley was raising his voice to tell us that "the forgotten man is back."
"Alan Smith hadn't scored for ages and ages," he says. "He was desperately in need of a goal; admittedly he'd had injury problems. But it was a big night for him, [having been] recalled to the side. I think the ball just set up so invitingly for him, he only option really was to try and volley the ball with some control in the way that he did."
Rooney put United three up. His goal at the Stadio Olimpico the week before had been his first strike in the competition since the three he struck past Fenerbahce on that iconic debut.
"The place was rocking. The performance had momentum and any question marks there were against individuals were being ticked off one by one."
Ryan Giggs was 'instrumental,' Tyldesley reminds us. As 22-year-old Rooney and Ronaldo ran riot, Giggs contributed cross after cross. 25-year-old Carrick and 23-year-old Fletcher benefitted from the presence of Giggs next to them. They had both been under serious pressure from fans as well as journalists.
Ronaldo hadn't yet scored in Europe
Although Ronaldo was in his 'pomp', he still hadn't scored in the Champions League, strange as it may seem to recall given his current position as the greatest goalscorer to ever play in the competition. And so the final question mark to be rid of was about Ronaldo. And he made sure he had one himself by half-time, jinking inside from the right before a powerful drive past Doni.
"It was typical of him and almost routine in the way he just took on a defender, got half a yard, scored with a low shot that had too much power for the goalkeeper," the legendary commentator remarks.
"I think he'd just signed a new contract for the club. It was different to envisage him ever playing for anyone else."
Cristiano Ronaldo was changing. He went from a 12-goal season the year before this one to a 23-goal campaign. The next year his frankly ridiculous 42-goal haul helped United to a Premier League-Champions League double.
But in this game against Roma, he was at the end of a period where a youthful innocence of his game remained. There was still an element of rawness which drove many United fans and neutrals irate. He took shot after shot, tried stepover after stepover. Frustrating it may have been then, but watching this version of Ronaldo back, it's an absolute privilege.
Another Treble was a genuine possibility in 2007
"The treble word is back on the menu," Tyldesley exclaimed as United's players jogged back down the tunnel at a raucous Old Trafford.
"They had the FA Cup semi-final the following weekend. It is that time of the year when so-called treble bids can fade and die in the space of a few days," he explains.
"You can be going for three trophies one weekend and be going for one trophy the following weekend. And from a Manchester United point of view, fortunately they were still on course for all three when they came out of that week."
It's strange to consider. It was eight years after the famous night in Barcelona but United had reached only one more Champions League semi-final. And this team, and this season, is remembered as the warm-up to the 2007/08 campaign where United finally got their hands on a third European Cup. But, having knocked Roma for seven, United were four games away (an FA Cup Final - which they lost, a two-legged semi-final in Europe and a final) from another Treble. That in itself is not an achievement that will stand the test of time, but it's a forgotten fact of that season.
Ronaldo scored soon after the break to make it 5-0.
"That is one of the great Manchester United shirts," thinks Tyldesley.
"It's very evocative of the late '50s, the V-neck, the very significant white trim. There was just something about that night; they looked good, everything looked good."
At this point, United fans started singing 'we want six'. That was soon changed to 'we want seven' after Michael Carrick dispatched his second and United's sixth of the evening. It was another beauty, this time he got the ball out of his feet and curled it in with technique just as brilliant as the first. You can hear in the commentary that the game had reached the point of procession. The shock has dissipated and the recognition of brilliance triumphed.
Ronaldo: Roma players begged us to stop
Ronaldo claims Roma's players begged him to stop after the sixth went in. Instead, Solskjaer came on and quickly tried to lob the goalkeeper.
Roma's consolation goal, though even to use that word is kind, was one of serious quality. Daniele De Rossi volleyed home at an angle from a whipped cross. Listening back to the commentary, you can hear the chuckle in Clive Tyldesley's voice as he says, 'that's a really good goal'. This was, after all, a Roma side of serious quality. De Rossi and Totti were wanted by United but also the rest of Europe's elite.
Evra found the seventh as a substitute for John O'Shea at right-back. Like Carrick and Ronaldo, it was his first goal in Europe.
"It just adds to the humiliation for Roma and adds to the tally that United are building.
"You don't get seven goals and Patrice Evra scoring every time you go to a game."
United have scored seven only once since and it was a performance perhaps only equalled by the famous wins of the Busby Babes in the 1950s. It didn't have the grit of the '99 semi-final in Turin but it all seven goals were of extraordinary quality and as Kevin McCarra wrote in the aftermath for the Guardian, "no one believed it possible to treat an Italian club quite like this." Well, United did.