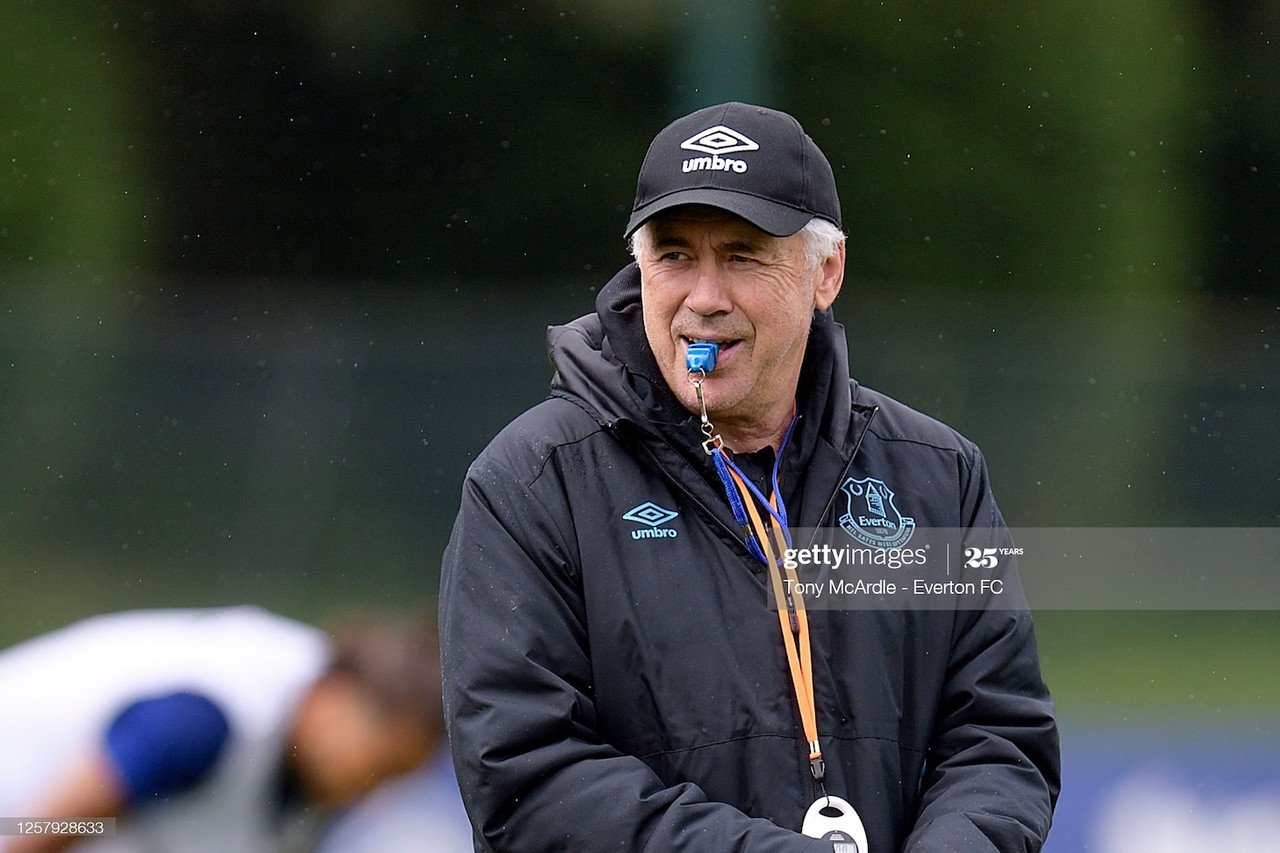 Everton manager Carlo Ancelotti has given further indication that there will be change at Goodison Park this summer as the Italian is aiming for an "evolution" at the club.
The Blues go into Sunday's game against relegation-threatened Bournemouth sitting 11th in the Premier League and know they can also finish no lower than 12th this season.
Three points adrift from safety, the Cherries face a must-win scenario on Merseyside, with other results also going their way, otherwise their five-year stay in England's top-flight will come to an end.
Talks taking place next week about summer recruitment
Ancelotti will be looking to finish the season strongly, especially after such a positive display on Monday evening when they secured a 1-0 victory over Sheffield United at Bramall Lane.
The Blues ended their four-game winless run with a positive performance on the road and the Everton boss will hold talks with the club about their plan going forward.
"We are going to meet next week and we are going to make a plan for the future," he told reporters. "It will be surely an evolution of the club. Everyone want to go to the next step – that is to improve.
"If this season we are able to finish in 11th position or 12th position, I don't know, but for sure next season, we have to go up, there is no other way.
"But with an evolution of the team, putting in better quality, putting in better ambition, putting in better motivation and putting in more passion."
Ancelotti sets high standard for Richarlison next season
Richarlison, who has scored three goals since the restart, has found the net 13 times in the league and is currently joint-top scorer for Everton with 15 goals – along with Dominic Calvert-Lewin.
Having managed some of the best players in world football at clubs like AC Milan, Real Madrid and Chelsea, Ancelotti knows that a player of Richarlison's calibre needs to aim higher next season.
The Brazilian was sought after by Barcelona in January and told the club website that he has set himself a target of 20 goals next season, but Ancelotti believes that target should be 30 – at least.
"I think Richarlison is wrong to say that the target will be 20," Ancelotti told Sky Sports. "The target doesn't have to be 20 for him. It should as a minimum be 30.
"I've had strikers that were able to score 60 goals in a season - it doesn't matter the name [Cristiano Ronaldo scored 61 goals in all competitions for Real Madrid in 2014/15].
"But even in England, Didier Drogba scored 29 goals in one Premier League season alone. So the target for Richarlison will be 30 - not 20."
Everton need to improve their results away from home
The Blues go into their final home game of the season having lost just three times at Goodison this season, but their home form isn't the concern for Ancelotti, it's the results on the road.
"At home, we've done well since I've been here. Where we need to improve, and the players know, is away from Goodison.
"We were not good enough and this is the step we need to take next season. We need to show a better knowledge and have a better identity.
"The key factor will be the continuity in the sense that we cannot be allowed to play one good game and then two that aren't good enough. It shouldn't matter if it's a home or an away game."
Everton's game against Bournemouth kicks off at 4pm on Sunday and is live on Sky Sports Golf.