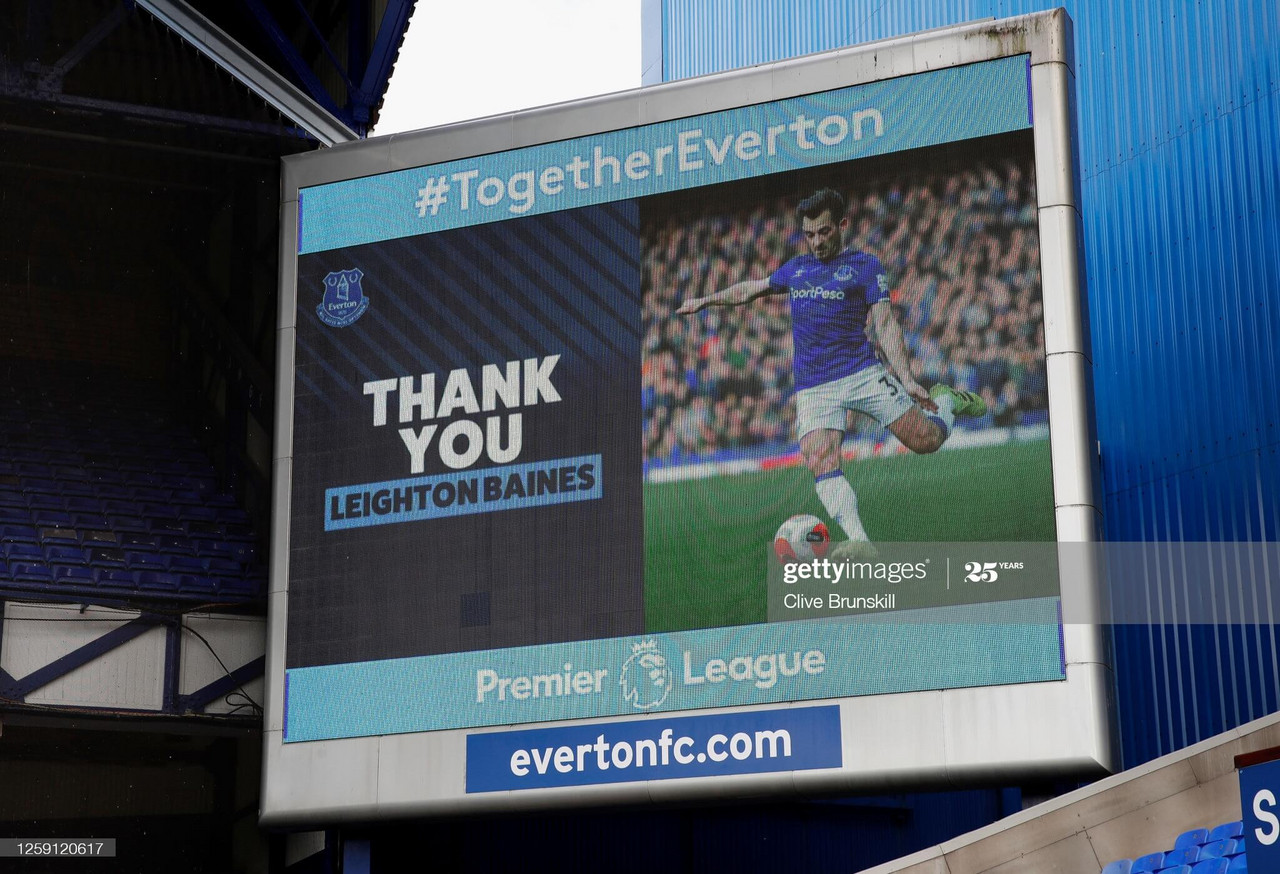 When Leighton Baines came on for the final 20 minutes of Everton's last game of the season against Bournemouth, everyone knew what was coming. It had not been explicitly said but Carlo Ancelotti's promise of giving the left-back one last hurrah confirmed what many had thought.
This was Baines's 420th appearance for the Merseyside club, and it was to be his last. In different times, the player who has dominated the left side of Everton's defence until two seasons ago, will have received a standing ovation from an appreciative Goodison Park crowd. Instead he left with a smile and silence - possibly just as the modest defender would have preferred.
The 35-year-old joined Everton from Wigan Athletic in 2007, and has been capped by England 30 times, appearing at the 2014 World Cup in Brazil. However, he has played only 17 times in the past two seasons as Lucas Digne took over as first-choice left-back.
Baines may have new role at club
Baines was out of contract at the end of the season and despite the club offering him the chance to extend for another 12 months, he has taken the decision to end his playing career this summer. He will enjoy the pleasures of the golf course in Formby, where he lives, more regularly.
Baines penned a letter to Everton supporters confirming his retirement. "I am incredibly proud to have represented Everton for the past 13 years and my decision to retire has been a difficult one to make. After speaking to my family, I feel now is the right time to end my playing career but I do so with many great memories at this proud football club. As someone from the city, Everton means so much to me and it has been an honour to be part of the Club for so long.
"I would like to thank everyone who has supported me during my time at Everton, especially the fans who have been fantastic with me from the moment I signed."
Although this marks the end of Baines in an Everton shirt, he still may don a tracksuit. Ancelotti remains hopeful that he will take up a new coaching role at the club and remain in some capacity. "I had only the last six months of his fantastic career and I found a fantastic player still," the Everton manager said.
"I asked him to continue but he decided to stop. Everyone at the club has to be grateful to him. We tried to keep him. It was important as he was not only professional but because he is still a good left-back. But he decided and we had to respect this."
Everton have taken on a number of former players in roles at their academy, with Duncan Ferguson and David Unsworth both spending time as interim coach of the first-team in recent seasons.
"We have time to think about a new role," Ancelotti continued. "We would like to know what he would like to do in the future and the fact he can stay with us will be a good opportunity to use his knowledge and his experience and also be a new future for him. He didn't talk to me about it yet but he has some days to think about this."