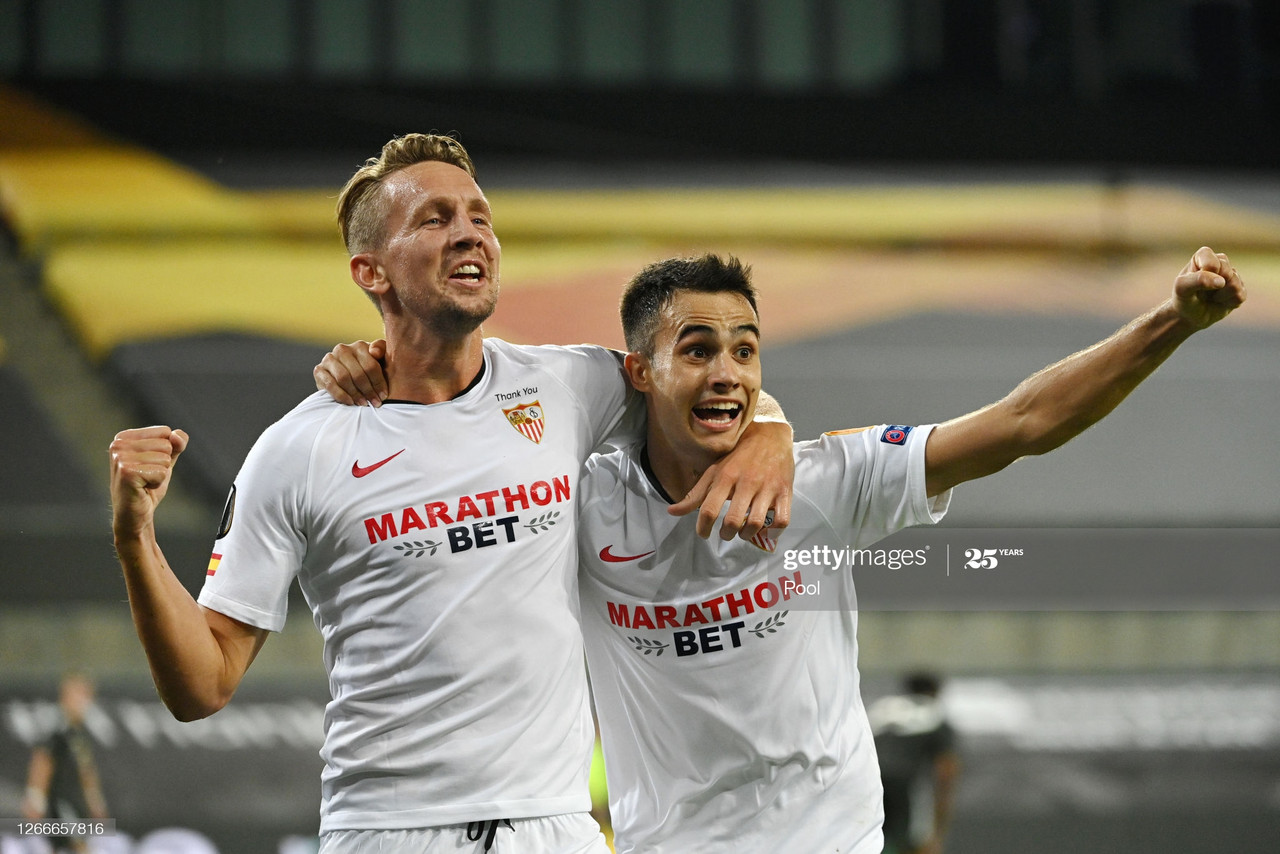 For Harry Maguire this must have seemed all too familiar. Manchester United's captain tasted semi-final defeat with England at the 2018 World Cup. It was a tale of wasted chances; a golden opportunity for a talented young side to finally lift silverware once again. And now the same bitter taste of semi-final loss has returned. Three times.
United's season has had a sprinkling of high points with smash-and-grab wins against their rivals Manchester City, goal-happy demolitions of many a Europa League opposition and runs of cleansheets that would have seemed impossible last year. But ultimately it's a third consecutive season without a trophy. That hasn't happened at United since the 1980s. It's not a sign of a bad year, it's the tell of an elite football club in trouble.
Ole Gunnar Solskjaer looks like he is the right man to lift United out of their trophyless misery but it took him until the 87th-minute to make changes as his team trailed in Cologne. It's clear that his options on the substitutes bench are poor but it's too often the case that the game runs away from Solskjaer and United unable to arrest the tide turning against them.
United's season is over. It will start again before long. Their players look tired and a mixture of signings are needed; world-class starters, quality bench options and young prospects. Solskjaer knows that. Whether the club's board will back him is another matter. They are still working on a deal that would bring Jadon Sancho to the club.
Story of the game
United started brightly thanks to a Mason Greenwood flurry of stepovers. He couldn't find quite enough space to get a good shot away and that was to be the tale for much of the match.
Solskjaer's exciting attacking line-up is exactly that; exciting. When United play at speed and with confidence, the footwork and creativity of Martial, Rashford, Greenwood, Fernandes and Pogba is something beautiful. But as was the case against Copenhagen in the previous round, chances came and were wasted.
Bruno Fernandes needed a penalty to take United in front. Martial made the chance with a beautiful dragged pass to Rashford who shot but was then taken out by Diego Carlos. The Sevilla defender escaped a booking but the penalty was given, a surprising decision as Rashford had already shot. Fernandes converted. He always does. He's scored every penalty he's taken for United, and there's been a lot of them. This time his run-up paused just before he hit the ball with a little hop and then a powerful strike into the top left corner.
Before the half-hour mark, Sevilla would equalise. Aaron Wan-Bissaka switched off to let Reguilon past him. It was one of the former's worst performances since joining United last summer. It's been a good season for him but in this final game of the campaign, he let United down. Reguilon's cross flew between Maguire, Lindelof and De Gea, past a diving Brandon Williams and Suso finished well for Sevilla.
United threatened some more and the game was good. It would have been significantly better had the referee's ineptitude not frustrated both sets of players. Throw-ins were decided incorrectly, bookings were inconsistent and the awarding of free-kicks could be both soft or the opposite. The grievance of the players was visible, and even more so in the second half.
It would not have mattered had United been able to finish the plethora of chances which they created at the start of the second period. In the opening seven minutes, the Reds peppered the Sevilla goal with five seriously good chances. Some were saved fantastically by Sevilla's goalkeeper Bono, others were wasted and many were blocked by the constantly well-positioned Sevilla defenders.
Bono denied Greenwood's half-volley one-on-one, did the same against Martial and then Fernando blocked a Rashford strike and Fernandes' effort met the same fate. Bono kept Martial out again soon after. United should have led by three goals. Solskjaer encouraged his players, shouting 'fantastic' from the touchline.
But then the gas ran out. United tired and Sevilla came out motivated by the fact they were still in the game. Rashford and United grew ever more frustrated by the referee and Sevilla's players knew how to use it to their advantage, winning soft free-kicks and demanding yellow cards for every minor infringement.
Changes didn't come for a weary United team. Solskjaer stuck with his starting line-up for a long time. So long, in fact, that the fatigued United defence let Sevilla take the lead. Williams, another who had a poor game, let a Navas-struck cross come in. Lindelof missed it and Wan-Bissaka stood still. Luuk de Jong gratefully stepped ahead and beat a helpless De Gea.
United tried to get back level, they really did, but it was a thankless task. Sevilla's ability to crowd the penalty area denied any chances for the ruthless Greenwood to shoot, Martial had to drop deeper with every minute and Rashford looked frustrated; at the referee, at his teammates and at the situation. Maguire and Williams argued over a poor pass from the former. It was not quite as aggressive as the spat between Lindelof and Fernandes after Sevilla's second goal. The pair screamed in each other's faces. That attitude dispersed out into the rest of the United side who could not find the goal that would extend their season by another week.
Sevilla held on. They are the Europa League specialists. It was United's game to lose and that's what they did. No more semi-final losses will be acceptable. United cannot become the also-rans. They are too big of a club for that. Reinforcements are needed and so is a rest. Sevilla march on in search of a fourth Europa League glory of the decade.