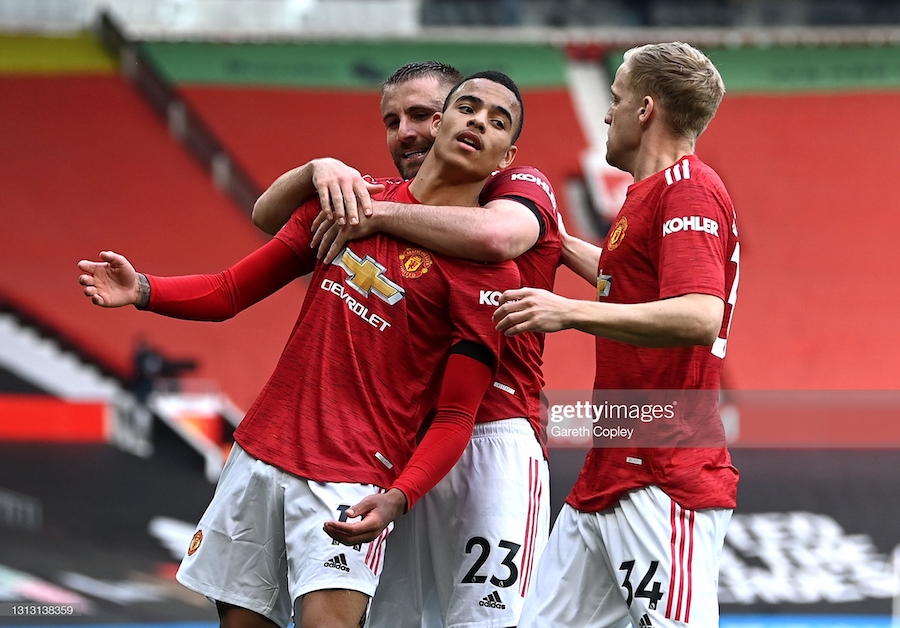 Led by Mason Greenwood, Manchester United made it five consecutive league victories at home to Burnley on Sunday. The result means the Reds have matched their points tally of last season (66) with six games remaining, a sure sign of progress under manager Ole Gunnar Solskjaer.
The gap between United and local rivals Manchester City is too large for Solskjaer's team to be considered in the title race - a stunning collapse from Pep Guardiola's side would be necessary for that - but United will focus on narrowing the eight-point gap before the end of the season.
Progress under Solskjaer
Have United progressed under Solskjaer? It's the eternal question and how it's answered appears to sway significantly in the post-match fickleness of football commentary. While the answer is widely considered to be 'yes' now, the extent to which respondents agree varies.
In beating Burnley, United ended a six-year winless run at home to the Clarets. This was - quite literally in this case - a game which United haven't won in recent years. That is the surest sign of progress under Solskjaer. His team win games that they used to draw or lose, just like this one.
Progress is seen elsewhere, though. Having conceded more than one goal on 10 occasions before New Year (in 25 games), United have done so on only five occasions since (in 28 games). That helps.
Burnley hone in on United's weak points
That being said, United's weaknesses are pretty clear to work out. Optimistic fans will be pleased with that; it means a solution is clear too. Pessimists will ask why these glaring weaknesses remain.
Burnley's tactics were similar to how they've always been at Old Trafford. Chris Wood was the side's main outlet and the New Zealander pinned himself onto the right-sided pairing of Wan-Bissaka and Lindelof. United's opponents know those two are weak in the air and frequently look to exploit it. Burnley have done it better than most in the past.
16 seconds in, Wood had found the back of the net, heading past the outward-rushing Henderson. He was offside by centre-metres. Two minutes later, the same ball caused United problems, though this time it was swung in from the left instead of the right. Lindelof just managed to get ahead of Wood. The objective was the same throughout: let Wood have the run-around against the physically weaker Wan-Bissaka and Lindelof.
Furthermore, Burnley's pressing was targeted. Sean Dyche's side were quick onto Pogba, Fernandes, Shaw, Rashford and Greenwood and forced them to release the ball quickly. When Fred and Wan-Bissaka had possession, the Clarets were content to allow them more time on the ball. Similarly, while Burnley followed United's main creators wherever they went, they allowed Wan-Bissaka heaps of space on the right-wing, clearly deeming him unworthy of close attention. United want to sign an experienced right-back and they'd be well off signing a good attacking full-back. Without that threat on the right, United find it harder to stretch teams, a key part of their attacking success.
On Marcus Rashford...
There is a lot to consider about Marcus Rashford. Is he a good, very good or great player? We know he is one of those three things, but it's still hard to know which.
He was busy throughout and ultimately effective. The timing of his runs is inconsistent and given how much emphasis he and United put on those off-the-shoulder runs and the large diagonal balls, any improvement in this regard would have a big impact. Too many times Rashford (and Greenwood) were offside after a good long pass by Fernandes, Pogba, Lindelof or Maguire.
It's of great frustration to Rashford - something which is particularly noticeable in empty stadiums - when the ball he wants to be played is not. That's fine but on a couple of occasions against Burnley, he skulked in an offside position instead of bringing himself back into the attacking move.
But Rashford is exciting and drags United forward. He made three big chances in the quarter-of-an-hour after half-time and all three included great skill - the first two with a nutmeg and the third with an elastico/flip-flap. No player in Europe's top five leagues has completed more nutmegs than Rashford this season (17). Jadon Sancho and Neymar are just behind. Of course, football is about end product. But it's also about entertainment and when Rashford combines the two, it's easy to love him. United's first goal was made by a left-wing nutmeg and then a simple pass to Greenwood, via a Bruno Fernandes dummy. It was stylish.
Rashford could take a hint from Greenwood, too. The elder forward is reluctant to shoot early in the box. In the 60th minute of Sunday's game, Rashford cut from his right foot to left foot and back again twice before eventually having to pass wide to Cavani. Rashford is a powerful shooter and more early shots in the box might see his good goal tally grow to even greater heights.
Donny van de Beek
A birthday assist of the bench for the Dutchman. What is most notable is that when van de Beek replaced Rashford, he played in the central number 10 role. Bruno Fernandes went out wide. That displayed some trust from Solskjaer in van de Beek.