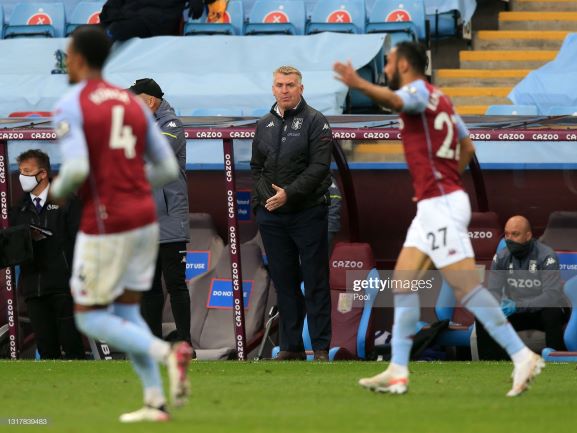 After Aston Villa's 0-0 draw at home to Everton in the Premier League, Dean Smith spoke with the media.
On an entertaining night of football at Villa Park, Villa managed to leave-taking a point from a side who are challenging for European football. Captain Jack Grealish returned after a lengthy absence through injury.
Grealish delight
Dean Smith was delighted to see his captain return to the pitch after missing 13 games this season:
"He loves playing football, I promised the medical staff 15 minutes and managed to sneak in 20!

He brought a spark onto the pitch straight away. I thought Jacob Ramsey did too when he came on. It's great to have Jack back".
Smith on Villa's resilience
Since Project Restart, Villa has remained a solid defensive unit. Signing Emi Martinez from Arsenal has only added to that:
"I'm delighted with the clean sheets. It started during the lockdown, during project restart we became a side that was hard to beat. We've cut the mistakes out and signed a very good goalkeeper.
On tonight's draw
Despite failing to take all three points off the visitors, Smith was encouraged with tonight's performance against a side who are chasing European football:
"The game was lacking that spark in the final third. The second half started like a basketball game, it was very end-to-end. They are going for European football but we defended well.

We were really patient last week against Everton, we wanted to switch play quickly today and I don't think we did that tonight. Ollie is a player who goes beyond but Keinan is one who likes the ball to feet, we didn't have enough runners going beyond tonight unfortunately".
McGinn back to his best?
John McGinn has struggled in recent weeks with consistency, Smith was keen to point out the qualities which the midfielder possesses:
"John's been searching for consistency, tonight was one of his better performances. He took the ball on the turn and rolled a few players tonight. We all know how good he is and we're happy to have him in our squad".
Villa travels to Selhurst Park next to face Crystal Palace as both sides look to finish the season on a high note, now Premier League survival is ensured for both.