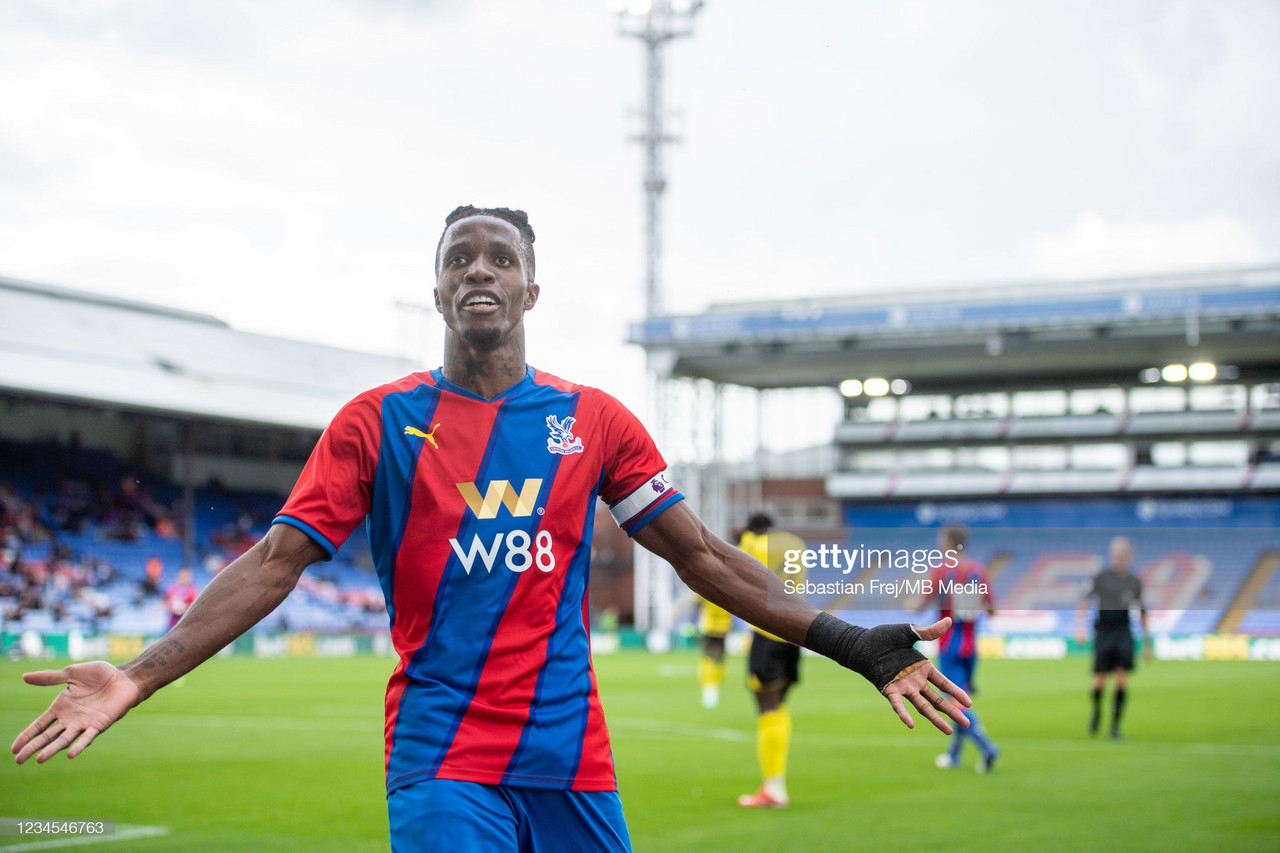 Crystal Palace are applying the final touches to their successful pre-season preparations this week before they venture to Stamford Bridge in what is the start of their ninth consecutive season in the top-flight.
But while you would be forgiven for expecting a familiar outlook to a distinctive Crystal Palace season - a mediocre display at best - this season, there is a change in direction.
At Selhurst Park this time around, progressive stability has been changed in favour of audacious risk, experience has been replaced by youth, and pessimism has been transformed into great expectation.
For Patrick Vieira and his youthful revolution, he will hope to build on the firm foundations that Roy Hodgson had formed in his four seasons at the eminence of the south London club.
Annually, the Crystal Palace pecking order is rarely shuffled and restocked. Since the summer of 2017/18, the club had failed to fund a transfer window that exceeded £20 million, and even still, they only spent a mere £44 million - a fraction of what rival clubs have spent in their endeavours to progress through the league.
This year has seen a different approach, though. As a result of the club's exodus of ageing players, Steve Parish and Dougie Freedman have reinvested the freed wages to gift SE25 with their most expensive transfer window since the 2016/17 campaign - when the arrivals of James Tomkins, Andros Townsend and Christian Benteke skyrocketed the club's expenditure to just less than £100 million.
Now, with a depleted squad list, and several high-earning players out of the door, this summer presented Palace with the perfect opportunity for their biggest squad rebuild since 2010.
And it didn't take long before the inevitable change was orchestrated at full tilt.
By the time Patrick Vieira had become accustomed to his new surroundings at the helm of the club, a month had flown by, and Palace had already secured their fourth first-team signing - something that, on the other hand, the Palace faithful are unfamiliar with.
Michael Olise had grabbed the attention of the Premier League with his arrival, while the new-look defensive partnership of Marc Guehi and Joachim Andersen quickly followed him into the project.
Then, with the growing encouragement from Palace fans to add to their midfield depth, Conor Gallagher snubbed Leeds United to join his Chelsea teammate at Selhurst Park. Being a youthful superstar that has been on the club's radar for a long time, the acquisition of the U-17 World Cup winner stands as a monolith to how times have changed under new manager Vieira.
Where the season can be won and lost
Crystal Palace's successes this season will depend laboriously on how the torrent of new talent handle their new surroundings and crystallize in Vieira's modernised system. For a lot of pessimists, a repeat of Stoke City's unsuccessful squad renovation in 2018 will bring scepticism to the forefront of the new season.
If Vieira fails to continue the tradition of Hodgson's squads - which saw home games become cardinal and defensive stability vital - then Palace's squad rebuild could come crashing down.
The objective for Palace's first season under a new era will surely be to consolidate. Although fans of the club will be hungry for more, a new direction involves a phase of transition, which will most likely see the Eagles take a step back before progressing forward.
But while former Premier League rivals have faced catastrophic new depths in their journey to break away from mediocre constraints, in an attempt to lift themselves into a better than midtable finish, there is a snowballing belief that the Eagles are different.
Patrick Vieira has kept the core of the squad intact while bringing in players who are used to English football. Alongside the strategy to bring in English talents, a lot of his squad boast the title of being a Londoner.
With the core of Crystal Palace's squad being English and often London-born, there is a creed that football in SE25 is played with exuberating pride and passion. In the latest of news stories, Nathaniel Clyne is among the most recent Londoners to sign a contract at Selhurst Park.
While Stoke City opted to delve into the foreign market for their new acquisitions, the Eagles have stayed local, which could prove vital for their chances of Premier League mainstay status. Guehi, Andersen, Olise and Gallagher are all naturals to English football so they're less likely to need a period of transition.
Players such as Joel Ward, Luka Milivojevic and Cheikhou Kouyate, who all have a certain sense of wisdom in their game, will need to keep the gel of the squad together throughout the season. If Palace dive into their transition phase too quickly, they could live to regret it.
Elsewhere, Christian Benteke's record this season will be indispensable to the Eagles' chances of staying afloat. Scoring 10 goals last season in a team that lacked attacking futility under Hodgson is no easy feat, so there is an expectation on the Belgian forward to score more in an attacking outlay.
While the club has kept tabs on several attacking players over the summer, with Odsonne Edouard of Celtic being the heaviest speculated, it looks increasingly likely that Benteke will be Vieira's main striking option for the season.
And now that the Belgian has a plethora of creative outlets playing around him, he should be able to improve on last season's valiant efforts. With Vieira implementing an attacking brand of football, Benteke's aerial threat and prowess is needed more than ever.
The defensive bravery under Hodgson will also be needed, but with a change of approach on the pitch, all eyes will be on Palace's number 20 to deliver the goods upfront.
Patrick Vieira is known for his youthful outlook, being a firm believer in the success of young and hungry squads. As shown by his signings thus far, one of his main objectives for the Crystal Palace squad rebuild is to lower the average age of the team.
Luckily for the Frenchman, he has already stumbled upon a hidden gem within the already-present Eagles squad. Scoring his first goal for the senior side in pre-season, Jesurun Rak-Sakyi has staked a claim to be a regular in the Palace lineup this season.
The 18-year-old winger has showcased the immense speed and agility in his artillery already this summer, and it could be just those attributes that make him a favourable option ahead of Jordan Ayew - the only current rival to his starting spot.
Croydon has long held a reputation for producing some top talents through their youth system, and now that they have upgraded to a category one youth recruitment status, there is a promise of much more to come.
As aforementioned, Rak-Sakyi follows in the footsteps of a galaxy of superstars who have graduated from Crystal Palace's pristine youth system. Among those who have graduated, Aaron Wan Bissaka, Victor Moses and Wilfried Zaha feature in the most recent list.
The truth is, Crystal Palace's 2021/22 season is vastly unpredictable. Their transfer window has been exciting, and their fanbase is eager for the new era to start unfolding, but so many questions loom large over where the new path will lead them.
It would be unsurprising if Palace were to mount a push to break into the top 10, but equally, their room for failure is very limited. The opening two months of the season sees the Eagles located in London for the majority of weekends, and it will be the start of the season that could shape their destiny at the end.
Their futures rest on the shoulders of Patrick Vieira, a man who has experienced Premier League triumph as a player, but will his expertise be translated into managerial proceedings?