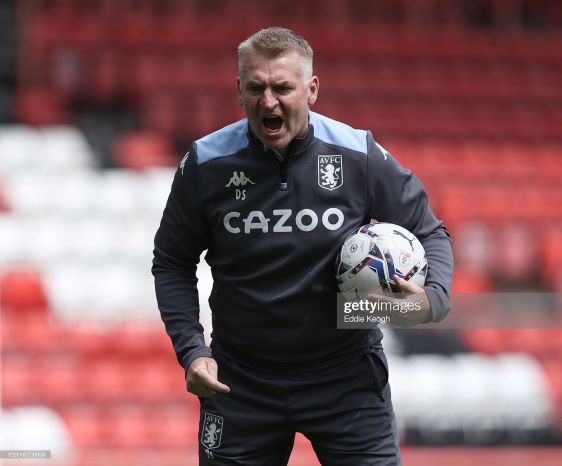 Aston Villa manager Dean Smith spoke to the media ahead of his side's match at home to Everton on Saturday.
Villa are coming off the back of a spirited defeat to Chelsea last week, whereas the Toffees impressively beat Burnley on Monday. Rafa Benitez has made an impressive start to life back on Merseyside, winning three and drawing one of his first four Premier League matches in charge.
In his press conference, Smith defended Villa captain Tyrone Mings while also giving an update on Emiliano Martinez and Emiliano Buendia.
1: Martinez and Buendia may be available
"We are expecting [Martinez and Buendia] to join us tomorrow morning and I will assess it then and decide whether they will be involved or not."
Villa's Argentinian stars Emi Martinez and Emi Buendia caused uproar among Villa fans by defying the wishes of the Premier League by going on international duty in a red-list country.
Predictably, this didn't go well as both players were apprehended during their suspended match against Brazil and were forced to leave the country. Since then, they have been training in Croatia.
Jed Steer was Villa's stand-in goalkeeper for their defeat to Chelsea while Villa lined up without wingers or an advanced midfielder, both roles Buendia can occupy. Smith's comments imply that both players will be thrown back into consideration on Saturday, likely leading to a change in system should they take part.
2: Smith was happy with Chelsea performance and new system
"We played that way last week because I felt that Chelsea would cause us problems. We negated their system, but we made mistakes and didn't take our chances."
Dean Smith chose to line up against Chelsea with a back five to try and counter their attacking threat. Villa did an amicable job at this until Mings played a loose back pass to Steer, allowing Matteo Kovacic to charge in and score. This killed off Villa's momentum who had arguably been the better side until then.
Everton also pose a strong attacking threat with new signings Andros Townsend and Demarai Gray making dazzling starts to life on Merseyside. Gray in particular will have an extra incentive as he came through the ranks at Villa's cross-city rivals Birmingham City. Smith may choose to stick to three central defenders for this game, despite Everton likely missing Dominic Calvert-Lewin.
3: Smith believes Mings will come back stronger
"[Tyrone Mings] came into the dressing room with his hands up, he's made a mistake and they happen in football. He's saved us many times before, it's part of the game."
Despite his error against Chelsea, Dean Smith is retaining full belief in his defender. Mings, who was made Villa captain this summer following Jack Grealish's departure, has been a virtual ever-present for Villa since their promotion. He has displayed great leadership qualities and put in huge performances for Villa, and Smith will continue to show faith in his skipper.
4: Villa want Everton record to continue
"It's certainly a challenge for us. I'm full of respect for Rafa Benitez. We have a good record against them and hopefully that can continue."
Since their return to the Premier League in 2019, Villa have played Everton four times. In those four matches, Villa have won two and drawn two. The first of those wins was Villa's first win back in the top-flight, a memorable 2-0 win at Villa Park in August 2019.
However, Everton's resurgent form will worry Smith given Villa's somewhat slow start to the season. He will want to avoid a repeat of their sorry opening day defeat to Watford or their tepid display against Brentford last month.
5: The next step for Villa is the most difficult one
"The next step is the hardest because we have to pass established Premier League teams."
Since Dean Smith's appointment in October 2018, Villa have made remarkably quick progress. He inherited a strong but underperforming squad in the Championship, taking them from 16th in the league to a fifth placed finish. They were able to avenge their 2018 Play-Off final defeat to Fulham by winning the 2019 final. He was able to guide them to survival by the skin of their teeth in 2020 and a mid-table finish in 2021.
However, if Villa want to realise their European ambitions, they must break into a top seven that is more competitive than ever. For example, just look at Everton themselves. The Toffees have spent over £500 million in transfers since Farhad Moshiri bought the club in 2016 and they still haven't cracked the top six. This is despite having the likes of Carlo Ancelotti and Ronald Koeman as manager, who now face off on opposite sides of the El Classico.