Manchester United have officially confirmed the signing of Armenia International Henrikh Mkhitaryan from Borussia Dortmund on a four-year-deal, with an option to extend for a final year.
The midfielder has been rumoured with a move away from Germany, especially since Dortmund's Twitter account announced on Saturday that Mkhitaryan will move to Old Trafford.
The hard work has paid off for Mkhitaryan
The 27-year-old made a total of 140 appearances for the Bundesliga club after joining from Shakhtar Donetsk in 2013. The new United signing enjoyed his most successful season last year having scored 23 goals and registered an impressive 32 assists across all competitions. As a result of his stand out displays, Mkhitaryan received the Bundesliga Player of the Season award, as well as being named in the Team of the Season.
When speaking about his move to Manchester, the midfielder stated that he was "very proud" on the move as it is a "dream come true."
He continued by saying that he is "excited to play for a club with such an illustrious history and hope to be part of it for a long time." Also, the talennted midfielder finished by paying tribute to his new manager and his father by highlighting the "trust" that the club has given him and the "inspiration and drive" that he has been subjected to since a young age.
Mkhitaryan is captain of his national side, and as well as being the country's all time goal-scorer will 19 goals in 59 appearances, he has recieved the Armenian Footballer of the Year award on five occasions.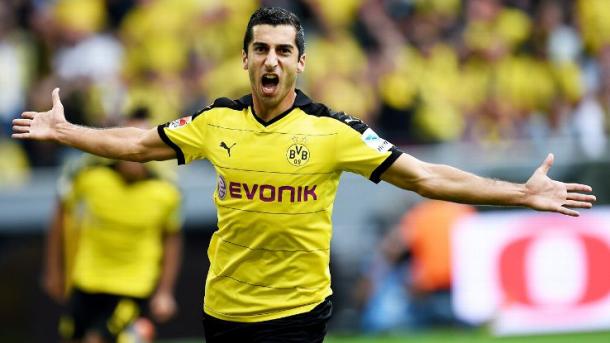 He featured mostly on the right side of midfield whilst playing for Dortmund, and is expected to command the same position at Old Trafford. With Memphis Depay not quite living up the expectations every has imagined, Mkhitaryan is likely to complete the front three of Anthony Martial and fellow new signing Zlatan Ibrahimovic.
Mourinho excited about his latest signing
Just one day after Mourinho adressed the media for the first time as United boss, he was quick to admire Mkhitaryan as well as explain why the Reds made the move for the player.
Stating that "Henrikh is a very talented footballer who has been in such prolific form for both his club and his country", it is obvious that the ex-Real Madrid boss rates the midfielder very highly. Also saying that the Armenian "is a real team player with great skill, vision and also has a good eye for goal", supporters of the Red Devils are sure to be excited about their club's latest acquisition.