Manchester United began the season perfectly after new signing Zlatan Ibrahimovic scored a late header to seal the victory for a United side which is beginning to take shape under new boss Jose Mourinho.
Ibrahimovic's winner came after Jamie Vardy had cancelled out Jesse Lingard's stunning solo goal in a match where several United players forced themselves into Mourinho's thinking after some assured displays.
The likes of Lingard, Daley Blind and Marouane Fellaini, who have all been linked with either the exit door of significantly reduced game time under their new manager, all put in some convincing performances to give Mourinho food for thought.
Lesson one: Zlatan gets you goals
Though nothing new that Ibrahimovic found the net, the goal certainly helped towards proving against the few doubters that the Swede would fail to adapt to the nature of the Premier League.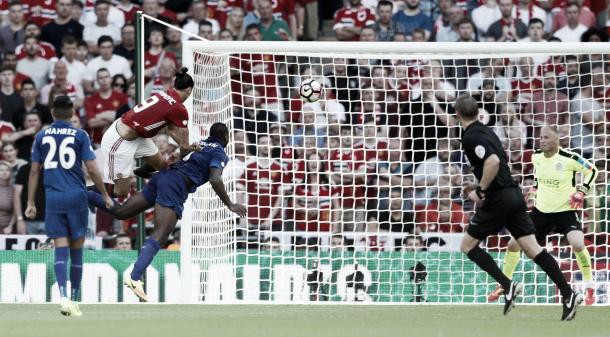 Despite being quiet throughout, the 34-year-old did exactly what he was brought to the club to do and that is to score goals. After joining for free this summer Ibrahimovic has already gone some way to proving his quality and has set the tone for what may be to come from him at Old Trafford.
Lesson two: Brilliant Bailly
Man of the match Eric Bailly produced an excellent performance in defence and looks comfortable after joining from Villarreal for £30 million.
The 22-year-old, despite being billed as one for the future, looks like a player who could become Mourinho's first choice central defender sooner than expected, especially if he carries on the excellent form showed.
Lesson three: Mata situation still unclear
Much has been made of Mourinho's arrival at Old Trafford, and a key topic that the new boss has had to deal with is his relationship with Juan Mata, who Mourinho sold to United when the two were at Chelsea.
Despite both camps insisting there is no rift between the pair, it was interesting to see that Mata, who had been used as a substitute at Wembley, was then himself subbed off by Mourinho for Henrikh Mkhitaryan in late on.
With the pair seen to be laughing and Mourinho shrugging off negative speculation between the pair, it certainly still poses the question that if the Red Devils were to receive an offer for the Spaniard, it would be no surprise if Mata is seen to be on his way out of Old Trafford.
Lesson four: Room for Pogba
With United's midfield still in need of a talismanic figure to take the game to the opposition and dominate the central areas, Paul Pogba will undoubtedly make United a better side.
The club confirmed yesterday that the Frenchman will undergo a medical ahead of a world record transfer, and Pogba will almost certainly be marched straight into the middle of the midfield as Mourinho looks to gain more control of matches.
With Pogba on board and Mourinho beginning to kick the somewhat negative football imposed on the players by previous boss Louis van Gaal, the Reds go into the season with excitement, and most importantly confident of success.