It was no secret that Rafael Benítez was unhappy with Newcastle United's lack of investment this summer. The 57-year-old vented his frustration on numerous occasions during the transfer window, fuelling fears that he could leave the club.
However, Benítez has admitted "the North East already feels like home" to him and he has no plans to leave anytime soon. "I was made to feel so welcome by everybody at the club, the supporters and the city from my very first day," said the Spaniard. "All I can do is continue to work hard every day and try my best to give them a team to be proud of."
Fans have played their part
Benítez has twice had the opportunity to leave Tyneside for other projects – following relegation to the Championship two years ago as well as in May when there were lucrative job offers on the table from China.
Speaking to North East Times, Benítez revealed his daughters played a big part in convincing him to stay at Newcastle.
"My family wanted me to stay in England after my time away in Italy and Spain," he said. "My daughters were showing me what the fans were saying on social media and the time.
"They were looking on different social networks and saying, 'You have to stay and win for these people – the fans love you here!"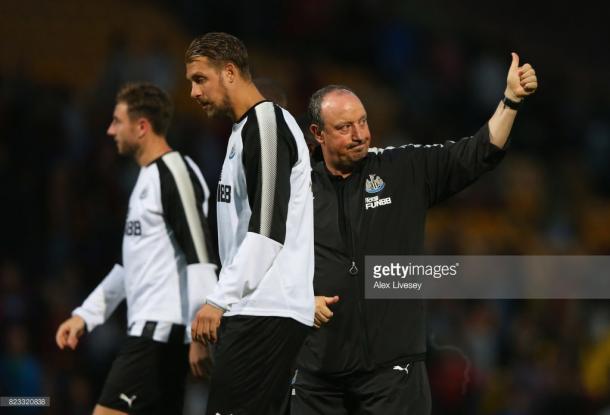 Transfer window emotions
Despite six new additions to Benítez's side, the former Real Madrid boss was hoping to bring in more faces once he cut the wage bill, but was unable to bring in anyone in the final few days of the window.
Benítez will no doubt be hoping there are funds available for the January window, with the club having a mere £12m net spend this summer - which was dwarfed by the two sides who joined them in gaining promotion last season, Huddersfield Town and Brighton and Hove Albion.