Mauricio Pochettino hailed Harry Kane as one of the world's best strikers after the England international scored two goals in Tottenham Hotspur's 3-0 win over Bournemouth at White Hart Lane.
One of world's best
Tottenham needed to respond to Leicester City's win against Crystal Palace on Saturday and they did so successfully, with Kane the main reason for the win. After the game, Pochettino had nothing but praise for his striker, who he calls one of the best.
Pochettino told the media: "Harry Kane is one of the best strikers in the world," after the striker notched up 20 goals in the Premier League for a second successive season. The praise kept coming for Kane, with his manager saying that "he is a special player and a great person for Tottenham".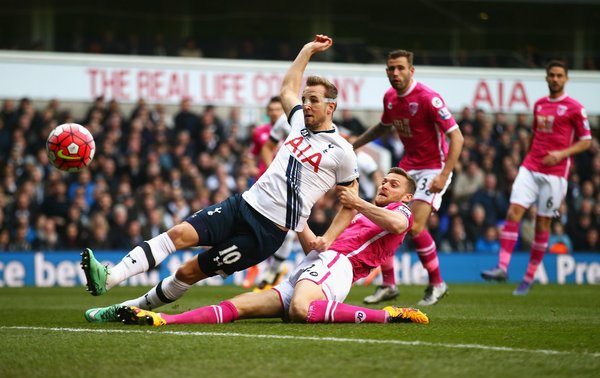 Early goal was key
As for the importance of getting an early goal against Bournemouth, the Argentinean said that "it was very important" and that his side then "had to show a strong mentality to manage the game," which they have done throughout the whole season and did again on Sunday.
Pochettino continued, saying his team "created a lot of chances" and that "it was important to win 3-0 and get a clean sheet." The statistics showed that the win was very deserved too, and it could have been a much heavier scoreline. The manager even thought it was "one of the best performances of the season".
It was very important that the whole team bounced back with a good victory against Bournemouth after being knocked out of the Europa League on Thursday by Borussia Dortmund. Pochettino said that he felt it was important to put that disappointment behind them and move on.
He described it as "a good day at the office," which contrasted largely with last week. "One week ago in Germany, we had a bad day but we were good from the beginning today."
Time to refresh
Many managers after a good win would feel that the international break has come at a bad time, but not Pochettino.
He believes that the interval instead "gives [Spurs] time to relax and analyse". The key now is for the players to go away and come back refreshed to give it their all for the final stretch of the season.