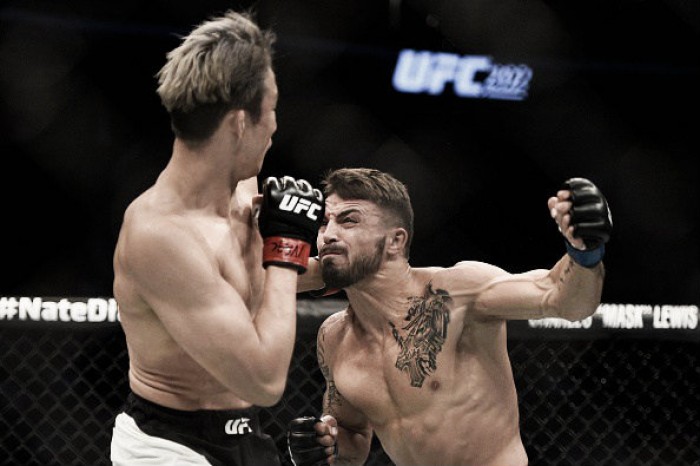 Nate Diaz - Conor McGregor 2 was always going to take centre stage, but a return to the Octagon for Tim Means received a standing ovation for his performance before debutant Mike Perry got his victory on his debut in the first round.
After Cody Garbrandt called out Dominic Cruz for the Bantamweight title fight, the eyes of the world descended down on Las Vegas as Tim Means - Sabah Homasi got the main card underway
Tim Means defeats Sabah Homasi
A masterclass from Tim Means, who returned to the UFC for a second stint, showed his experience as he defeated Sabah Homasi in round 2, after Herb Dean ended the bout. Means attacked from the off with a flurry of punches which was soon followed by elbows and knees, which opened up a huge cut on Homasi in the first round.
Following his return to the octagon after a tainted supplement issue with USADA, Means looked like he had never been away as he controlled from start to finish, without breaking into a sweat. The experience truly showed as TUF contender never troubled Means.
Mike Perry defeats Hyun Gyu Lim
The second fight on the main card saw Mike Perry make his UFC debut. A delay saw Perry being ordered to cut his fingernails before his entrance into the octagon, whilst experienced Hyun Gyu Lim looked in shape for a welterweight bout.
Power and explosiveness in the opening two minutes almost cost Lim the fight as Perry countered, taking Lim to the ground. The UFC debutant had side control, unleashing a number of significant strikes before Perry rocked Lim once again with two minutes on the clock.
Perry remained composed for before rocking Lim and unleashing a bomb, knocking Lim off his feet, face planting the floor before John McCarthy stepped in to end this bout.