 Omar McLeod flew into Jamaican hearts as he ran a fluid 110m hurdles final to finish top of the pile at the 2017 World Championships.
McLeod heads talented final eight
It was McLeod who went into the final with the hottest form after clocking the best qualifying time of 13.10 seconds. The fastest man this year and fifth quickest of all time was looking to make up for a disappointing meeting for his nation after both Usain Bolt and Elaine Thompson were stunned in the 100m finals.
McLeod headed a talented semi-final that resulted in Garfield Darien finishing ahead of defending champion Sergey Shubenkov and Olympic silver medalist Orlando Ortega. The pair qualified by virtue of the fastest loser system due to the pace set by McLeod but had to settle for outside lanes in the final.
Balazs Baji and 2012 Olympic champion and World record holder Aries Merritt eased through in their respective heat with the latter becoming the fan's favourite after the elimination of Andrew Pozzi.
The Brit would have been devastated to miss out on the final as both he and Devon Allen lost out by mere inches in a race that saw two-tenths of a second cover first to fourth. The experienced Shane Brathwaite and 2015 silver medalist Hansle Parchment squeezed through to make up the final eight.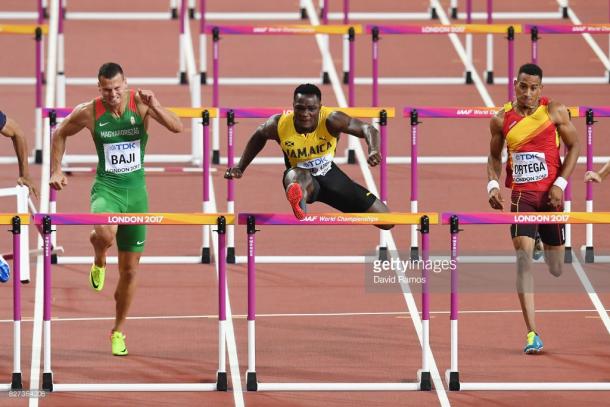 The Jamaican leads from start to finish
Unlike the 100m final, there was no playing to the crowd on the start line. It was about focus all the way for the contenders, with favourite McLeod smiling and looking relaxed as he waited to continue his global dominance in 2017.
McLeod exploded out of the blocks with his start matched only by Shubenkov and Darien. Merritt looked as if he could catch the leading three and was able to close down Darien at the halfway point after knocking down consecutive barriers.
Yet McLeod and Shubenkov started to glide away from the supporting cast as they went toe-to-toe for gold. Shubenkov did everything right but McLeod was too strong and held his form as he flung his arms aloft and celebrated his first World title in a time of 13.04 seconds.
Russian Shubenkov, running neutrally following his nation's ban, eased to silver as he downgraded from his title two years ago. However, a shock unfolded behind the leading two as Darien hit two more hurdles and Hungary's Baji dipped past the Frenchman and Merritt to steal a place on the podium.