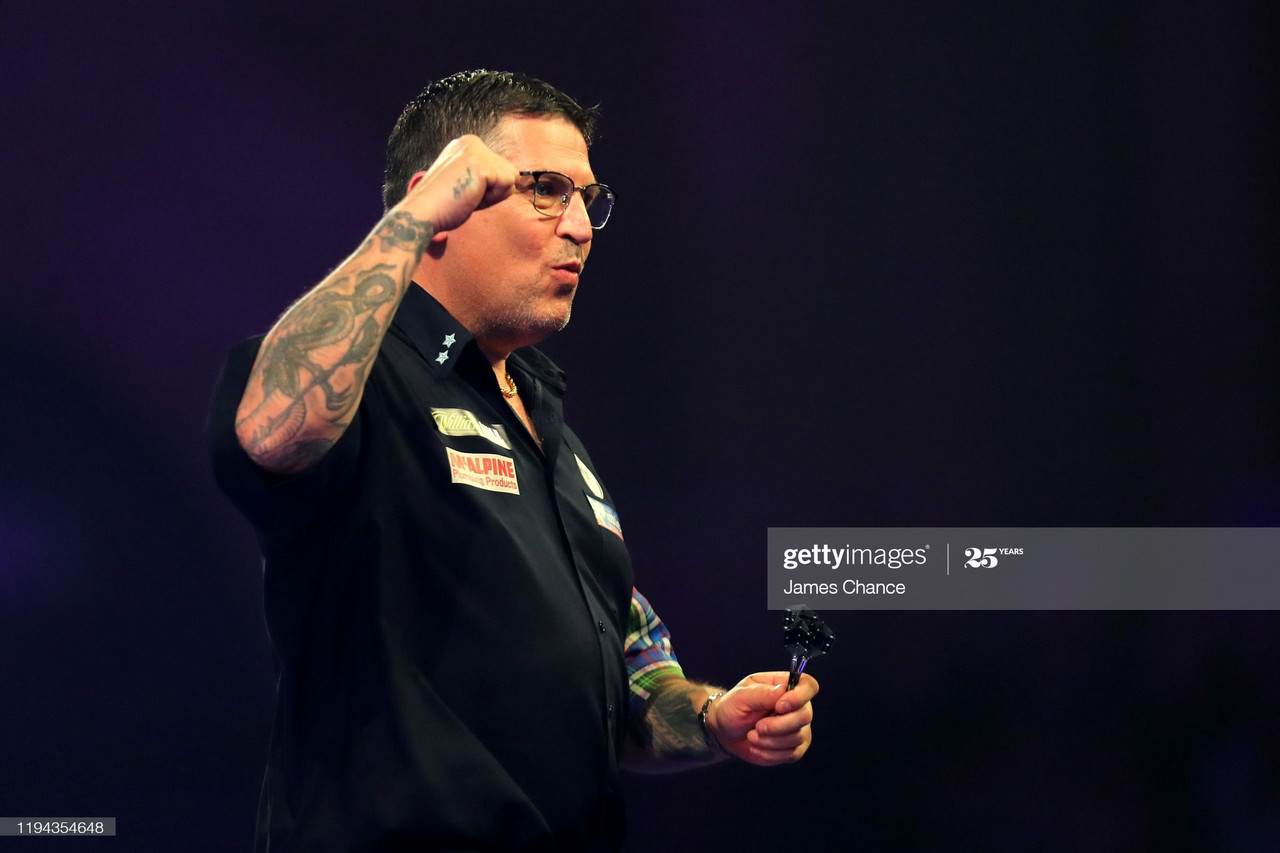 Gary Anderson and Dimitri Van den Bergh both survived late resurgences to reach the Betfred World Matchplay final.
Anderson held his nerve as well as his throw to beat Michael Smith 18-16 in a pulsating all-British semi-final in Milton Keynes.
Semi-finals
The Flying Scotsman looked to be coasting to victory at 14-9, but a superb string of legs saw Smith drag himself back into the contest at its most crucial stage.
Smith hit 14 maximum visits to Anderson's lowly seven, and forced the game into a tie-break at 16-16 with an unstoppable 12-dart leg.
His 33% success rate at the outer ring was costly, however, as his momentum quickly deteriorated and Anderson had the final say with a double 16 finish.
Hoping to lift the Phil Taylor Trophy for the second time in three years, the Scot will play Dimitri Van den Bergh who squeezed past Glen Durrant in an equally-gripping second semi-final at the Marshall Arena.
Van den Bergh responded well to strong early darts from Durrant, winning an astonishing eight legs out of nine on the way to a 9-6 lead at the third interval.
Duzza then fought back in the fourth session, narrowing the lead to 9-8 before pressure crept in once again and Van den Bergh reassumed command of the tie.
The Belgian not only restored his three-leg cushion but also further extended it with a world-class two-dart finish on double four.
However, like in his quarter-final comeback over Vincent van der Voort, Durrant continued to be a nuisance to his 26-year-old opponent and made the final session one full of discomfort with three consecutive breaks of throw to level at 13-13.
Van den Bergh then eventually found a major breakthrough after four tense holds of throw, breaking Durrant's before checking out double 16 at the first time of asking to reach his first televised final.
And then there were two...
Two takeaways from Saturday evening: the semi-finals delivered beyond all expectations... and never write off Glen Durrant.
To come back once is professional; to come back twice is sensational.
At 9-5 and 12-8 down, Durrant could have thrown in the towel, but the Englishman with true bulldog spirit refused to be beaten until he could give no more.
Equal praise should be given to Van den Bergh, who largely kept his composure intact when others might have succumbed to Durrant's defiant psyche.
The Belgian could have easily become Duzza's next victim after van der Voort surrendered his semi-final spot at the very death, but the Antwerp-born ex-youth world champion proved to be just as resilient as his opponent.
Michael Smith, meanwhile, showed in short bursts why darts fans can also be excited for his future, but consistency is what often makes a truly world-class performer.
Though occasionally not at his best, Gary Anderson's cool head and reliable throw have carried him through to Sunday's finale.
"It was great up to a point for me, and I felt like I had it done and dusted but then it went wrong," Anderson told the PDC.
"I was struggling to get my darts up but I plodded on and pinched it at the end."
Whilst Van den Bergh will undoubtedly be a tough test, the former back-to-back world champion can consider himself as the final's firm favourite.
But if there is anything The DreamMaker enjoys, it is being an underdog.
Van den Bergh's semi-final outing was his best of the tournament so far, and the Matchplay debutant will be hungry for his first televised title.
As much as the 26-year-old should allow himself to enjoy the special occasion, he is aware of being more than capable of overcoming the Scot.
"I'm so proud to be in the final but I want to win it now," he told the PDC, "I'm in the final for a reason and if I manage to win, it will not be an upset."