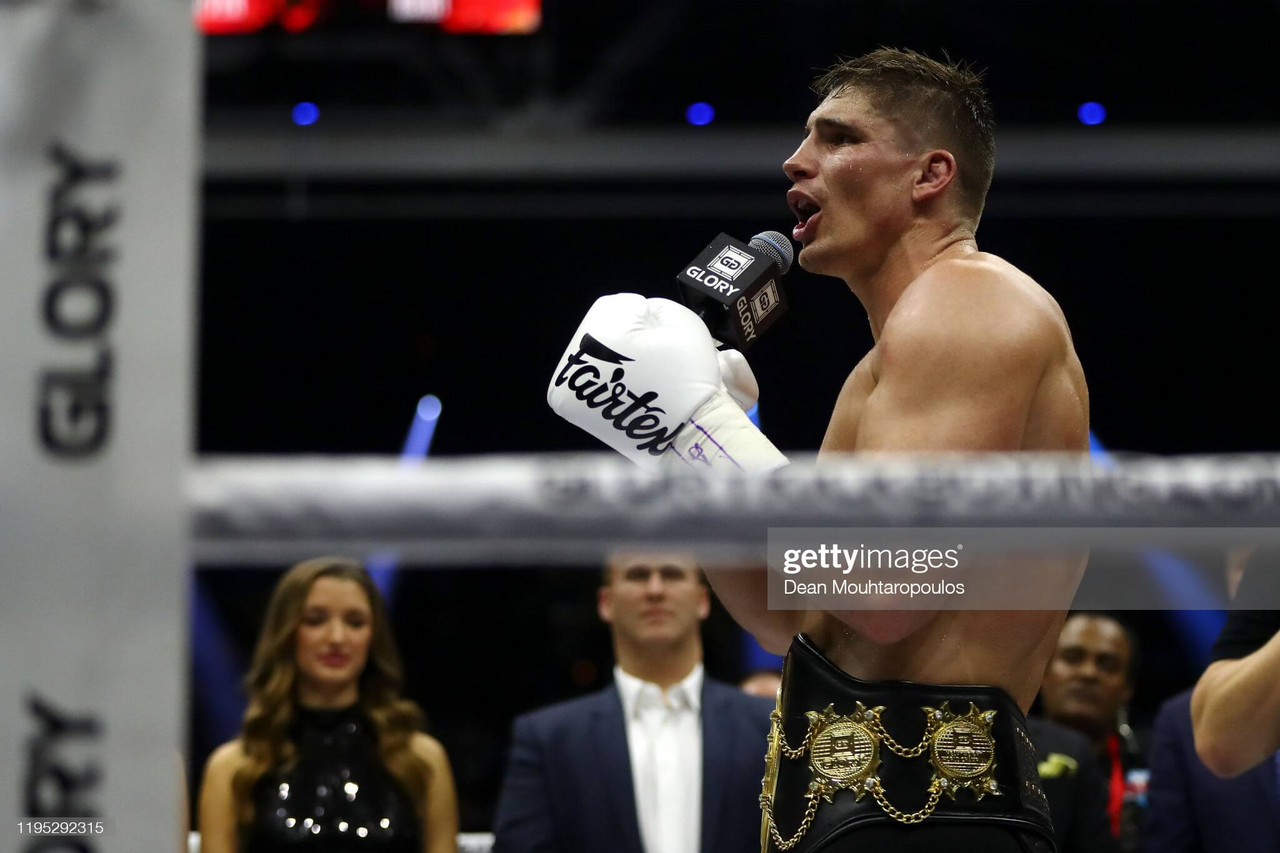 "The King of Kickboxing" and Heavyweight champion Rico Verhoeven puts his title on the line as he enters a two round heavyweight title tournament, featuring his semi-finals opponent, Hesdy Gerges, Levi Rigters, and the debuting, former SUPERKOMBAT World Heavyweight Champion Tarik Khabez.
Rico is coming off his last bout with bitter rival Badr Hari in December 2019, taking place at GLORY 74: Arnheim. The event was undoubtedly the biggest kickboxing showcase to date, taking place in a sold out GelreDome with 30,000 fans. The event also drew 3.5 million viewers, with an estimated 53% of the live audience based in the Netherlands, making it the 2nd highest live viewership number, for a sports broadcast, in the history of Dutch television.
The card also features two title unification bouts, including the 21-5, Light Heavyweight champion Artem Vakhitov, against the current interim champion, and the GLORY Middleweight Champion Alex Pereira. 41-6, Pereira has gained a fandom online after fans discovered his old wins against current UFC Middleweight champion Israel Adesanya, at Glory of Heroes 1 and 7 in 2016-2017, making him the only man to KO Israel.
The 'champ-champ' is currently on an 8-fight winning streak, with 6 wins coming by way of KO, tearing up the Light Heavyweight division, and gaining an immense amount of traction online, even being discussed on the Joe Rogan Experience, with Rogan proclaiming that "you see him hit guys, and they look like normal punches, but they just go unconscious".
The undisputed Welterweight title is also on the line, with the champion, 74-7 Cedric Doumbe facing 69-24 Murthel "The Predator" Groenhart in the trilogy fight.
A storied rivalry, the pair first met in 2016, at GLORY 28: Paris, where Doumbe picked up the unanimous decision, and then went on to lose via split decision to Groenhart in 2017 at GLORY 44: Chicago. Both with an impressive list of wins against top competitors like Nieky Holzken (x2 for Doumbe), Thongchai, and Harut Grigorian, this bout is set to be an electrifying one.
The card also features a Women's Super Bantamweight title fight, with champion 22-6 Tiffany Van Soest taking on 5-1 Aline Pereira, and a Light Heavyweight bout between 70-8 Luis Tavares and 21-6 Donegi Abena.
GLORY 77 is live on PPV from glorykickboxing.com from 19:00 GMT.