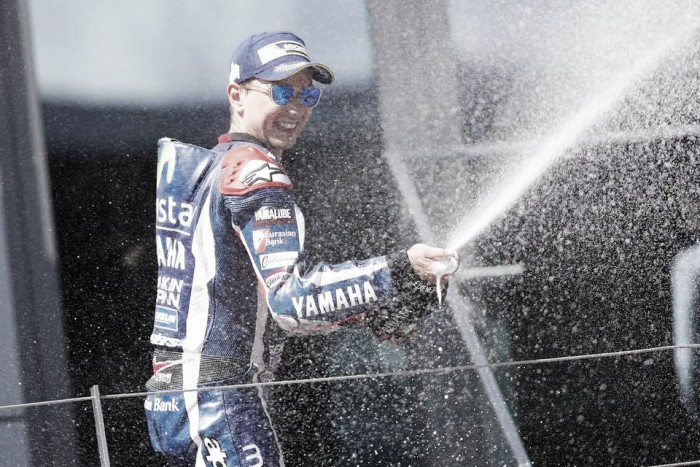 Jorge Lorenzo (Movistar Yamaha Moto GP) fought off his team mate to take third position at the Red Bull Ring in the Moto GP class. After swapping positions towards the start of the race with Andrea Iannone (Ducati Team), Andrea Dovizioso (Ducati Team) and fellow Yamaha rider Valentino Rossi (Movistar Yamaha Moto GP), he soon slotted himself into that podium position, and was there to stay.
Lorenzo knew he had to improve
After a difficult couple of rounds, Lorenzo headed off into the four week break with a lot to think about. Not only did he suffer an unfortunate crash at the Catalunya GP, but wet conditions altered his performance leading into the Dutch GP and the German GP.
This has allowed Marc Marquez (Repsol Honda Team) to run away with the championship, opening up a larger gap each round to Lorenzo. With this in mind, the Spaniard knew he had to do something this weekend if he has any chance of keeping up with the championship leader.
The weekend started off difficult
After waking up to cold temperatures Friday morning, it looked like it was going to be yet another difficult GP for the Yamaha rider. Leading into the Free Practice One, he seemed to lack pace in comparison to the Ducati's, finishing with a time half a second slower than the top time.
In Free Practice Two he continued to stay quiet as he finished the session in eighth place, different to his usual top three finish. This put him in a difficult position when it came to the Free Practice Three, as he knew he had to stay in the top 10 in order to get through to Qualifying Two.
Once the weather got warmer, Lorenzo became more confident
It was almost like we saw the old Lorenzo come back, as the times started to come in thick and fast as he entered the FP3. He did manage to finish in fourth place, which is a more comfortable position for the rider.
It was clear that the Yamaha's were going strong here, and Lorenzo looked like the next best rider on the grid set to challenge the Andrea's. Rossi was also riding at an incredible level, and Lorenzo had to continue to improve if he was to beat his team mate.
When it came to qualifying he didn't have enough push to sit himself on the front row of the grid, but after seeing how strong Rossi and the Ducati's are here, he should be proud with securing fourth place. His main championship rival, Marquez, was next in fifth so it looked set to be a battle between the two Spaniards.
Lorenzo rode to the limit to fight off his rivals
Although he had a shaky start, Lorenzo immediately proved that he had the pace to perform well in the race. The Ducati's made it clear that no one could catch them to take the win, but Lorenzo didn't give up on a podium.
Rossi challenged his team mate as they split off in third and fourth place, whilst Iannone and Dovizioso broke away. They stayed within touching distance of each other throughout the majority of the race, showing that either Yamaha could have appeared on the podium. But after a difficult couple of months, determination drove Lorenzo to hold Rossi back and take his first podium since winning in Mugello four rounds ago.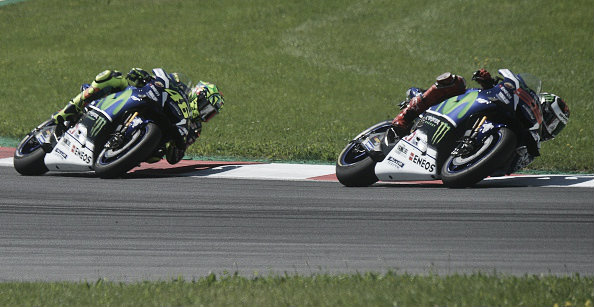 Lorenzo says the podium is very important
When arriving in Parc Ferme a giant smile was spread across his face, looking seemingly pleased with the result.
He said the podium was 'very important' after he 'lost so many points' as he has had 'a lot of bad feeling.' After everything that has happened he said it's 'finally been a good weekend' as it started with a 'good qualifying session' and then a 'very good race.'
It was hinted that Lorenzo may have thought towards the start of the race he could end up taking the win, as he stated 'Iannone was not as fast as I (he) expected.' This was short lived as Lorenzo could see he was going 'faster and faster, even with the softer tyres at the front and the rear.'
He said he was 'surprised' at the speed of Iannone after showing a slow pace at the beginning, but he was happy with the results saying, 'finally we were not so far from the Ducati than we expected, especially as this track is better for them.'
The Ducati's were 'in another world' at this circuit
Lorenzo expressed that 'when you have won around 40 to 50 races, finishing in third place is not the same as a victory.' But he also went onto say that this third position is 'almost like a victory because Ducati were in another world during the weekend.' He also thought that to 'finally finish in third and just two seconds from the winner is a great result.'
The team have a lot to work on after a difficult first half of the season, but Lorenzo says they can leave 'satisfied with the work on the bike and the concentration I (he) could keep in the race.' It seemed the Yamaha rider also faced difficultly throughout the last part of the race as 'the rear tyre was moving a lot.'
Overall the Spaniard says he can 'remain happy and will keep on working.' He once again repeated he is happy to 'recover some points from Marc as it is important for the championship.' But knows he has to stay focused reflecting on when 'Marc crashed and almost got seriously injured' showing that 'in this championship anything can happen.'