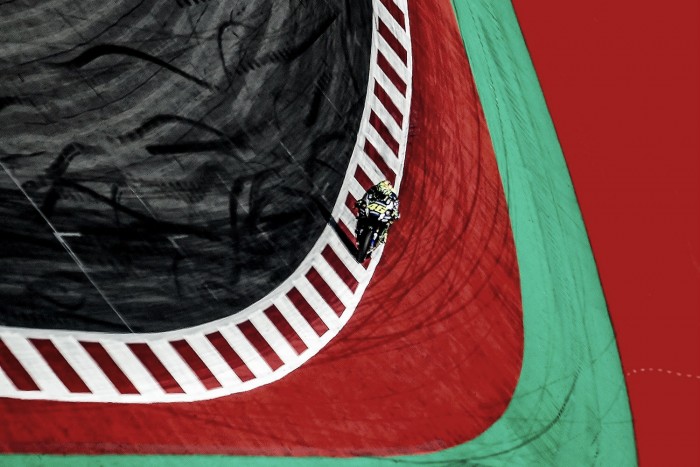 Back in 1997 Movistar Yamaha rider Valentino Rossi, now nine times world champion was competing in the MotoGP world series in the 125cc class. He made it onto the podium after finishing second aboard his Aprilia behind Noburu Ueda.
The Red Bull Ring in Austria was added to the calendar this season for the first time since then. Back then the MotoGP class was ran with 500cc engines and MotoGP legend Mick Doohan dominated the championship on his Honda, winning that year with 340 points, 143 more than second place Tadayuki Okada.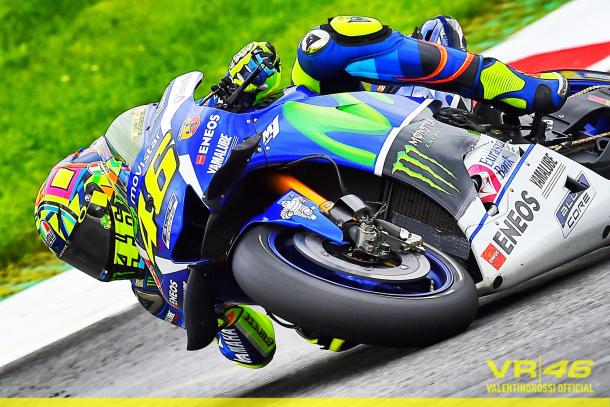 Rossi at an advantage at the Red Bull Ring
Rossi was heading into the tenth round of the MotoGP season after the summer as one of the only riders in the field who had competed here before. Only Jack Miller (Estrella Galicia 0,0 Marc VDS) was the only other rider thought to have competed here in the 125cc German championships.
The layout of the Red Bull Ring had been refurbished since Rossi last competed there, at the pre-race press conference Rossi admitted that although there was some changes it was not much different.
The track had been resurfaced and he felt it had much more grip. The Movistar Yamaha team were among those riders who tested at the circuit for two days before the summer break.
Rossi was surely at an advantage! Although it was known (from the test) that Ducati were strong going into the race, the Movistar Yamaha riders made things difficult for the Italian factory team. Rossi split the duo during qualifying when he claimed second on the grid with a last minute lap.
Perfect conditions in Austria for a race
Conditions were ideal for the race but when things got underway Rossi did not get the best of starts and ended up in traffic after the first few corners. He soon ended up in fourth behind race leader and friend Andrea Iannone (Ducati Team), Andrea Dovizioso (Ducati Team) and his teammate Jorge Lorenzo (Movistar Yamaha).
Rossi was one of three out of the lead four riders who opted for the medium front Michelin tyre and hard rear. Iannone opted for the soft front and medium rear, a risky strategy that turned out to be ideal as he managed the race perfectly.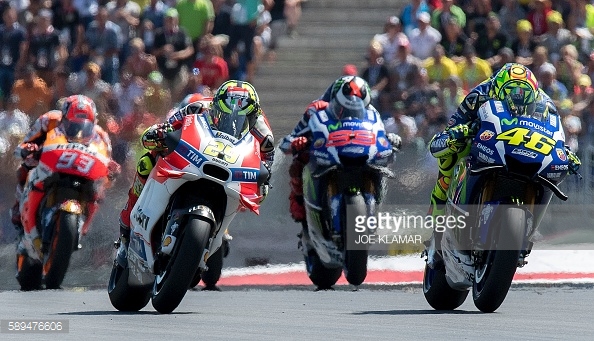 Rossi claimed fourth at the Austrian GP
It looked like the Yamaha team were putting the Ducati riders under pressure at one point but eventually they had to settle for third and fourth. Rossi didn't even seem to have it in him to battle with his teammate for the last podium spot.
He finished fourth claiming thirteen championship points, only two more than championship leader Marc Marquez (Repsol Honda who has a big lead of him.
Despite only finishing fourth Rossi felt that "in the end it was a good race" as he knew that "the margin to our rivals in front was not very big". He admitted that it was "a shame" that he "was not able to fight with Lorenzo".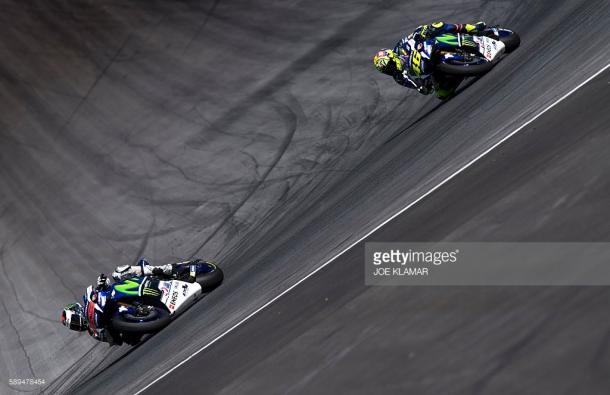 The Italian spoke of how he "wanted to arrive on the podium" but knew "in the end I (he) wasn't able to do so", something he was "not happy about". However he said, "For the rest it was a good weekend."
Yamaha were only 'quite' competitive
Rossi felt they were "quite competitive at this track", which he said was "not fantastic for Yamaha", but they still "took some points". Comparing himself to Ducati, Iannone won and Dovizioso came second as they achieved a double podium, he said, "Our rhythm in the race was very similar to those who took the victory and we will try to be stronger next week in Brno."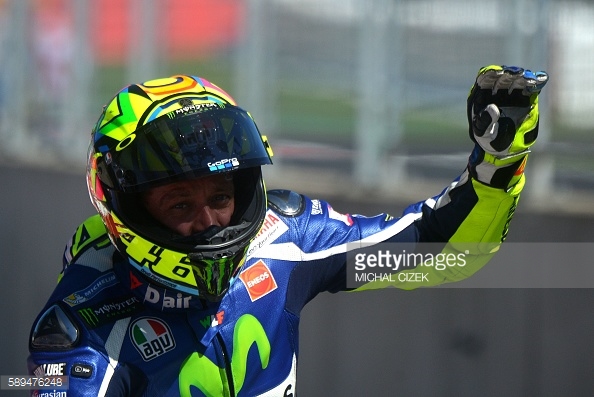 Reminiscent about Brno
Speaking dearly about the track he commented that for him "personally, Brno is a great track" where he "won for the first time". He felt that the "last few years" that he "wasn't strong enough" and so he is "curious to understand if this year" whether or not he can "be more competitive".
Speak about "today's frontrunners", Ducati and Lorenzo, he said, "I think they will also be very strong in Brno because they are always fast and the track also has a lot of straights,"and so the Yamaha rider plans to "keep an eye on them".