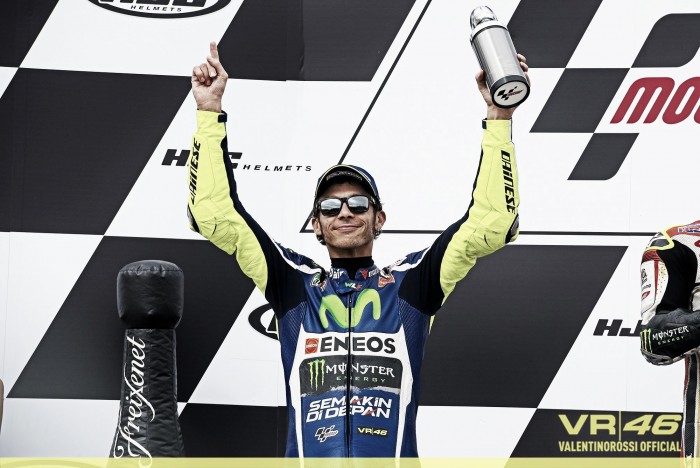 Twenty years ago Movistar Yamaha rider Valentino Rossi claimed his first ever Grand Prix victory aboard an Aprilia in Brno, he returned to the Automotodrom Brno in the Czech Republic. Now in 2016, and with nine world championship titles under his belt, Rossi was hoping for a repeat in history.
Second row start for Rossi
Finishing no lower than fifth throughout Free Practice at the 11th meeting of the season, Rossi qualified in sixth, starting the race from the back of the second row.
But all the work that was done before the race was undone when it came to race day as it rained, hard, and the track was still wet when it came to the race. Although all riders opted for full wet tyres before the race, Rossi decided to run with the soft compound front and the hard rear.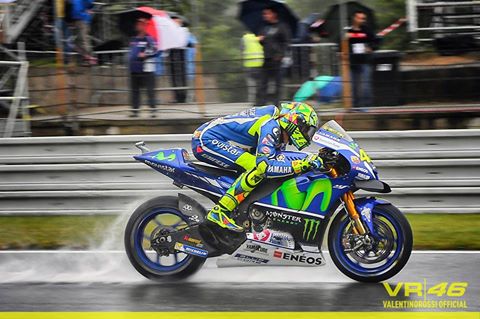 Rossi opted for the hard rear tyre
It was a gamble, not as much as race winner Cal Crutchlow's decision to run with both a hard front and rear, and when the race got underway he got a terrible start. He went backwards, was overtaken by many riders on soft front and rear tyres, when he found himself in 12th and way off the race leader Andrea Iannone (Ducati Team).
It took a few laps but eventually the tyres began to kick. They soon came into their own and both Crutchlow and Rossi were able to pick up their pace. Crutchlow overtook Rossi which seemed to wake up the Italian who then began his pursuit behind him.
Rossi finishes second in the Czech GP
Crutchlow went on to win the race and Rossi crossed the line just over seven seconds behind him in second place. He gained twenty much needed points towards his championship that meant he is now placed above his teammate Jorge Lorenzo (Movistar Yamaha) who had a disaster of a race, and he is now 43 points behind championship leader Marc Marquez (Repsol Honda).
What a way to celebrate your first podium… with another one.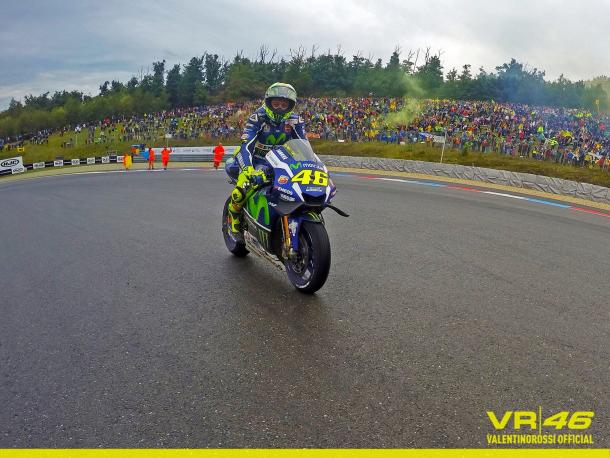 Rossi felt desperate
Rossi admitted that "at the beginning" of the race he felt "desperate" as he initially thought he made "a mistake" with his tyre choices, and he thought, "Not today!" At the start he spoke of how everyone overtook him on the outside and then when he seen via his pit board that he was "P12" he was gutted.
He felt it was "a shame" as he "had a good setting" on the bike from the morning warm-up session, and so he felt the bike felt "well" but he "had no grip on the rear". However, "lap by lap" he said the "rear came better" and although the race was "very long" he said "you have to always stay concentrating" and try not to "make mistakes".
Rossi became confident in his tyre choices
When he "started to recover" he knew that "at the end it was the right choice". Comparing the performance of the factory Yamaha to the independent team ones ridden by Monster Tech 3 Yamaha riders Pol Espargaro and Bradley Smith, he noticed that "already in half of the race they were very better".
Analysing the second half of the race though he said that he thought "the second half was funny"; laughing he said, "I come better and overtake everybody."
Rossi happy with his position
Rossi was "happy to be back on the podium" and that he was "very happy for these 20 points". He spoke of how his "last victory was in Barcelona" and that "after a lot of mistakes" and a lot of bad luck, and "a lot of time" as it was back in June, that he had "started to be very sad".
But the Italian was "happy" because he is now "second in the championship" and that he felt they "did a good job" and was content that he "made the right choice" with the tyres. Although he feels the "point difference is too big" to battle with Marquez in the championship, he felt it was an "important battle for the second place" in the championship.
He is looking forward to "one week of rest" before the next meeting in Silverstone, he said, "We need to try and rest and try to be stronger on the wet, but also the dry."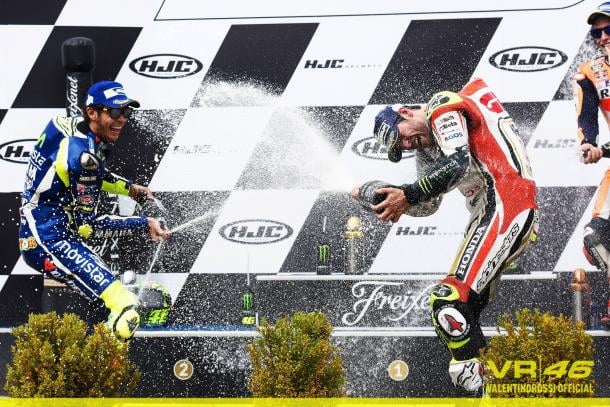 Rossi's thoughts on Crutchlow's first MotoGP win
When questioned about his thoughts towards LCR Honda rider Crutchlow becoming the first British winner since Sheene, he was shocked at the length of time it has been. However he said he is "really happy" for Crutchlow who he thinks is "one of the best guys in the MotoGP" as he is "one of the most fun" and who he has a "better relationship" with.
He said how he had told Crutchlow that he "deserved it" and he was "happy" for him for "becoming a father" and because of the fact that "one victory in the MotoGP class" means you become "top of the class". Rossi was, "Very happy for Cal and all of his family."