Red Bull KTM Ajo rider Brad Binder won the 13th round of the Moto3 season at the Misano World Circuit Marco Simoncelli in Italy; a fantastic feat as there were a lot of Italian competitors hungry for a podium in front of their home crowd.
Great motorcycling facilities in San Marino
The San Marino circuit is located in apart of Italy (near the beach) where riders have decided to flock to in order to do well in the field. There are a lot of amazing facilities for riders to train and not only is it the home of MotoGP legend Valentino Rossi (Movistar Yamaha) it is the local track to the VR46 riders Academy.
There are several rookies in the 250cc class yet they are all very familiar with the Italian circuit. Along with many rookies, there are many riders who have 'graduated' from the academy and several Italian's competitors who all wanted to do well at their home GP.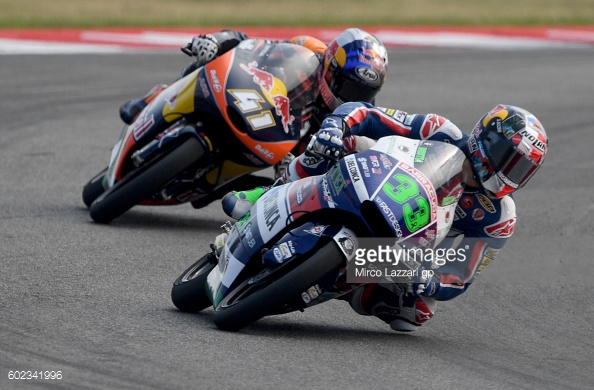 Two riders set out on a mission
One in particular was able to put up an immense battle against race winner Binder, and almost prevented the South African from claiming the top step of the podium and extending his championship lead. Enea Bastianini (Gresini Racing Moto3) initially took the lead as he took great advantage in starting from second on the grid, and was the first to arrive into turn one.
He led for several laps until Binder decided to make his move and began his domination for the majority of the race. Four laps from the end though, Bastianini decided to make his move overtaking the leader, before Binder tried to take as much advantage of the Italian's slipto retaliate at the narrow track.
It came down to the very last lap of the race, Binder stayed on Bastianini's tail, stalking him until he made his move. Despite his best efforts Bastianini had to watch as his home win disappeared before his eyes and he had to settle for second.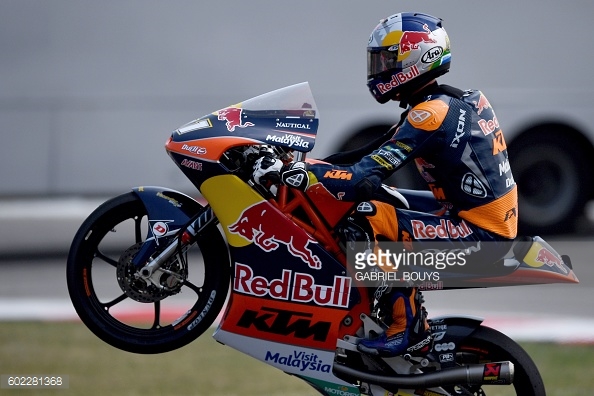 Fifth Moto3 win for Binder whose strategy paid off
Afterwards Binder described the meeting at Misano as "a great day", and although he said he "suffered a bit during the first three laps" after "engaging in an intense battle with Enea". Tactfully he spoke of how he "was able to put [himself] up to first and lead the race" however later on he decided to "drop back into second and see what Bastianini could do"; he was aware of their "two pursuers two seconds behind".
He then spoke of how he "tried to manage the gap" between him and "those fighting for third place" and then he said, "On the last lap I made my move!" He felt that "everything worked perfectly" and he was now "really happy with this fifth victory of the year".
He said that he "cannot be more grateful to the team", he is finding himself "very happy every weekend" and praised them describing them as "splendid" as they help him "at all times". The KTM rider said, "The bike is working exceptionally well! I really could not ask for more!"
Bastianini hopes to retain second in the championship
Complimenting his rival, Bastianini mentioned how "Binder maintained a good pace throughout the race" and on race day he "really made the difference". Also revealing a tactful approach to the race he described how as he was "following him closely" although it may have appeared "that it was easy" for him to catch Binder, he "didn't want to pass him in the long straight" in an attempt to "not break the rhythm". He said that "by doing so" that this enabled them to "open a gap to the other riders".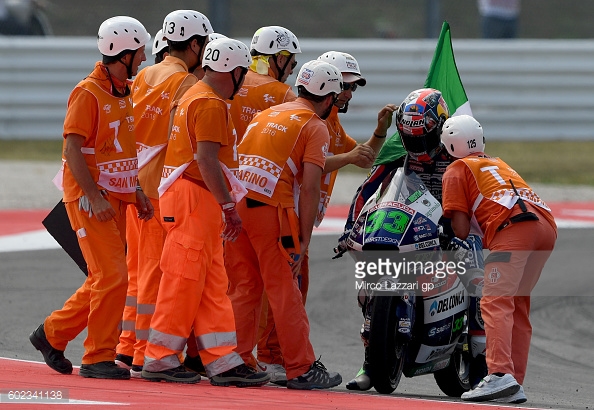 He described how he was able to overtake Binder in the final stages but then he found he was "good to pass" him again and he went on to win the race. Discussing the end of the race he said it was "too bad only for the final attack", although he "felt strong enough in the last corner" and after Binder passed him he was "already thinking to fight back" on the last corner but found closed the inside line and "it was not possible to pass".
The 20 points the Italian claimed on home turf was good enough to move him up to second in the championship. He knows "Binder is too far away" and so he explained how "the goal is to keep second position". He declared, "As long as we have a possibility we will always try to attack until the end!"
Bulega and Mir battled for the last podium spot
As all of this was going on at the front, behind them Nicolo Bulega (Sky Racing Team VR46), who qualified for a front row start, initially went backwards. But as one of those VR46 Academy riders he was able to come back and spent most of the time battling with Leopard Racing Team rider Joan Mir.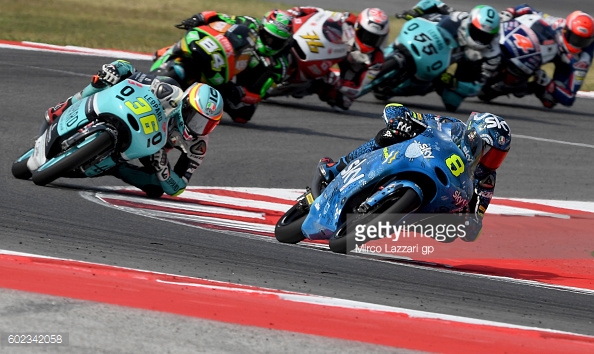 The Spanish rider had been strong all weekend but unfortunately for him he had to wait in the pits for a long time during Qualifying as his team worked on the KTM. Starting from 16th on the grid, the Mir who was quickest during Free Practice 3 soon made his way up to the front where he came across Bulega who had also made a brilliant recovery.
At one point Bulega went on to lead the race. Jorge Navarro (Estrella Galicia 0,0) crashed out which meant a podium was possible as long as he could fend off Jakub Kornfeil and Andrea Locatelli. They did so and after spending some time battling, which allowed Binder and Bastianini to break away slightly.
Mir penalised for exceeding track limits
Mir learnt that he had penalised (for exceeding track limits) and he had to give up one position on track which meant Bulega was on the podium. This was short-lived though as it was not long before Mir overtook the Italian rookie and went on to finish in third. It was an amazing result for the rider who had such a rollercoaster of a weekend.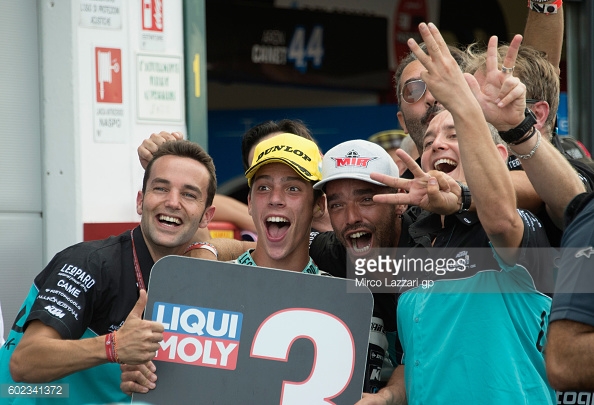 Mir claims Misano was one of his best races
The Spaniard described it as "an incredible race" especially after having experienced "a difficult Qualifying". He felt that on race day his team provide him with "a great bike" which he felt was "really perfect". Mir described the San Marino Moto3 race as "one of my best races" stating that it was "different from that in Austria" where he secured his first ever Moto3 victory.
Analysing the race he said, "To start from the back and start to overtake on a very narrow track like this is amazing." He mentioned that "gradually" he was able to "catch the leading group" and found that "no-one managed to overtake" him. Delighted with his performance and his result he said, "It is a podium that tastes of victory!"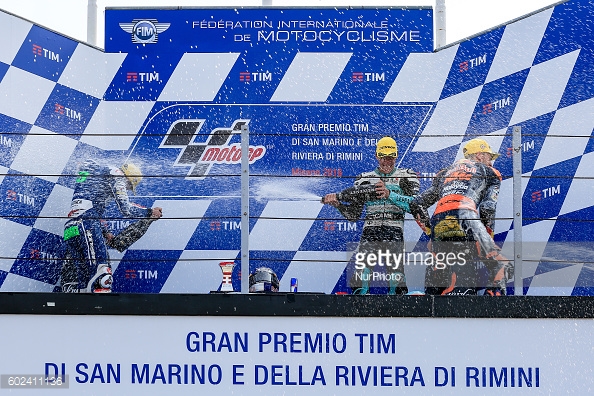 Brad Binder is still the Moto3 championship leader with 229 points. Bastainini is now second with 123 points as his victory (and Navarro's crash) meant he is now five points ahead of Navarro in third with 118 points. Bulega finished fourth and is in fourth with 113 points, Francesco Bagnaia (Gaviota Mahindra Aspar) sits between him and Mir who is sixth with 106 points.