There was a bit of confusion at the end of the 13th round of the MotoGP season at the Misano World Circuit Marco Simoncelli where the San Marino GP took place, as LCR Honda rider Cal Crutchlow was initially penalised by Race Direction but then the penalty was revoked.
Recent run of success for Crutchlow
The British rider who has had three consecutive podiums of late and won his first ever MotoGP this season in Brno, finished the San Marino GP in eighth position. He was the top independent team rider after a successful race in the sunshine.
However, he was seen running off track on several occasions and as a result, Race Direction decided to add a 1.5 second penalty to Crutchlow's time that pushed him to ninth behind Pol Espargaro (Monster Tech 3 Yamaha) who now was placed in eighth and became the top independent team rider… briefly.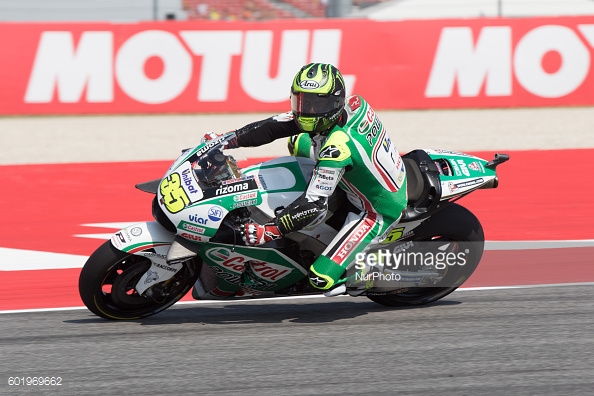 A sweaty forehead caused visor visibility issues for the Brit... nice!
Crutchlow and his team explained that he was having issues with his vision as sweat had dripped onto his visor and he had to run off to avoid making a bigger mistake. Race Direction then thinking this was a good enough justification removed the penalty and the Brit again triumphed!
The San Marino GP was the first sunny round that has followed four wet ones and it meant that that barrier reappeared; the one between the factory and independent teams who struggle to match the pace.
Crutchlow disappointed in final position despite penalty cancellation
It seems that Crutchlow is not happy with the result, whether he had the penalty included or not, and neither was Pol Espargaro who thinks that the Brit will have benefited in the race rather than been prohibited.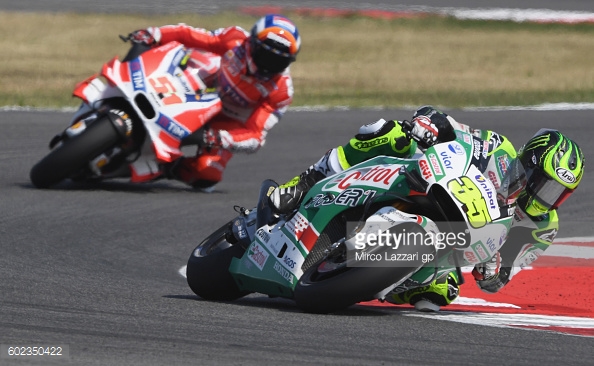 Analysing the race Crutchlow said he thought he "did the best job possible" and that they "worked well together as a team all weekend to be competitive". Explaining his difficulties in the race he said he "had some problems with the visor in is helmet"; the increased temperature in Italy meant that "drips of sweat got onto it" about eight laps in and he said it "affected my vision for the last 20 laps".
Front tyre issues with the LCR Honda
Crutchlow also revealed that there was "also a bit of struggle with the front tyre" which he found made it "really difficult to ride with", in Italy, and that it "didn't suit the setting" or his style. Still he said he "gave my best as always" and felt that it "easily could have been a different result it things had gone right" for him and the LCR Honda team.
Crutchlow returned any advantage
Delving further into the visor issue he described how he "ran off the track five times into turn one due to the visor problem". He admitted he "gained an advantage three laps out of the five" but then said he "deliberately gave the time back in the second sector", unfortunately for the Brit he thought he returned "more than he gained".
Speaking about the issue with the penalty afterwards he said he was able to have it overturned once they "provided Race Direction with the sector times" which allowed them to "clarify" that he "gave the time back on each occasion".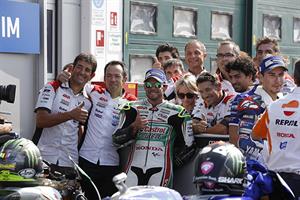 Overall Crutchlow admitted they were "not so happy with the result" however he did think it was "good to finish the race" and to "get some more miles under our belts". Now he said he is looking forward to "going strong in Aragon".
Espargaro not happy with the decision from Race Direction
It seemed to be another story when it came to Espargaro who felt that the "decision from race direction is disappointing" for him. The Spaniard has found that "in other cases people have been penalised on one occasion" however as he chased him round Misano he spotted Crutchlow doing this "four or five times in the race".
Espargaro feels Crutchlow benefited in many more ways
Speaking about what normally happens when "a rider misses a chicane or as series of corners" that usually the "don't just avoid them" they also ended up conserving tyres and he said that it "prevents someone from getting a bit more tired so it's easier for them to push again". Espargaro questioned why race control didn't call him directly as we behind the Brit "and could see everything".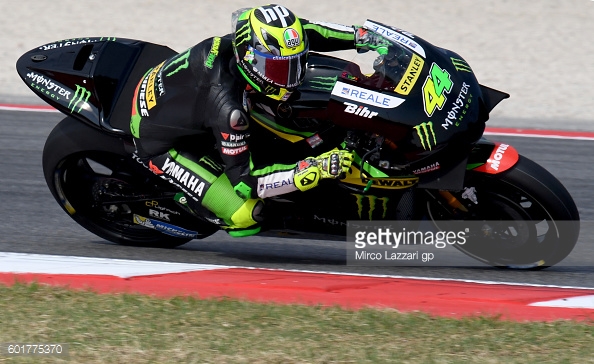 He reassured himself that it wasn't the end of the world as they were only "fighting for eighth or ninth" rather than being placed at "the top of the field" however he said, "I am upset by it".
Misano was very demanding physically for the Spaniard
Discussing the race, the Spaniard spoke of how performed his "absolute best" however he said it turned out to be "very physically demanding". He found that he "struggled a lot with the full fuel load" as he noticed the "bike moved a lot" and it meant his "leg started to hurt a bit"; all of this he said "didn't make things easier".
He crashed out of the first lap in Silverstone and was unable to continue when the race restarted after it was stopped so he and Loris Baz (Avintia Ducati) could receive medical attention.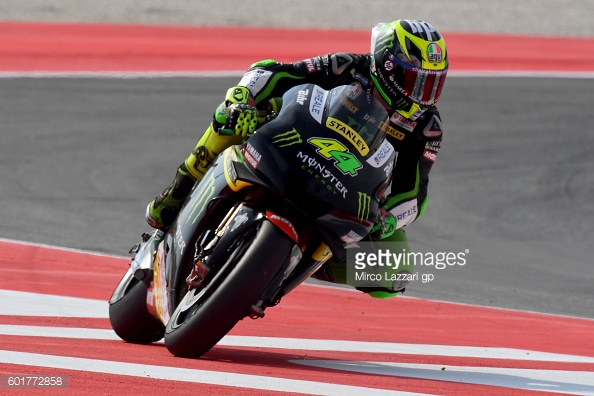 Brotherly battle on track at San Marino
At the start he said it was "tough to get past Aleix" his brother who he said "seemed to have the better hand" on the factory Team Suzuki Ecstar GSX-RR. Still, he "pushed onwards and passed him" on lap eight when he noticed his brother "made a slight mistake whilst entering the last corner", whereas he said he "rode perfectly".
In the final stages of the race Pol Espargaro was "hunting down Cal" and a fast penultimate lap helped to reduce the gap between him and Crutchlow to 1.4seconds; he had "gave it everything" that he had. The Spaniard said, "Nevertheless I am six points behind him in the standings so we have to try and lower this at the next round and therefore I will be back stronger in Aragon."