Full credit to LCR Honda rider Cal Crutchlow who at the Aragon GP, again achieved great things. After qualifying fifth he finished the race fifth overall as the top independent team rider again and the second highest placed Honda. So what is it that he is doing on an older bike, that factory Repsol Honda rider Dani Pedrosa isn't?
Crutchlow had to wait for tyres to kick in
Tyre issues prevented Crutchlow from getting the start he wished for. He dropped to eighth immediately, but clung on. He was the fastest man on track on lap two, which is when he must have started to find his rhythm.
Both Team Suzuki Ecstar riders had been strong throughout the weekend, and on race day they were both making it work. Maverick Vinales was up at the front fighting for the lead, whilst behind the top five, Aleix Espargaro led the group which contained both he and Pedrosa. Both found it difficult to pass the Spaniard until around the 16th lap. By the next lap, Crutchlow had passed Pedrosa and the Spaniard was left to deal with the pressure he was put under by Aleix who was looking to retaliate.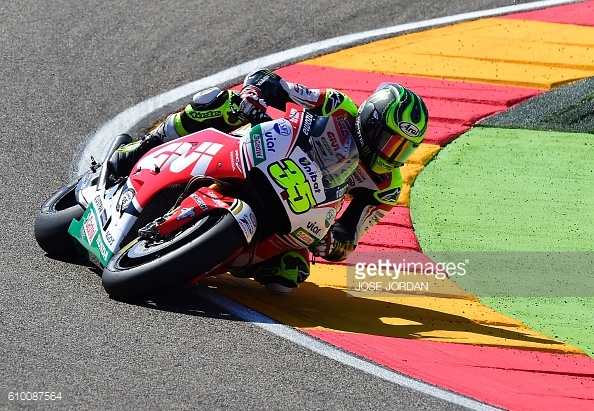 Fifth for Crutchlow in Aragon
Crutchlow was then able to pull away from Pedrosa, he finished fifth just less than four seconds ahead of the factory rider who was able to open up a gap of 1.5 seconds between him and Aleix in seventh. All of them had managed to pass Ducati Team rider Andrea Dovizioso who initially was challenging race winner Marc Marquez (Repsol Honda) for fourth, but who ended up crossing the line in 11th.
So what is Crutchlow doing that Pedrosa isn't this season? The Spanish rider has struggled to adapt to the new Michelins as the French manufacturer took over as suppliers to the world championship class this season. Crutchlow has just gained a new little daughter, Willow; has this helped him to relax and take a different approach?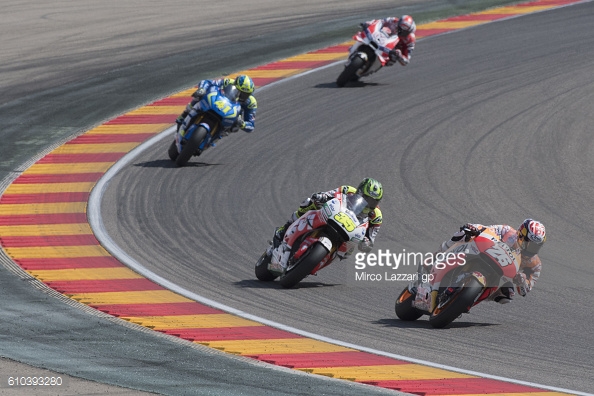 Crutchlow discusses the Aragon GP
After the race, Crutchlow admitted he "struggled to get the rear tyre to work", something he said had "been a problem over the weekend" as he found that "some tyres work immediately and others not". He felt he was "held up" behind Pedrosa, Aleix and Dovizioso and that added to "the speed of [his bike] Crutchlow felt that he had "no chance" to attempt to pass them.
Despite the fact he "tried to be able to fight with them in the early laps and get past" he found that Pedrosa was "just accelerating off the corner a little better" than he was and he said, "I never got the run on him". He felt that he "had to leave it too long to pass" and that in the end he thought that his "pace was as good as the second to fourth placed guys" however at that stage in the race "it was a little bit too late".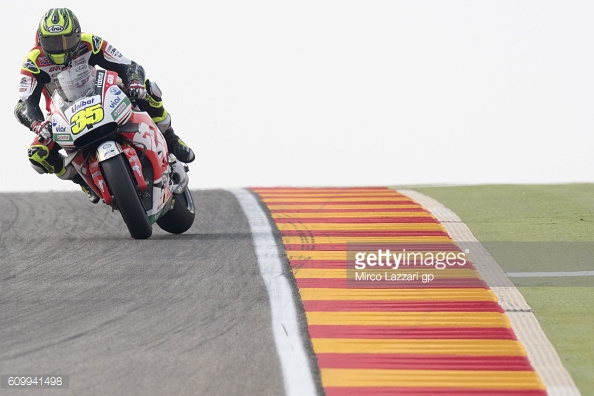 Praising his team he said, "The LCR Honda Team did a really good job all weekend" and he thought during qualifying that he "could have been on the front row" however he admitted he "made a mistake" during the session. But on race day, he felt he "had a good shot at the podium" and what ruined his chance was that he "never got away with them". Crutchlow explained, "In MotoGP when that happens you get punished, it's hard to come back from a long way back."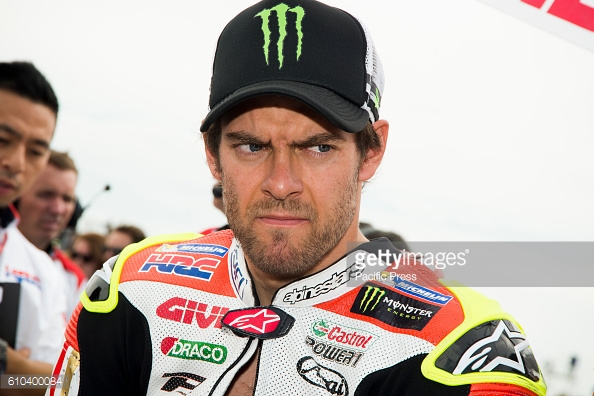 Overall though, Crutchlow felt that it was "an enjoyable race" and he said that "overall we are happy because top five in a MotoGP race at Aragon is not bad", however as always he admitted, "I would have preferred a podium".
Pedrosa unhappy with the result
Talking about Pedrosa, another home round for the Spaniard, Pedrosa admitted they "didn't have a good result" as he described the Aragon GP as "a very difficult race". Complaining about the tyre he said he "didn't have the grip since the beginning of the race". It meant that he found he "couldn't exit the corners with good speed" which is what he "turned out to be [his] biggest problem in the opening laps".
Pedrosa spoke of how he "couldn't open the throttle out of the corner" which meant he "lost ground on the front guys". Despite the fact he "tried to manage in the best way possible", he found that a few laps later he "started to have an issue with the front tyre as well". This is when he experienced "a vibration" and when the race was over he said it was "clear there was some problem there".
The tyre issues meant that when he "tried to fight with Crutchlow" but then he "has to slow [his] pace down"; he felt that this was "a shame" but now we must look forward".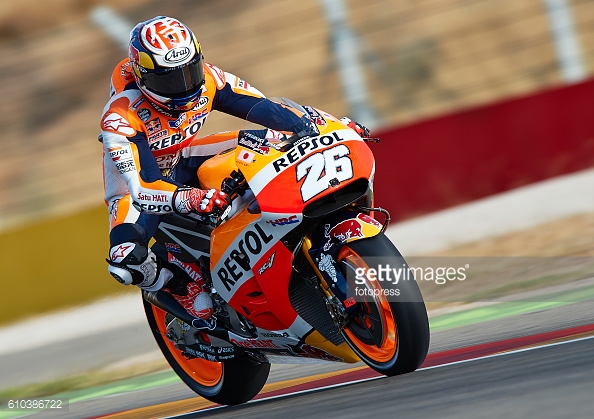 Major grip issues for Pedrosa
Seeing the state of Pedrosa's front tyre, and his boot at the end of the race explains why he was not able to push. Is it bad tyres for the Spaniard? Do they not suit his style of riding or is the bike not setup properly to overcome the issues? Pedrosa's teammate Marquez won in Aragon on home soil after initially losing positions and having to recover from fifth.
Pedrosa is a very consistent rider and his team are so happy with him that they have renewed his contract for another two years. But the 'keyboard warriors' or 'critics' or starting to become more 'vocal' and have begun questioning are Repsol Honda making the right decision. Overlooking the fact that despite not winning or making it to the podium, he is still always there and remains fourth in the championship due to his consistency.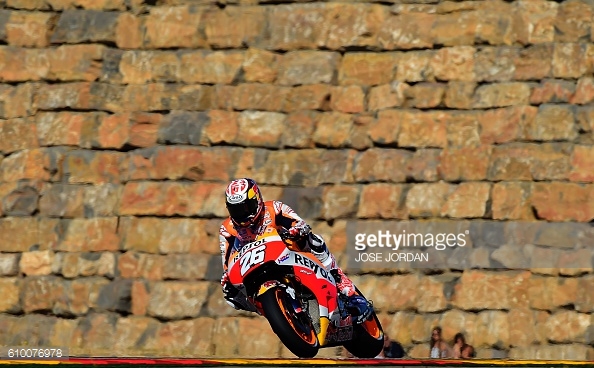 I feel that his team are right to believe in him; he became the eighth winner of the 2016 MotoGP season the previous round when he took over Misano with an excellent performance. He won with almost a three second lead and his teammate finished fourth, almost 10 seconds behind him. Despite finishing eighth Crutchlow remained the top independent team ride aboard his Honda.
Keep the faith
I think it is unfair to jump to conclusions about Pedrosa, and his results from this year should probably be discounted (not all of them because Misano was great). But this year should just remain a lesson for the Spaniard, and hopefully with the data collected from all of the rounds he will again be able to return to his competitive ways.As for Crutchlow, hopefully a newer machine will allow him to recover the speed and his form will continue into 2017