Movistar Yamaha rider Valentino Rossi, and nine times world champion has watched his chances of a tenth title slip away as Repsol Honda rider Marc Marquez has extended his lead.
Second in the championship, Rossi has to finish above 14th at the Motul MotoGP of Japan if Marquez wins, so that he can remain in with a chance.
Rossi has made it to the podium several times at Motegi
Over the last five years at the Twin Ring Motegi, Rossi has failed to win, but has made it onto the podium after the last two visits as he finished third in 2014 and second to Repsol Honda rider Dani Pedrosa who won here in 2015.
Aware that he has "had a lot of podiums but not so many victories" he was at the pre-race press conference where he discussed the first of three back-to-back rounds for the elite championship riders before the season finale in Valencia, Spain.
Motegi suits the Yamaha
Rossi feels that the Twin Ring Motegi is "a good track for the Yamaha" however he discusses that "every year is different" and that, "as in every race this season" their first priority is to "understand the tyres" as this year French tyre manufacturer Michelin became the suppliers to the MotoGP; taking over from Bridgestone.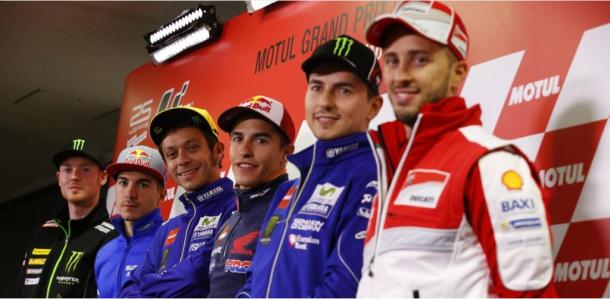 The track, which is situated in the north Kanto district of Japan, can be affected by weather and after several wet rounds so far this season Rossi was hoping the "weather is good", and especially that it is "warmer" as he commented at the pre-race press conference that "today it's very cold."
Straight after the 15th round at the Twin Ring Motegi in Japan, the riders will travel to Australia for the next round in Phillip Island, and then immediately on to Malaysia for the round in Sepang; the riders will then continue on to Valencia, Spain for the season finale which takes place two weeks later.
A lot of pressure on all involved in the MotoGP
Talking about what lies ahead for the riders, Rossi described how "three races in a row is always difficult". He spoke of how if you "have a small problem in the first round" you may be left having to "pay very much" in the other two.
However he was very complimentary saying, "They are three fantastic tracks!" However, discussing the benefits Rossi spoke of how a rider "stays on the bike a lot of time" and so a rider finds himself going "faster and faster."