A little bit of luck and a lot of consistency led to Ducati Team rider Andrea Dovizioso claiming second in Motegi at the Motul Grand Prix of Japan. A track well suited to the Ducati as it has many areas of hard acceleration onto long straights, the Italian battled at the beginning and then stayed on until the end despite pressure from the Team Suzuki Ecstar boys before claiming his spot on the podium.
Doviziso started from fourth on the grid
Qualifying fourth, Dovizioso got a great start which placed him right behind the front row made up of Movistar Yamaha teammates Valentino Rossi and Jorge Lorenzo on pole and in third, and sandwiched between them was Repsol Honda rider Marc Marquez. Out of the championship winning contention, Dovizioso just looked to get a great result from the Japanese GP.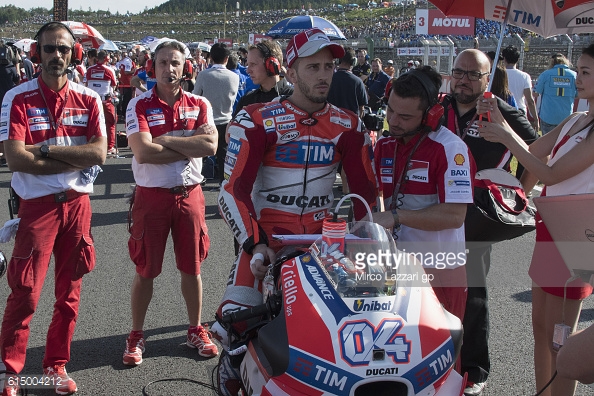 When the lights went out he initially battled with Cal Crutchlow on his LCR Honda, and slotted into fifth., By lap three, he had caught up to Aleix Espargaro (Team Suzuki Ecstar) and was able to apply the pressure to the Spaniard. It was not long before he overtook him and was in fourth behind the lead three that made up the front row.
Movistar Yamaha duo crashed out
He automatically gained two places when, much to the disappointment of the Yamaha riders who were working hard to try and stop Marquez from claiming the championship title, they fell off on lap seven and 20 out of 24. He was up to second after he managed to avoid being captured by Aleix Espargaro who had pursued him previous to Lorenzo falling off.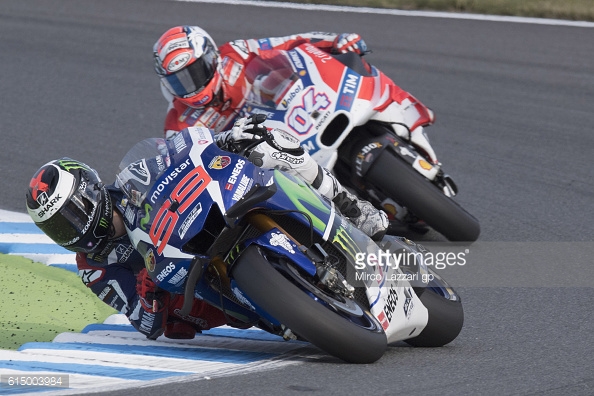 He was actually hunting down the 2015 MotoGP champion himself, gaining on him lap by lap until the second place was handed to him by his future 2017 teammate. He remained consistent up until the end of the race and crossed the line in second just under three seconds after race and championship winner Marquez.
The 20 points he collected helped him to close the gap in the championship between him and Crutchlow who is just ahead of him as the top independent team rider in fifth.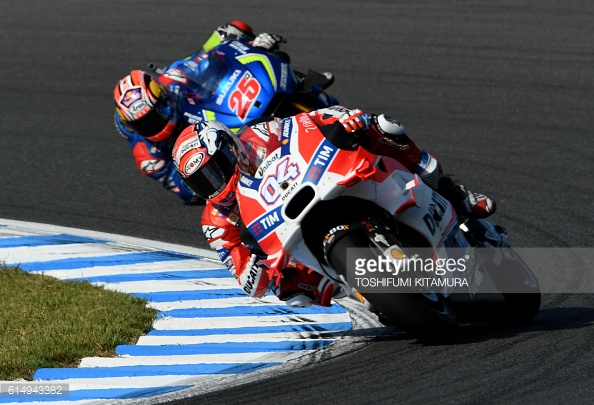 Dovizioso revealed the Japanese GP was difficult
The Italian Ducati rider described how he found the Japanese GP "very difficult". He explained how at the beginning he "started quite well but was boxed in by Valentino at the first corner", this led to him "losing several positions" and "above all" he lost "contact with the leading trio".
He "remained calm" and worked on getting "closer to Lorenzo lap by lap". He was cautious and not wanting "to take many risks"; he spoke of how he "almost caught him when he made a small error and crashed out".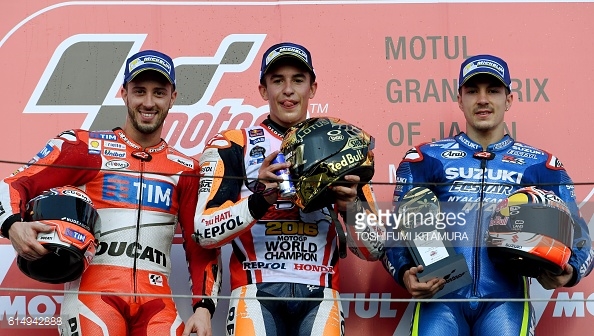 The Italian is very pleased with his Ducati
Dovizioso revealed he was "very pleased with the feeling" that he had with the bike and how he "managed the situation". He said, "I couldn't take too many risks because it was very easy to crash" however he "was able to be constant throughout the race and with a good pace" which led to him getting "an important result for both [him] and Ducati".