 As expected, the calendar unveiled by the World Motorsport Council (​WMSC) for the 2017 Formula One season reverts back to 20 Grands Prix, with Germany dropping off the calendar for the second time in three years.
The 2017 race was due to be held at the ​Nurburgring​, owing to a deal that sees the event alternate with Hockenheim. As fans in Germany continue to lack the enthusiam for F1 after the retirement of ​Michael Schumacher,​ they are not flocking in the numbers they once were.
With the absence of Germany, it means that Nico Rosberg will not get the opportunity to race as World Champion in front of his home fans next season. The way F1 is currently received in Germany means that in future, the race will only be held biannually, in even numbered years.
The other significant change in the calendar from 2016 is the European Grand Prix ​has been pushed back a week, to the weekend of June 23-25, to avoid another clash with ​Le Mans.
​Promoters in Baku were unhappy that their maiden event was overshadowed by the 24-hour race and Toyota's heart-breaking final lap failure. There was also the logistical nightmare of transporting everything needed for F1 from Canada to Azerbaijan, and getting everything set up in just three days.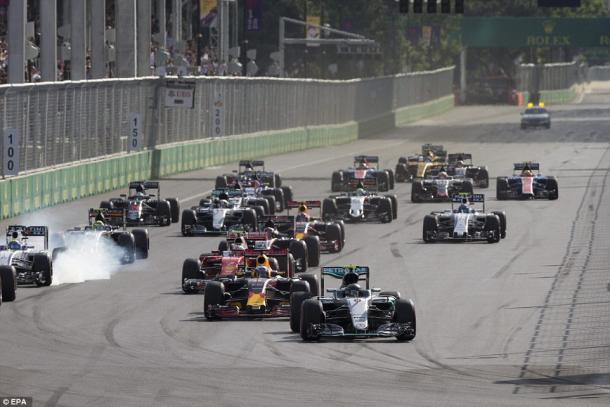 New season to start later than usual
​​2017 will be one of the latest starts to a season in F1 history, with the lights out in Australia ​being pushed back a week to the final wekeend in March as opposed to its usual slot on the third weekend. This has been done to give the teams more time to understand their cars, owing to the new technical regulations for next season.
As usual, the British Grand Prix will be held in July, being given the slot of July 16th. This means that the race will still clash with the men's final at Wimbledon.
The final race before the summer break will be in Hungary, on July 30th, before a four week summer shutdown, with action resuming in Belgium on the weekend of August 25th-27th.
Canada and Brazil have lost their provisional tags and are both included on the calendar, with the race in Montreal on June 11th, and in Sao Paulo on November 12th.
Monaco retains its slot, with the race around the streets on May 28th.
As has been the case since 2014, Abu Dhabi will host the season finale, with the final chequered flag of the season being waved on November 26th. If all 20 races go ahead, the total number of Grand Prix will total 976.
2017 Formula One calendar

| | | |
| --- | --- | --- |
| Date | Race | Venue |
| March 26th | Australian Grand Prix | Albert Park, Melbourne |
| April 9th | Chinese Grand Prix | Shanghai |
| April 16th | Bahrain Grand Prix | Sakhir |
| April 30th | Russian Grand Prix | Sochi |
| May 14th | Spanish Grand Prix | Barcelona |
| May 28th | Monaco Grand Prix | Monte Carlo |
| June 11th | Canadian Grand Prix | Montreal |
| June 25th | European Grand Prix | Baku |
| July 9th | Austrian Grand Prix | Red Bull Ring |
| July 16th | British Grand Prix | Silverstone |
| July 30th | Hungarian Grand Prix | Budapest |
| August 27th | Belgian Grand Prix | Spa-Francorchamps |
| September 3rd | Italian Grand Prix | Monza |
| September 17th | Singapore Grand Prix | Marina Bay |
| October 1st | Malaysian Grand Prix | Sepang |
| October 8th | Japanese Grand Prix | Suzuka |
| October 22nd | United States Grand Prix | Circuit of the Americas, Austin, Texas |
| October 29th | Mexican Grand Prix | Mexico City |
| November 12th | Brazilian Grand Prix | Interlagos |
| November 26th | Abu Dhabi Grand Prix | Yas Marina |