A cool breeze fluttered betwixt the trees and around the forested Zolder circuit, as one of Formula One's most hectic seasons prepared for Saturday's Qualifying for the 1982 Belgian Grand Prix. A cool, soft breeze it may have been - but it was enough to see one of the sport's fiercest, roaring flame extinguished.
Gilles Villeneuve was a flamboyant, competitive and super-fast driver who entertained more than anyone else. Having raced snowmobiles in Quebec with a great deal of success - Villeneuve also noted that his car control and reactions were heightened as a result of racing on the treacherous surface - he moved on to four wheels, scraping enough money together for a seat in Formula Ford - a championship that he won, winning seven races out of ten in a car that was two years old.
Late beginnings
By the time he entered Formula Atlantic, it was clear that he was a real talent - despite now being in his mid-twenties. It mattered not, he won all but one race in 1976 - sweeping to another title.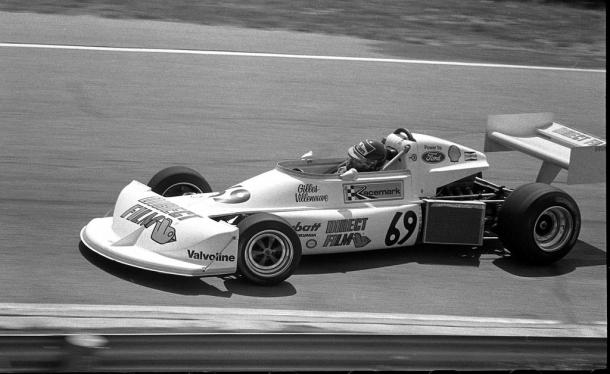 It lead to his big break. Having met and beaten 1976 F1 World Champion James Hunt in a Formula Atlantic race at Trois-Rivieres, in Gilles' hometown of Quebec, Briton Hunt informed McLaren about the Canadian, and sure enough, he was signed to drive for five races in an old M23 model - in comparison to Hunt and Jochen Mass' up-to-date M26 cars. Limitations didn't stop him, he split the pair, qualifying ninth on his debut at Silverstone, in July 1977.
The Prancing Horse and three wheels
After mechanical gremlins, he finished 11th - but caught the eye of the media. The Times' John Blunsden commented that Villeneuve had the potential to be "a future World Champion". Il Commendatore, Enzo Ferrari agreed - seeing similarities to the great Tazio Nuvolari. Ferrari would later say that he loved the Canadian "like a son". Villeneuve was to drive a Ferrari for the end of 1977 and then full-time from 1978, up to his death date.
He cared not for tradition or boundaries when racing, even dragging his deflated, almost unrecognisable left rear wheel structure behind him like a dead limb for nigh on a whole lap at racing speed during the Dutch Grand Prix at Zandvoort in 1979, after a slow puncture caught up with him. Commentating at the time, Murray Walker called it his "ribbon of rubber".
After making it back to the pits, he asked why his mechanics weren't getting to work on the ailing tyre. He was told to get out the car and look at the damage. He then conceded defeat. At Watkins Glen in the rain, he showed an unparalleled feel for the car - 10 seconds quicker than anyone else in Practice. He could even drive blind - as he showed when his front wing folded and blocked his line of sight in Canada.
He wrestled his cars round corners at speeds and angles that shouldn't have been possible, he refused to give up fights that others would've backed down from - see his titanic battle with Rene Arnoux for second place at Dijon, 1979. Arnoux said about the clash: "I had confidence because it was Gilles. I would never have tried to fight so ferociously with any other driver."
But whilst fellow racer and four-times World Champion Niki Lauda called him "the craziest devil I ever came across in Formula 1", Villenueve was regarded as an entirely different character away from the wheel - a loving husband, brother, father and in the words of former teammate Jody Scheckter - a "genuine man".
His death, 35 years ago to the day, came about as a result of turmoil.
1982
The 1982 season had been a complex and bizarre one, even though Zolder marked only the fifth round of the year. A drivers' strike had threatened the season opener at Kyalami, South Africa - prompted by issues over the new FIA super licences - now a vital piece of documentation for anyone who wishes to race in motorsport's premier series. As the drivers' locked themselves in the Sunnyside Hotel, Gilles - ever the entertainer - played the piano alongside Elio de Angelis. The various stories and escapades are well documented.
Two months later, with a battle still ongoing, Brazil was the next venue - after the cancellation of the Argentinian Grand Prix, due to sponsorship problems - a result of the events in South Africa. Even in Brazil, controversy followed - both victor Nelson Piquet and second placed man, Keke Rosberg, were disqualified for weight infringements - gifting Alain Prost his second win out of two races.
Betrayal
And so to San Marino - and surely, the start of the European season would see all the discord and lawlessness put to one side? Wrong. Another boycott - stemming from the Brazil disqualifications only saw 14 drivers take to the grid. The race was dominated by the Ferrari pair of Villenueve and good friend, Didier Pironi.
The amiable relationship between the two was to be ended on the Sunday. Despite under order to stay behind Villeneuve, Pironi fought and battled - the pair swapping positions five times - with a furious Villeneuve ceding the lead and victory to the Frenchman on the last lap. He promised not to speak to Pironi again.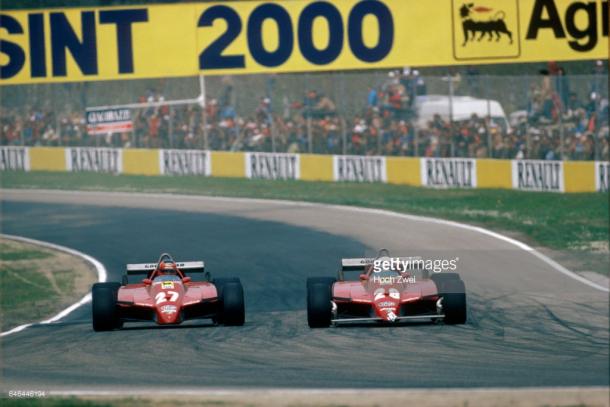 It made the events of Zolder, a fortnight later, all the more tragic and poignant.
At loggerheads with Pironi, Villeneuve bolted on his final set of Qualifying tyres, in order to eclipse the Frenchman's time with very little of the session remaining. This wasn't for pole, as the two inhabited sixth and seventh on the grid. This was to make a point, this was for pride. A way of flashing a middle finger to his friend turned foe.
As it turned out, his competitiveness got the better of him. Not happy with his first flying lap, he seemed to blank the signal from race engineer Mauro Forghieri to come into the pits, and fired up for another assault on 2.6 miles of rough Belgian tarmac. Or maybe he was coming back to the garage - Forghieri believes so. But, flat out was the only way for the Canadian.
Tragedy
Disaster struck when he came across Mass on a definite in lap. After coming over the crested left hander of Butte after the Kleine Chicane, Villeneuve was seemingly waved through by Mass, as he coaxed his March to the right hand side of the track. But Villeneuve had already made up his mind and veered right too. He launched up off of Mass' right rear corner at 140mph, before flipping and heading nose first into the soft infield.
His Ferrari dug into the ground, the force so severe it removed his helmet and flung him from his car, seat still partially attached. Television cameras caught not only Mass swerving to avoid the cartwheeling F126C2, but the gruesome sight of Villeneuve's body travelling towards the catch fencing, where it came to rest. A horrified circuit commentator became hysterical when trying to explain the tragedy.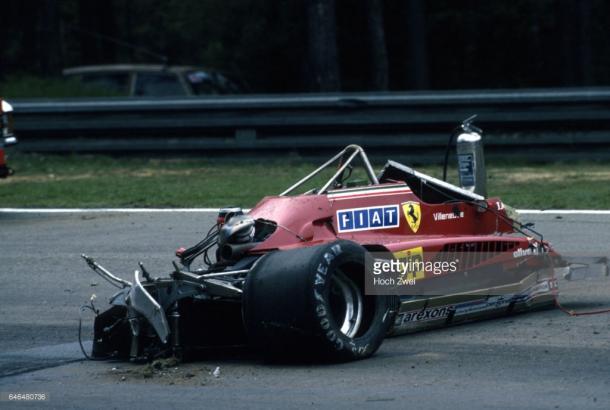 Villeneuve was attended to by marshals, medics and fellow drivers, one of which was McLaren's John Watson. Watson, speaking about the man 30 years later, to Auto123 said that "Gilles was beyond brave, he took risks no one else would dare to."
After several attempts in order to resuscitate Villeneuve and restart his breathing, he was taken to the circuit's medical centre, before being airlifted to the St Raphael Hospital, around 32 miles away. He was found to have suffered a fatal neck fracture, near the base of his skull. At 21:12 CEST, he was declared dead, aged just 32.
Watson went on to win the Grand Prix, Pironi and Ferrari withdrew the remaining car. The chilling season continued, with Riccardo Paletti crashing into Pironi's stalled car, perishing at what would've been Villeneuve's home race in Montreal. Pironi himself was nearly killed in an accident at a wet Hockenheimring, after launching over Prost's Renault at nearly 150 miles per hour. The similarity to Villeneuve's impact was frightening. Pironi suffered horrendous leg injuries and wouldn't race again, before succumbing to injuries sustained in a powerboat accident off of the Isle of Wight five years later. To top off the 1982 season, the lead changed hands at Monaco six times - including three times on the final lap, due to crashes and failures. Rosberg won the title despite only winning once all year.
Villeneuve - a long lasting legacy
Gilles' legacy remains. The number 27 still is associated with the lovable madman, despite currently being held by Nico Hulkenberg and many other fine drivers beforehand in the last 35 years - including the similarly exciting Jean Alesi for the Scuderia in the early 1990s. The fast right-left chicane near Tosa at Imola is named in his memory, a bronze bust of him sits at the entrance to Ferrari's Fiorano test track; and the Montreal circuit is now known as the 'Circuit de Gilles Villeneuve' - a nod to the country's favourite sporting son.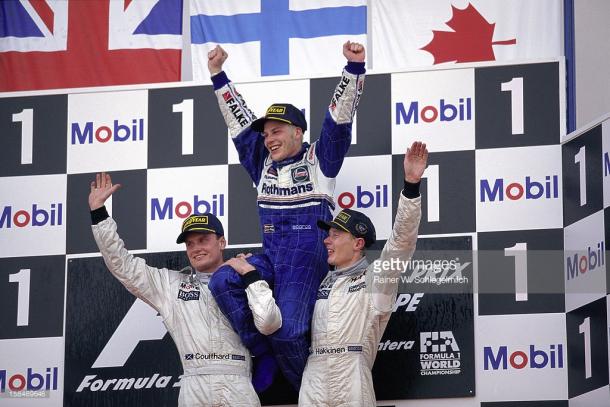 His name was survived in racing by his son Jacques, the 1997 World Champion with Williams. It seemed right that a Villeneuve should be regarded as a champion.