 Having seen Lewis Hamilton and Mercedes enjoy a perfect Friday, Kimi Raikkonen and Ferrari bounced back, with the Finn taking top spot in this morning's final Free Practice session, ahead of teammate Sebastian Vettel and Hamilton.
Raikkonen's time of a 1:20.214 was enough to see off the rest of the field, two-tenths faster than Vettel, and a further tenth ahead of Hamilton.
Bottas hits problems
But, whilst Hamilton battled with the Ferraris, his Mercedes teammate Valtteri Bottas endured an entirely different session. Despite a full Power Unit change overnight, an electrical problem transformed into a water leak this morning, prompting a change back to the engine that propelled him for the first four races. It meant that he only emerged from the garage with eight minutes to go; but still set the fourth fastest time of the session.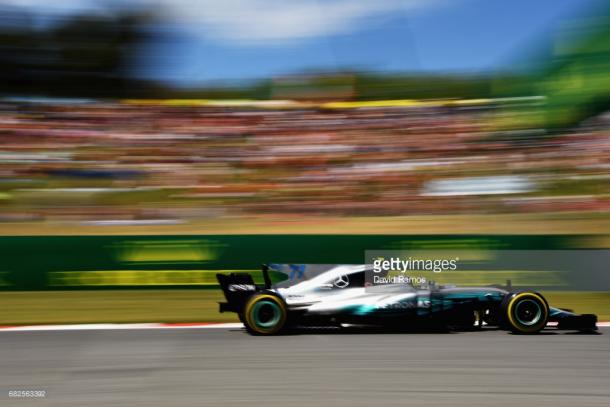 On the contrary, Fernando Alonso enjoyed a rarity - a clean session in the usually ailing McLaren, managing to set times on all the compounds - ending up just inside the top 10, under two seconds off the ultimate pace. Are his Friday woes behind him? His teammate Stoffel Vandoorne struggled, languishing in 19th.
Raikkonen got to work straight away, setting the two fastest times of the session on the medium tyre, one after the other. A 1:22.409 was enough to see everyone else off, with Hamilton the best of the rest, three-tenths adrift. However, it wasn't all plain sailing for the Finn, as he reported a lack of front end grip.
Although, most of the slides from yesterday weren't repeated, with Pirelli dropping the tyre pressures.
Ferrari lead Qualifying runs
The final 20 minutes of the session saw attentions moved to low fuel and soft tyre runs. Once again, it was Raikkonen who led the way, eclipsing Hamilton's time from yesterday by six-tenths. And despite Hamilton also improving on his Friday afternoon time, he was pushed out of the top two by Vettel. Behind the top four, Red Bull claimed another fifth/sixth combination, with Nico Hulkenberg's Renault in close company.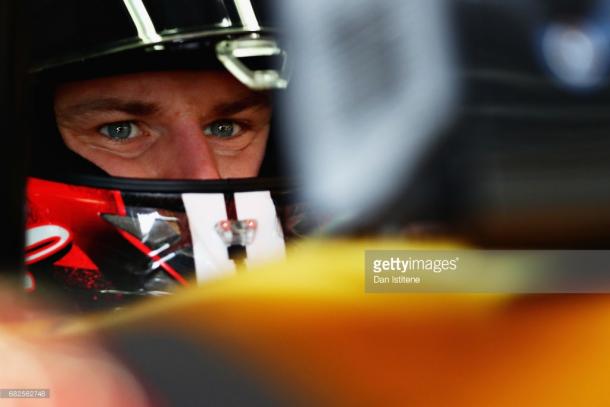 Vettel had his problems, albeit undefined. In the last 10 minutes, he ground to a halt in the pit lane on a new set of soft tyres, and had to be rescued by his mechanics.
So, after a Friday dominated by the two Silver Arrows, Saturday was shaping up to be a different story, as Ferrari flicked a switch.
FREE PRACTICE 3 - FINAL CLASSIFICATION

| | | | | | |
| --- | --- | --- | --- | --- | --- |
| Pos | Driver | Team | Time | Gap | Laps |
| 1 | Kimi RAIKKONEN | Ferrari | 1:20.214 | - | 20 |
| 2 | Sebastian VETTEL | Ferrari | 1:20.456 | +0.242 | 7 |
| 3 | Lewis HAMILTON | Mercedes | 1:20.595 | +0.381 | 12 |
| 4 | Valtteri BOTTAS | Mercedes | 1:20.868 | +0.654 | 7 |
| 5 | Max VERSTAPPEN | Red Bull | 1:21.025 | +0.811 | 14 |
| 6 | Daniel RICCIARDO | Red Bull | 1:21.249 | +1.035 | 15 |
| 7 | Nico HULKENBERG | Renault | 1:21.670 | +1.456 | 13 |
| 8 | Felipe MASSA | Williams | 1:21.746 | +1.532 | 19 |
| 9 | Carlos SAINZ | Toro Rosso | 1:21.835 | +1.621 | 18 |
| 10 | Fernando ALONSO | McLaren | 1:22.093 | +1.879 | 16 |
| 11 | Romain GROSJEAN | Haas | 1:22.128 | +1.914 | 21 |
| 12 | Kevin MAGNUSSEN | Haas | 1:22.214 | +2.000 | 12 |
| 13 | Sergio PEREZ | Force India | 1:22.237 | +2.023 | 19 |
| 14 | Esteban OCON | Force India | 1:22.297 | +2.083 | 22 |
| 15 | Daniil KVYAT | Toro Rosso | 1:22.391 | +2.177 | 15 |
| 16 | Marcus ERICSSON | Sauber | 1:22.513 | +2.299 | 20 |
| 17 | Lance STROLL | Williams | 1:22.574 | +2.360 | 19 |
| 18 | Jolyon PALMER | Renault | 1:22.755 | +2.541 | 13 |
| 19 | Stoffel VANDOORNE | McLaren | 1:22.853 | +2.639 | 15 |
| 20 | Pascal WEHRLEIN | Sauber | 1:22.974 | +2.760 | 19 |