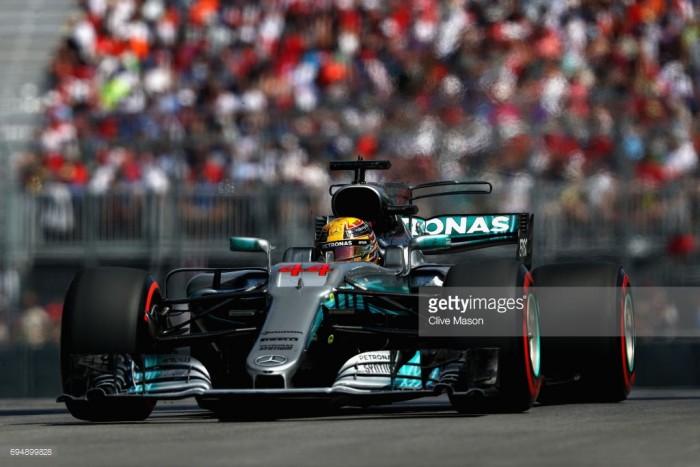 What a great race. Bar the "battle" for first and second, everyone was getting involved.

There'll be words at Force India tonight, with Perez not ceding fourth to Ocon. Was there the potential for a third/fifth for the well run team?

Vettel did incredibly well to fight back after his early setback, but no one could touch Bottas and Hamilton today. In a class of their own.

That's it from me, Jake Nichol's race report will be imminent, so come back for that. But I'm James Eagles wishing you a pleasant Sunday night and thanks for joining me. I'll see you again for Azerbaijan in a fortnight, with Le Mans in between.
"That's not fair" says Ocon over the radio; rightly so.
PROVISIONAL CLASSIFICATION:

1. Hamilton
2. Bottas
3. Ricciardo
4. Vettel
5. Perez
6. Ocon
7. Raikkonen
8. Hulkenberg
9. Stroll
10. Grosjean
11. Palmer
12. Magnussen
13. Ericsson
14. Vandoorne
15. Wehrlein
16. Alonso

Retired: Kvyat, Verstappen, Massa, Sainz
And Lance Stroll gets ninth and two valuable points - the first of his F1 career.
L70: LEWIS HAMILTON WINS IN CANADA FOR THE SIXTH TIME IN HIS CAREER! Bottas in second, Ricciardo third.
L70: Final lap for Hamilton.
L69: Alonso in the crowd giving his gloves away. What a man.
L69: Vettel passes Perez for fourth!
L69: Alonso out with a blown engine! That's all this race was missing!
L67: Vettel runs wide at Turn 3 but loses no places.
L66: Ocon goes for a move, Perez blocks it firmly. Vettel has a run on both of them into Turn 1, gets Ocon but not Perez!
L65: Ocon getting agitated, nearly past Perez.
L64: Vettel is right on the back of Ocon now.
L63: Raikkonen dismisses any setting changes, he's having real problems losing up to seven seconds per lap.
L62: Raikkonen with brake issues now.
L61: Vettel with scorching pace, a 1:14.964.
L61: Ten laps to go - Raikkonen misses the chicane and is passed by Vettel. Game on!
L60: "Okay, Kimi. You know the score - the front of this pack is the podium."
L60: "Sorry about that."

"F**king hell guys."

Kvyat not in the mood for apologies.
L58: Kvyat is now only just being wheeled into the garage.
L57: "Just leave me alone now. We'll hit traffic."

Perez being very stubborn about this.
L56: Perez told that he needs to switch and if it doesn't work, he'll be let back through.
L56: "It's a waste of time, man. I can have a go at Ricciardo. Let us race" says Perez. Quelle surprise.
L55: Kvyat falling right to the bottom as Toro Rosso have to restart the car.
L55: Even worse for Kvyat there's a problem on the right rear!
L54: Kvyat complaining about vibrations. He's told to box and does, serving his penalty.
L53: Vettel is told he's the fastest man on track. He affirms that with another fastest lap - a 1:15.114.
L53: Ocon still not by Perez.
L52: Perez told to let Ocon through, Vettel sets the fastest lap - a 1:15.431.
L51: Ocon right on Perez' tail. Vettel and Ferrari confident about catching the Force Indias and Red Bull at the end.
L50: Vettel in the pits for another set of ultrasofts. He's in seventh. Raikkonen sets another fastest lap with a 1:15.659.
L49: Roughly two seconds separates third to sixth, Ricciardo from Perez from Ocon from Vettel.
L48: Ricciardo asked about his tyres, he says it's "hard to lean on them".
L47: Stroll now past Alonso for 11th. And now 10th, with Magnussen in the pits.
L46: Stroll putting on a good show, he's attacking Alonso now.
L45: Well that didn't last long - Stroll into 12th. Alonso next.
L45: Vandoorne told to "hold up Stroll" for the benefit of Alonso.
L44: Vandoorne under mighty pressure from a fired up Stroll, Raikkonen sets the fastest lap with a 1:15.725 on those new boots.
L43: Alonso finally in the pits for supersofts. He rejoins in 11th.
L43: Stroll gets by Grosjean for 13th. An easy DRS pass.
L42: Grosjean nearly spinning at Turn 6 for the third time this weekend as Stroll closes. Raikkonen pits for ultrasofts and rejoins in seventh.
L41: So the stewards have said that Kvyat's first penalty was wrong, so have given him a 10 second penalty instead. Logic? None, seemingly.
L39: Stroll gets by Palmer for 14th.
L38: Bottas and Ricciardo the only ones on the soft tyres with decent pace. Bottas a poor lap that time round though, the only man bar Alonso in the top 10 lapping in the 1:17s.
L37: Vettel with floor damage now, I'm hearing.
L36: Ocon now creeping towards Raikkonen. We're halfway, so a look at the order: Hamilton, Bottas, Ricciardo, Perez, Raikkonen, Ocon, Vettel, Alonso, Hulkenberg and Kvyat.
L34: "Embarrassing power in this mode". Guess which McLaren driver said that? I'll give you one guess.
L33: "What a c**t" says Kvyat. I don't know who it was too though.
L33: Ocon into the pits too, he rejoins in sixth between Raikkonen and Vettel on the supersofts.
L32: Yes it seems so, Hamilton in the pits for supersofts. They've clearly listed to Alonso - he rejoins in first still.
L32: Bottas getting restless behind Ocon. The Frenchman slips through Turn 2 but does enough to keep the Finn at bay. Maybe the ultrasofts getting past their best?
L30: Magnussen now under pressure from Kvyat and the latter makes it through for 10th.
L30: Ocon still going strong in second.
L29: Vettel cruises by Alonso on the straight. Are you in the least surprised?
L29: Hulkenberg's charge continues as he passes Magnussen for ninth.
L28: "I don't think the supersoft tyre is a good tyre" Alonso says, citing that Raikkonen isn't pulling away as quickly as he should and Vettel isn't catching him.
L27: Alonso gently encouraged by his engineer, he responds: "You are not giving me useful information, I need to know Magnussen's pace,"

Fair enough.
L26: Stroll slithers wide at the hairpin and Hulkenberg takes full advantage for 10th. Magnussen gets a five second penalty for his transgression. Stroll pits and rejoins in 16th.
L25: His old ultrasofts are fine - he sets a 1:16.269, a new fastest lap.
L25: Hamilton told that he may be on the soft tyres, like Bottas.
L24: Bottas in the pits. Once again, softs and he rejoins comfortably in third.
L23: Vettel now past Magnussen. Alonso told not to short shift and he is fuming. Stroll has another bite at Magnussen, but is frustrated once more.
L22: Alonso loses another position, as Raikkonen breezes by on the straight - Honda's greatest nemesis.
L21: Vettel squeezes by Stroll at the chicane and Alonso is passed by Perez for fifth.
L20: Perez rejoins behind Ricciardo in sixth. Alonso in fourth! FOURTH!
L19: Vettel has passed Hulkenberg to rejoin the points scorers, but the director has missed that. Perez pits.
L18: And now Magnussen under investigation for overtaking under the VSC - maybe the restart? Ricciardo in the pits for softs. He rejoins behind Alonso in sixth.
L18: Raikkonen in the pits for supersofts as he looks to get past the Force India of Perez. He rejoins in seventh.
L17: Three wide into the Turn 1 braking zone - yet somehow Magnussen, Stroll and Hulkenberg all remain eighth, ninth and 10th.
L16: Kvyat serves his drive-through, relegating him behind the Magnussen/Stroll/Hulkenberg battle in 11th.
L15: And now Stroll and Hulkenberg pass Vandoorne.
L14: I digress - we are back underway. Magnussen passes Vandoorne for ninth and Kvyat has a drive through.
L14: Another marshal falls over in Canada. There's something wrong with their shoes. Every year I tell you. We've had two now fall over pushing Verstappen's car this weekend.
L12: The Renault team are in the pit lane for Nico Hulkenberg and Jolyon Palmer, both of them taking an opportunistic stop - taking advantage of the VSC. Ericsson in too.
L11: Well...Verstappen's a little bit more than three seconds behind now, he's stopped at the exit of Turn 2. VSC deployed.
L10: Hamilton is commanding at the front, Verstappen now three seconds back. Ricciardo still in fourth, keeping touch with Bottas.
L9: Kvyat under investigation for not regaining his position before the first SC line. Vettel thinks he has more front wing damage.
L7: A quick correction, Vettel had front wing damage at the start when he lost positions - the offending piece came off as the SC came in.
L7: Hamilton with a 1:17.171 - four-tenths quicker than anyone else.
L6: Vettel pits due to front wing damage from the restart - he rejoins on supersofts in 18th and last.
L6: Hamilton is stretching his legs in clean air at the front, the gap to Verstappen stands at over a second.
L4: Perez passes Raikkonen for fifth.
L3: We're back underway with Verstappen defending from Bottas, he just hangs on.
L3: Alonso says that everyone needs to "calm down".
L2: Let's digest, Grosjean hit Sainz before Turn 3 which sent him backwards into Massa who could do nothing. Grosjean has been in for a front wing change and Wehrlein is in as well - not sure what for.
L1: We have a Safety Car, the order is: Hamilton, Verstappen, Bottas, Vettel, Ricciardo, Raikkonen, Perez, Ocon, Hulkenberg, Kvyat.
START: Hamilton and Verstappen get incredible starts and occupy the top two! Vettel with a terrible start and falls to fourth behind Bottas.

Sainz is in the barrier and Massa is in the grass, both out after colliding.
FORMATION LAP: Everyone is underway, well almost...

Kvyat has stalled and has had to be pushed off the grid - he embarks on his formation lap.
Pascal Wehrlein will start from the pit lane, with the added burden of a fairly high downforce rear wing assembly. He damaged his only low drag wing in Qualifying yesterday. (Photo via @tgruener and Auto Motor und Sport)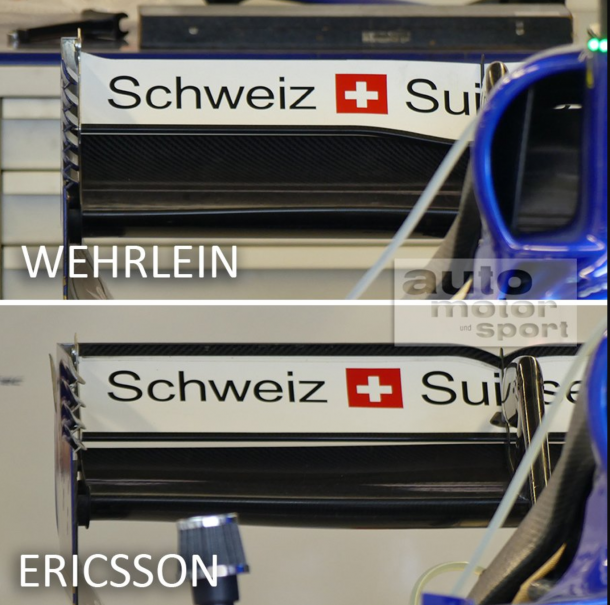 And now, a minute's silence to remember the tragedy in London last weekend.
Very windy today in Montreal, so much so that Carlos Sainz has said that he couldn't even reach eighth gear down the long back straight due to the headwind.
So, a lot to play for in both championships. Hamilton desperately needs to start closing the gap that Vettel has built up - a poor weekend in Monaco damaged the Brit's points tally, whilst Vettel took the maximum.

Force India look to be very comfortable in fourth for now - but can they start to catch up to Red Bull, or is fourth the maximum for a team of their budget?
And the Constructors' standings.
| | | |
| --- | --- | --- |
| Pos | Constructor | Points |
| 1 | Ferrari | 196 |
| 2 | Mercedes | 179 |
| 3 | Red Bull | 97 |
| 4 | Force India | 53 |
| 5 | Toro Rosso | 29 |
In the mean time, let's have a look at the Drivers' championship after the first six rounds.
| | | | |
| --- | --- | --- | --- |
| Pos | Driver | Team | Points |
| 1 | Sebastian VETTEL | Ferrari | 129 |
| 2 | Lewis HAMILTON | Mercedes | 104 |
| 3 | Valtteri BOTTAS | Mercedes | 75 |
| 4 | Kimi RAIKKONEN | Ferrari | 67 |
| 5 | Daniel RICCIARDO | Red Bull | 52 |
Welcome back to VAVEL's live coverage of the Canadian Grand Prix - the pit lane is now open and we're seeing a flurry of drivers practicing their all important starts.

Just half-an-hour to go now until the formation lap.
What they said

Lewis Hamilton: "Equalling Ayrton today, I'm so honoured to receive this gift and to get such a great result at such a great track with such a great fanbase. I had my first pole position here, it's crazy to think 10 years later I'm still here, I'm still fighting, still strong. If someone told [my Dad and I] that 15 years later I'd be equally Ayrton Senna's pole positions, we'd've told you that you were crazy!"

Sebastian Vettel: "I think I could've done better, yes. By how much...I don't know - I didn't do it! I won't get another chance; maybe next year. For now, it doesn't matter, it's done and I look forward to the race."

Valtteri Bottas: "It's all about the start really and if you have the pace here, then overtaking is possible."
For the classic race, we turn to 2011 - the longest race in Formula 1's history, at a shade over four hours from lights to flag - with a lengthy stoppage for good measure on account of rain.

With the first four laps started behind the Safety Car, the action started with Alonso attacking Vettel at the restart - behind them, Hamilton tagged Mark Webber, dropping the pair to seventh and 13th respectively.

As Hamilton started his fightback, his teammate Button ended it - pushing his into the pit wall and wrecking his left rear suspension. McLaren and Button's afternoon got worse, given a drive-through for speeding in the pit lane.

After wets had turned to intermediates, the rain decided to return, prompting the Safety Car and then the red flags. Two hours later, the race resumed - one again under the supervision of Bernd Maylander in the Safety Car. Schumacher took a bold decision for intermediates - the gamble paying off, elevating him to sixth once everyone else followed suit.

Alonso also stopped for intermediates, coming out just ahead of Button, who was involved in another race ending incident - clipping the Spaniard at Turn 3, the Ferrari ending up in the wall as Button continued, but with a puncture. His fifth trip to the pits demoted him to last.

Schumacher's charge saw him pass Mark Webber and Nick Heidfeld for fifth and fourth in quick succession. The came a rare spell of dry weather, Webber the first frontrunner in for slick tyres. Button joined him, and promptly passed Heidfeld and Kamui Kobayashi to move up to fourth.

Heidfeld tapped Kobayashi into Turn 2, breaking his front wing, and it lodged under his car whilst braking for Turn 3. Luckily, he didn't hit anything and came to an eventual stop deep into the run off zone - but the Safety Car had to make yet another appearance whilst debris was cleared.

Button ended the race strongly, passing Schumacher for second and right on the last lap, forcing Vettel into a half spin, thus taking the lead.

After six trips to the pits, two collisions with his rivals and a spell in last, Button claimed his most unlikely victory.
As mentioned earlier, Alonso returns from his Indianapolis adventure this weekend, and has given McLaren an ultimatum; either win by September, or they can wave goodbye to retaining him beyond his contract, which ends at the climax of the season.

Where will he go? Renault has been cited as a possible destination, but he has started to express an interest in IndyCar now - and there's always the World Endurance Championship too if he fancies a Le Mans victory to help him on the way to the Triple Crown.
Yesterday saw an emotional pole position for Hamilton, who not only broke Ralf Schumacher's 13 year grip of the ultimate track record here, but also equalled his late hero Ayrton Senna for pole positions - he stands three behind Michael Schumacher's record. To commemorate the achievement, the Senna family presented Hamilton with one of Ayrton's 1987 race worn helmets.

It rendered him speechless. Then again, unless you were Ayrton Senna, who would be able to comprehend that?

If your memory needs refreshing, then you can view my Qualifying report here.
A look at the past ten winners now; as you can see, it's an event dominated by Lewis Hamilton.
| | | |
| --- | --- | --- |
| Year | Driver | Team |
| 2016 | Lewis HAMILTON | Mercedes |
| 2015 | Lewis HAMILTON | Mercedes |
| 2014 | Daniel RICCIARDO | Red Bull |
| 2013 | Sebastian VETTEL | Red Bull |
| 2012 | Lewis HAMILTON | McLaren |
| 2011 | Jenson BUTTON | McLaren |
| 2010 | Lewis HAMILTON | McLaren |
| 2008 | Robert KUBICA | BMW |
| 2007 | Lewis HAMILTON | McLaren |
| 2006 | Fernando ALONSO | Renault |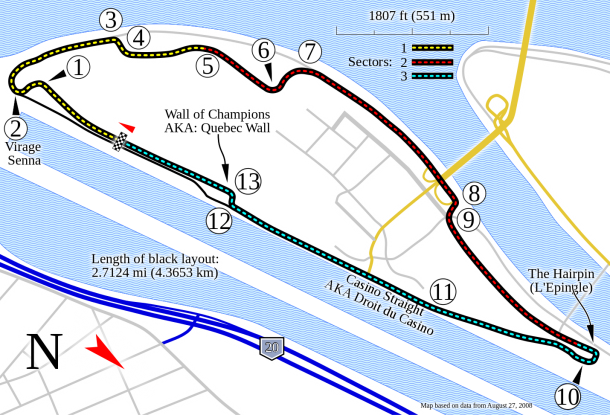 Much like Monaco, the Circuit de Gilles Villenueve needs little introduction Formula 1 fans.

Fast, bumpy and accustomed to excitement and unknowns, it makes for a brilliant race. Tough on fuel, brakes and engines with long straights, heavy braking zones with additional high track and ambient temperatures, it's a real test for the cars; not just the humans controlling them. A spectacular circuit named in honour of an equally spectacular driver.

You can view a full track guide here.
In Formula One's showpiece event, the Monaco Grand Prix, Sebastian Vettel took a commanding win, overturning Ferrari teammate Kimi Raikkonen with some blistering pace during the pit stop phase. Some cried foul play and that Vettel was put on a better strategy; personally, I don't see the evidence.

We also saw a one-off return for Jenson Button, as a replacement for Fernando Alonso, who kept himself occupied with the Indy 500.

You can ready my race report here.
Hello and welcome to VAVEL's live coverage of the 2017 Formula 1 Grand Prix du Canada. Once again, I'm your correspondent James Eagles and will be guiding you through all the events of today's Grand Prix from the much loved Circuit de Gilles Villenueve, located in the middle of the St. Lawrence River, for the seventh round of the World Championship.