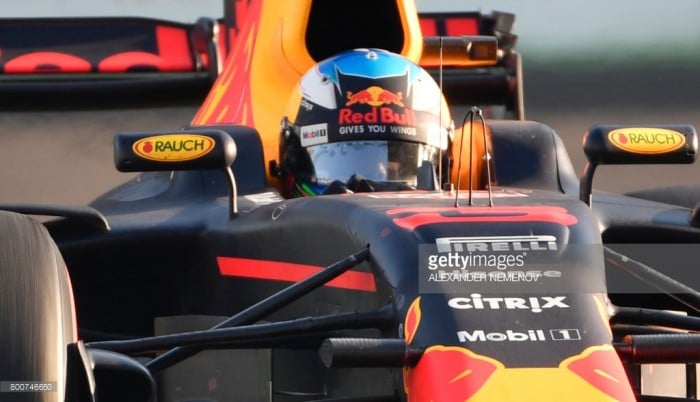 Well, Jake Nichol has the unenviable task of summing that up. His race report will be ready shortly, but for now - I've been James Eagles; thanks for joining me and I'll see you in Austria.
We'll take a look at the order:

1. Ricciardo
2. Bottas
3. Stroll
4. Vettel
5. Hamilton
6. Ocon
7. Magnussen
8. Sainz
9. Alonso
10. Wehrlein
11. Ericsson
12. Vandoorne
13. Grosjean
14. Raikkonen

Retired: Perez, Massa, Hulkenberg, Verstappen, Kvyat, Palmer
What a crazy race. Quite unbelievable - the opposite of last year's race here. Stroll becomes the youngest rookie to get onto the podium - the second youngest driver overall, behind Max Verstappen.
BOTTAS GETS STROLL AT THE LINE FOR SECOND!
CHEQUERED FLAG: Daniel Ricciardo takes his fifth career victory, Red Bull's first of the season in a wonderful Azerbaijan Grand Prix!
L51: The last lap. Ricciardo looks safe, Stroll may have Bottas covered. Hamilton catching Vettel.
L50: Two laps to go. Second to fourth covered by about five seconds.
L48: Raikkonen retires.
L48: Vettel sets another purple time, but slides a little at Turn 1 and loses a bit of time.
L47: Hamilton asking for help from Bottas, but he's catching Stroll. Hamilton sets another fastest lap though.
L46: Vettel with the fastest lap that time. 1:43.630
L46: Alonso says he has no power. Currently in ninth, but has a big gap to the squabbling Saubers.
L45: Hamilton with the fastest lap - a 1:43.840.
L43: Bottas with another fastest lap, Hamilton gets by Ocon.
L42: Vettel passes Ocon for P4.
L41: Bottas setting the track alight - another fastest lap, a 1:44.398. I think Perez has a broken seat and will retire.
L40: Ocon is passed by Bottas, who is now on the podium after being a lap down earlier on. Incredible.
L39: Vettel and Hamilton pass Magnussen for fifth and sixth. Does he have a problem?
L38: Wehrlein and Ericsson make wheel-to-wheel contact, fighting for tenth. They look to be okay
L38: Ocon and Bottas on the podium now.
L37: "What a shame. We could've won this race."

A message from Fernando Alonso.
L37: Correct, Grosjean.
L37: "Brakes are gone." Guess who said that?
L36: Alonso, Vettel and Hamilton battling, Vettel and Hamilton get by the Spaniard.
L35: Haas are looking at a first ever podium with Magnussen, but Ocon is closing.
L35: Perez and Raikkonen have drive-throughs for breaking red flag protocol.
L34: Vettel returns after his penalty, ahead of Hamilton.
L33: Hamilton passes Sainz.
L33: Vettel asks what the penalty is for. As if he has no idea.
L32: Hamilton now down in 9th. Vettel has a 10 second penalty.
L31: Hamilton told to box, Toto Wolff punches another table.
L30: Ocon now past Sainz.
L30: Hamilton is trying to pull it back into place, but he's just squashing the material.
L29: Hamilton sets the fastest lap of the race - a 1:44.942 - but his headrest is now loose! He's not expected to pit again, but he may have to.
L28: We're just over halfway. The top 10: Hamilton, Vettel, Ricciardo, Stroll, Magnussen, Alonso, Sainz, Ocon, Bottas and Grosjean
L27: Perez and Raikkonen under investigation for mechanics working on their cars in the garage, not the fast lane of the pit lane during the red flag.
L26: DRS is now enable, but the race is over for Massa.
L25: Hulkenberg now out with broken front right suspension after contact with the wall - but he pulls well off into an escape road to prevent another stoppage.
L25: "I don't know what's happened"

He has a broken rear damper.
L25: Massa in real trouble, he loses 5th and 6th to Magnussen and Stroll and now Alonso gets by!
L24: We're back underway! Ricciardo and Stroll get past Massa for 3rd and 4th! Hulkenberg now up to sixth too!
L23: Hamilton slows to a crawl again. Vettel pulls out from his gearbox.
L23: Massa thinks he may, just may have a problem. Would be gutting. The Safety Car is in this lap again.
L23: The field returns to the tarmac.
Perez and Raikkonen get back out on track to resume position at the back of the pack. The rest will restart under the Safety Car.
Raikkonen and Perez are back in the race. Superb work by both sets of mechanics.
The track is being cleared by something that looks to be a golf cart with a piece of carpet attached to the back.

A novel approach.
Ten minutes to go until the restart at 18:15 local time.
Looking at replays, after being brake-checked, Vettel just rammed his car into the side of Hamilton under the SC. Lucky not to have big damage.
So we have an undetermined stoppage now, but I hope you've enjoyed the racing we have had - there's certainly been some fights.
L22: Red flag, Alonso's words have been heard.
L22: Alonso calls for a red flag with all the debris.
L22: The incident between Hamilton and Vettel is being investigated.
L21: I can't decide - is this F1 or F4?
L21: Perez in the pits, followed by Ocon. Perez has switched his engine off and is out with a cracked front left wishbone! Raikkonen looks to be out too with a ruined floor.
L20: AND GUESS WHAT? ANOTHER SAFETY CAR!
L20: We're racing again! Massa and Perez look at Vettel, who nearly hits the wall! Perez and Ocon then come together at the exit of Turn 2 and they both have damage! Raikkonen has trouble too, a massive right rear puncture!
L19: Vettel was caught out by Hamilton slowing down, they touched!
L19: Safety Car in this lap.
L19: I'll take this opportunity to inform you about the whole order: Hamilton, Vettel, Perez, Massa, Ocon, Raikkonen, Stroll, Hulkenberg, Ricciardo, Magnussen, Alonso, Sainz, Vandoorne, Grosjean, Ericsson, Bottas, Wehrlein
L18: Pete Bonnington says "Okay Lewis, that was close on the restart."

"Close to what?"

"Overtaking the Safety Car before line 1"

"Trust me, it wasn't"

"Copy."

That clears that up.
L17: And now another Safety Car! It's for debris from Raikkonen's car that has littered the track.
L16: We're back up to racing speed! Perez has a look at Vettel as Massa and Ocon pass Raikkonen for 4th and 5th!
L16: Safety Car in this lap.
L15: The lapped cars are now allowed to overtake and un-lap themselves - i.e. Bottas.
L14: Now Stroll, Ricciardo and Hulkenberg pit. They rejoin in 7th, 8th and 10th.
L13: Stroll in third, because he hasn't yet stopped. Hulkenberg hasn't stopped either, he's in eighth. Hamilton complains that Bernd Maylander is not going fast enough.
L13: It looks to be over for the Dutchman. It's another retirement for the frustrated teenager.
L13: Hamilton, Vettel, Perez, Raikkonen Massa, Ocon and Bottas all in the pits for soft tyres. Verstappen in too, as they try to fix the problem.
L12: Safety Car is now out, presumably for Kvyat's stranded Toro Rosso at Turn 10.
L12: "Oh, yep, here we go again. F**k me."
L11: Verstappen slowing with an engine issue! He's carrying on, but for how long?
L11: Kvyat stopped out on track as Verstappen swarms all over Perez in the battle for 3rd.
L10: Ricciardo and Sainz get past Ericsson now. Hulkenberg told he has a blockage in one of his brake ducts.
L10: Vettel with the fastest lap, a 1:46.224. Grosjean complains about brakes. Again.
L9: A McLaren passes something on a straight! Alonso past the ailing Ericsson for 12th. Now Sainz is on the Swede's tail.
L8: Palmer grinding to a halt, complaining about no power and a long brake pedal. He's in the pit lane and out of the race.
L8: He gets straight to work, passing Wehrlein on the straight for 15th.
L8: Ricciardo told that his brakes are fine and there is no more debris stuck in the discs.
L7: Ericsson under real pressure from Alonso.
L6: Ricciardo in for a stop, he goes on to a set of soft tyres.
L5: Hamilton has started to bolt away from Vettel, the gap is 3 seconds. Ericsson shouts "I have no battery."
L5: Bottas was pinched on the inside kerb at Turn 2 and had no chance of avoiding Raikkonen.
L4: Vandoorne and Alonso pass Wehrlein for 14th and 15th.
L3: Verstappen believes he has damage.
L2: Bottas now in the pits for a wing change and a set of soft tyres.
L2: The order: Hamilton, Vettel, Perez, Verstappen, Raikkonen, Massa, Ocon, Stroll, Ricciardo, Hulkenberg.
START: Hamilton and Bottas get away well, Vettel has a look at Raikkonen as Sainz goes wide! Raikkonen then has contact with Bottas, who looks to have a puncture, Raikkonen with wing trouble.
A slow formation lap from Hamilton.
We're setting off for the formation lap
The anthem is here, being sung by someone in a dress that resembles a small marquee.
However, there are rumours that Mercedes and Renault are in talks. Toto Wolff has denied that his dinner with Flavio Briatore was about a deal with Alonso, and you can understand why. Alonso and Hamilton mix as well in the same team as magnesium and water.
Christian Horner has ruled out the possibility of Fernando Alonso moving to Red Bull, because it goes against their philosophy of bringing their own talents through - the last proven driver they effectively 'purchased' is Mark Webber.

And with the gulf of talent that has come through the ranks such as: Vettel, Hartley, Ricciardo, Verstappen, Vergne, Sainz, Kvyat, Gasly etc. you can see why.
Honda have informed the press that their 'Spec 3' engine is worth up to 0.3 seconds of improvement per lap.

Shame they need 3 seconds.
There's some speculation - and I cannot stress that word enough - that Ferrari have been affected by the crackdown on burning oil. On the straights, both Vettel and Raikkonen are losing time on the straights, compared to Canada, where they gained time.

Now, we can understand Vettel's position on this - he's using a five race old engine, but that doesn't account for Raikkonen. Just some food for thought.
First, let's have a look at some news items that have popped up in between Qualifying and the race.
Welcome back to VAVEL's live text coverage of the 2017 Azerbaijan Grand Prix, I'm James Eagles - the man who'll be guiding you through this afternoon's action in Baku.
So tyres seem to be the main patter. Pirelli have removed the hard compound for the rest of 2017 because they deem it unnecessarily durable and not for for racing purpose. I doubt many drivers will be mourning the loss.
What they said

Lewis Hamilton: "When I started that lap, I knew where I had to get the tyres to. I didn't know if I could do it or not, but I got it as well as I could. It's not about being greedy, it's about having that right balance; it's basically like a see-saw and I had a perfect balance between aggressiveness and taking too much out."

Valtteri Bottas: "Disappointing to be second, because [Lewis and I] were fighting for pole. Whilst we got that other run in Q3 after the red flag, it was down to one lap and I just didn't feel that I managed to get the tyres warm enough and to work and bite as well."

Kimi Raikkonen: "It wasn't very easy and it was a struggle to make the tyres work 100%, so, it feels quite...not bad..but difficult. We still managed third and fourth. With the place, with the feeling that we had, I'll happily take it and I'm not surprised with the time difference."
Plenty has been said about Jolyon Palmer's future, not only at Renault, but in F1. Cyril Abiteboul asserted that his seat is safe for the year, and that returning Pole Robert Kubica will not be in the car for Monza's first Free Practice session.

However, improvement is needed fast. Out-qualified at every event thus far by teammate Nico Hulkenberg, yet to score a point in a car that's more than capable of doing so - as shown by Hulkenberg and at the back of the grid this weekend - albeit due to a fiery exit in Practice 3. He crashed in FP2 for good measure - and has a lot of work to do if he wants the top eight finish he was confident about securing before a wheel had been turned in Azerbaijan.
Qualifying saw Hamilton edge closer to Michael Schumacher's record tally of pole positions, with yet another blistering lap that saw him top Bottas by four-tenths of a second. Not only that, but he had the pleasure of being interviewed by the ever enthusiastic Davide Valsecchi.

Kimi Raikkonen ended third with Sebastian Vettel fourth, but Ferrari were a long way off the pace.

Lance Stroll showed more improvement, out-qualifying Felipe Massa for the first time in his career - clearly the lessons from Rob Wilson have paid off.

If you need a refresher, read Jake's 2017 Azerbaijan GP report.
Despite this being the second event held here, this is the first Azerbaijan Grand Prix, with the race being held under the European Grand Prix tag last year. That means, as Formula 1 enters it's 42nd and latest race hosting country, no former winners and no classic race.

Anyway, it's not as if the 2016 edition could be called a classic.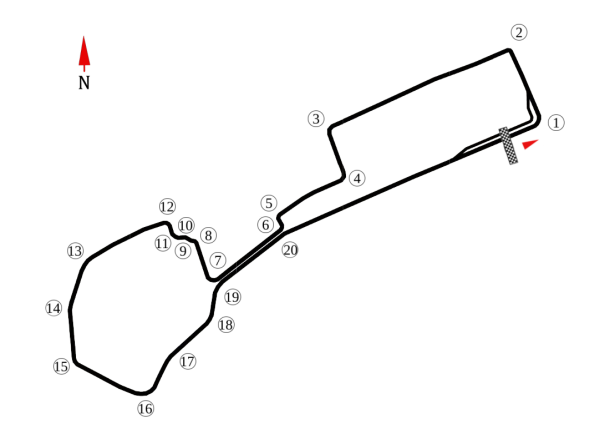 This year sees our second visit to the Baku City Circuit, and it's a track that divides opinions. Fans and drivers criticised it for not encouraging exciting racing, although there's only so much that can be done with a street circuit.

There's one thing that everyone agrees with - it's quite the challenge. A mile long straight is the least of your worries (unless you happen to be strapped into a McLaren-Honda), with a mix of patience testing 90° corners and single line turns that require maximum focus and precision. Get it wrong, and you'll pay a hefty penalty, as many have found out over the course of the weekend.

Want more? Read my Azerbaijan GP track review.
Last time out, Lewis Hamilton put the perils of Monaco behind him to take a much needed win in Canada, on an emotional weekend for the 32-year-old. His stunning pole position not only saw him break the ultimate lap record around the Circuit de Gilles Villeneuve, but claim his 65th career pole, the same number as his hero Ayrton Senna.

In an enthralling race, Hamilton took a straight-forward win ahead of his Mercedes teammate Valtteri Bottas in Canadian GP - as the Silver Arrows shot off...like arrows, evading all the drama behind them.

Hello and welcome to VAVEL's 2017 Formula 1 Live Coverage of Azerbaijan Grand Prix. Once again, I'm your correspondent James Eagles and will be guiding you through all the events of tomorrow's Grand Prix from the relatively new setting of the Baku City Circuit, made up of roads that intertwine the buildings in the Azeri capital. It marks the eighth round of the World Championship.