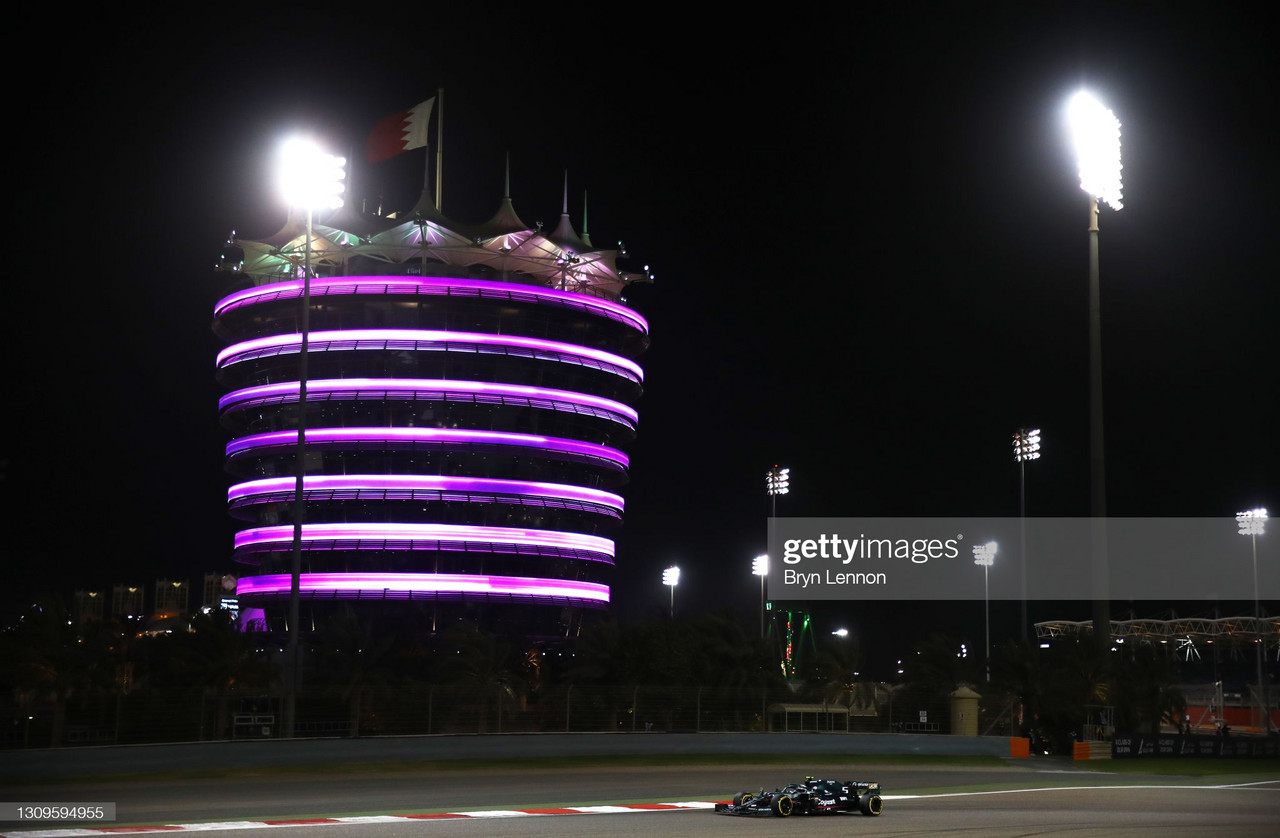 The seven-time World Champion held off Max Verstappen in a fantastic duel in the final 10 laps. The Dutchman actually took the lead with four laps to go, but was called to hand back the position after exceeding track limits.
Early Stages
For the first time in the hybrid era, a driver not in Mercedes machinery clinched pole in the opening race thanks, to Verstappen's outstanding lap, going just under three-tenths faster than Lewis Hamilton in second.
Sebastian Vettel suffered another blow on his debut weekend for Aston Martin after the German was handed a five-place penalty for ignoring yellow flags in qualifying yesterday, dropping him down to 20th.
But as the night-time fell at Bahrain International Circuit and liveries shined under the lights, the excitement started to build on whether Red Bull's Verstappen could challenge Mercedes and end their seven-year dominance in the sport.
However, drama already began on the formation lap when Sergio Perez car came to a halt after a loss of power, but the Mexican got his car restarted and had to begin the Grand Prix in the pit lane.
On lights out, Verstappen pulled away from pole with Hamilton closely behind. His team-mate Valtteri Bottas was under instant pressure from Ferrari's Charles Leclerc in 4th, but the racing came to a stop with the safety car deployed after Nikita Mazepin spun at the second corner into the barrier.
The safety car was released, and racing got back underway on lap four as Verstappen maintain his lead ahead of Hamilton, while Leclerc got past Bottas, who then had pressure from Lando Norris.
However, the racing was short-lived after the virtual safety car was then deployed due to debris on the track from Pierre Gasly's front wing after colliding with Daniel Ricciardo's rear tyre and was forced to stop for a new front-wing which dropped him to the back of the pack.
McLaren had a fantastic start to the race, and it got even better on lap nine when Norris had a few bites at Ferrari's Leclerc before he finally breezed past the Italian car and into 4th.
On lap 13, Mercedes pitted Hamilton for hard tyres, looking to undercut Verstappen but Red Bull decided to keep the Dutchman on the track, who would have dropped behind Hamilton if he stopped for new tyres.
Middle Stages
Six laps later, Red Bull decide to stop Verstappen for another set of medium tyres, losing lead following a slightly delayed stop and a well-executed undercut from Hamilton and Mercedes. Just behind them, Bottas regained third place from Perez, who was on older set of tyres compared to the Finn and didn't have the pace to match the 'Silver Arrow'.
As we reached the middle stage of the Grand Prix, the drama began to calm down, as Hamilton led Verstappen by a four-second gap. Further down the grid, rookie Yuki Tsunoda breezed past the experienced Vettel, who struggled on an older set of medium tyres. Then, shortly after, the Japanese driver sailed into 11th place after some late braking into the first corner to get past Fernando Alonso.
Verstappen started to close down on Hamilton in the lead, dropping the gap to under two seconds with Hamilton complaining over team radio that he couldn't go any faster. Mercedes quickly brought Hamilton in, which suggested a three-stop strategy, with Red Bull gaining back control of the race.
Bottas stopped shortly after, but Mercedes couldn't get his front right tyre off, with the Finn was sat lifeless in his pit-stop for ten seconds, losing places to Norris and Leclerc.
Alonso's first Grand Prix on his return to F1 was brought to a halt on lap 34 after a rear brake issue.
End Stages
As we entered the final stages of the Bahrain Grand Prix, Red Bull brought in Verstappen for a newer set of hard tyres as Hamilton retook the lead by 8.8secs, but with the Dutchman on fresher tyres by 11 laps, it was just a matter of time before he regained the lead.
The yellow flags were briefly out on lap 45 at turn one after Vettel locked his tyres and went straight into the back of Esteban Ocon after being taken over by the Alpine, with the former suffering front-wing damage.
With just five laps to go, Verstappen closed the gap to 1.5secs and continuously gained on Mercedes, while Hamilton started to struggle with the older set of tyres as he went wide at turn 10.
The drama was just heating up with four laps to go as Verstappen finally got past Hamilton at turn four but went totally off track, exceeding track limits, and the Red Bull man was forced to give the place back.
From there, it went downhill from there for Verstappen, who lost grip on his rear tyres and lost time on Hamilton. The British driver managed to hold off the Red Bull driver to claim his 98th victory and his first victory in the season-opener for over five years.
Verstappen went onto finish second, just under a second behind Hamilton, while Bottas spotted on the final for a newer set of tyres to grab an extra point for the fastest lap, but finished 36secs behind Verstappen.
It was a fantastic evening for McLaren with Norris in 4th and Ricciardo in 7th on his debut after joining from Renault. Also, a massive shoutout to Perez, who started the race last to come home in 5th place to secure valuable points for Red Bull.
Ferrari's Leclerc and Carlos Sainz came home in sixth and eighth, while rookie Tsunoda rounded off an impressive first Grand Prix weekend by scoring his first points. Aston Martin's Lance Stroll secured a tenth place finish on the team's first return to a Grand Prix weekend since 1960.