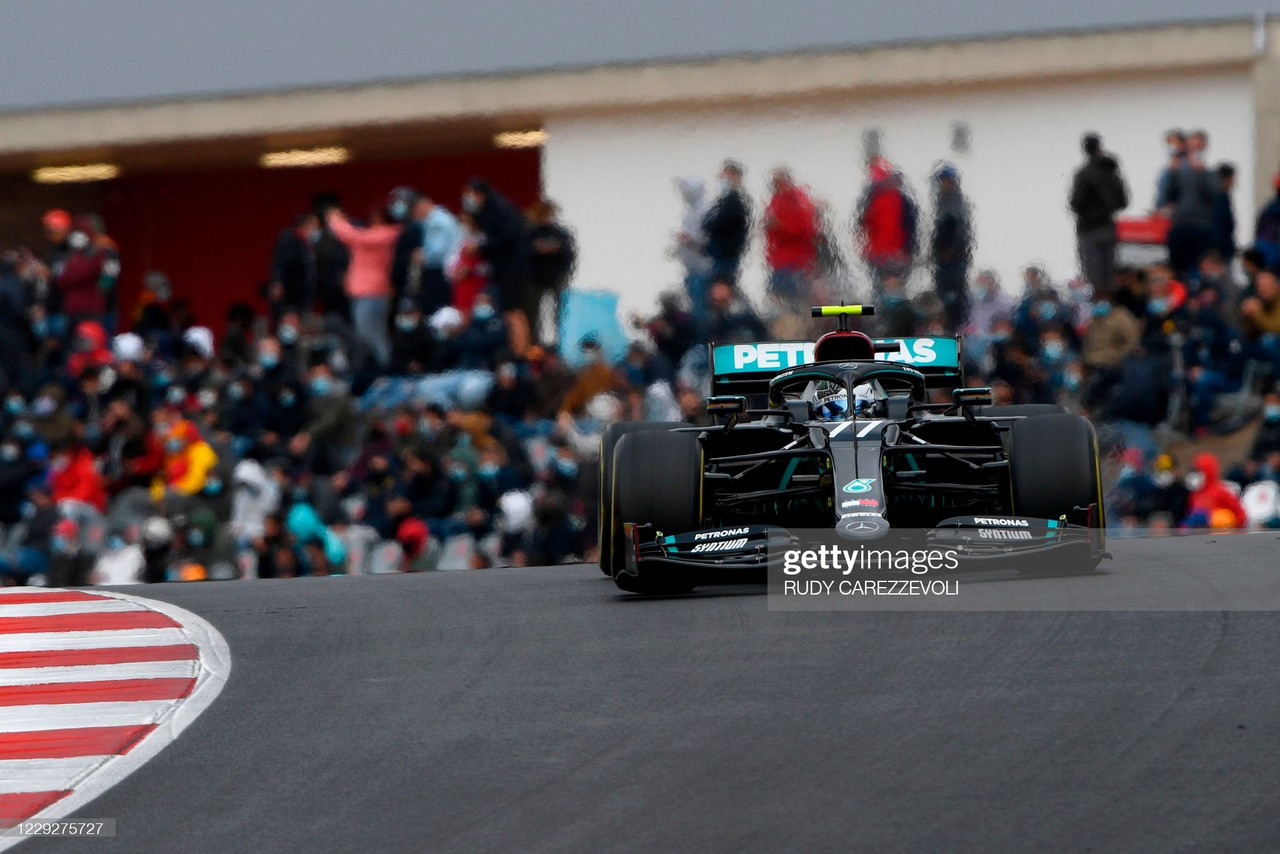 The Portuguese Grand Prix returns to the calendar last year, for the first time in 24 years, after the FIA was forced to makeshift a 17-race calendar due to the impact of the COVD-19 pandemic.
It has once again filled in the vacant slot for the 2021 calendar, as the battle between Max Verstappen and Lewis Hamilton continues.
After Hamilton took the victory in the season opener in Bahrain, it was up to Verstappen to make a statement in Imola, and he certainly did.
The Dutchman stormed to victory in a wet Emilia Romagna Grand Prix despite starting third on the grid. He got an excellent start to get past his teammate, Sergio Perez, before making slight contact with Hamilton at turn one as he took the lead.
Verstappen never looked back and was in complete control in Italy, while Valtteri Bottas and George Russell got into a small confrontation on TV after the pair were involved in a high-speed collision into turn one.
That forced the red flags out on lap 30, and at that time, Hamilton had dropped down to ninth after losing temperature in his newly-placed medium set tires and went into the gravel.
However, that didn't hamper the seven-time World Champion, as he made up seven places after the restart and finished second, taking the fastest lap, to take a one-point advantage over Verstappen in the drivers' standings.
Lando Norris rounded off the podium in third to record his only-ever second podium finish in F1 after having a fantastic weekend in Imola.
Hamilton vs Verstappen – Pt 3
We all wanted, and now we're getting it.
Based on the opening two races of the season, Red Bull has certainly closed the gap on Mercedes and, in some cases, looks slightly faster than the eight-time constructor world champions. Now, we head into the Portuguese GP with one race victory each, but most eyes will be on whether Verstappen and Red Bull can maintain that slight advantage over the 'Silver Arrows'.
Although Hamilton was able to fight through the pack in Imola, his teammate endured a very mixed weekend in Italy two weeks ago. The Finn topped both Friday practice sessions and looked particularly strong in Saturday's morning session, however, Bottas could only go eighth fastest overall.
Things didn't get much better on Sunday. At the beginning of the race, Bottas fell down two places into tenth, struggling to perform any overtakes despite being in supposedly one of the fastest cars on the grid. Then on lap 30, Russell (in a Williams!) had DRS and tried to overtake the Finn before the two came together.
The pressure was building on Bottas at the end of the 2020 season after some poor performances. Now, the start to 2021 campaign not being much better, you would imagine another disappointing weekend in Portugal could intensify rumors about his future at Mercedes.
What happened to Aston Martin?
Plenty of excitement was building in pre-season as Aston Martin, re-branded from Racing Point, returned to the F1 grid for the first time in 60 years. After a strong 2020 season, many imagined that they could take one more step forward and possibly challenge Red Bull and Mercedes.
However, the team has completely fallen down the pecking order and, at this moment in time, looks slower than McLaren, Ferrari, and AlphaTauri.
So, Portugal could be an influential weekend to regain some confidence in that paddock and record a positive result, scoring only five points so far.
McLaren is currently looking favorites for the 'best of the rest' title as Norris stormed to his second podium finish in Imola, with Daniel Ricciardo in sixth.
Ferrari continued to look strong throughout the weekend at their home Grand Prix, finishing fourth and fifth respectively at the Imola GP, and will be keen to close that gap on McLaren, who currently leads by 17 points.
Quick Overview of Algarve Circuit
Driver's will complete a total of 66 laps around the 4.653km track, with 15 corners in total, nine to the right and six to the left.
The first sector starts on the long straight into the first corner through to turn 4, before sector 2 consists of seven corners, including the Craig Jones corner, named after the former World Supersport rider who was killed in a motorcycle crash at Brands Hatch in 2008.
Unsurprisingly, the lap record is currently held by Hamilton, who set a time of 1:18.750 at last year's Portuguese GP.
Friday 30th April 2021
FP1: 11:30am – 12:30pm
FP2: 15:00pm – 16:00pm
Saturday 1st May 2021
FP3: 12:00pm – 1:00pm
Qualifying – 15:00pm – 16:00pm
Sunday 2nd May 2021
Race start: 3:00pm