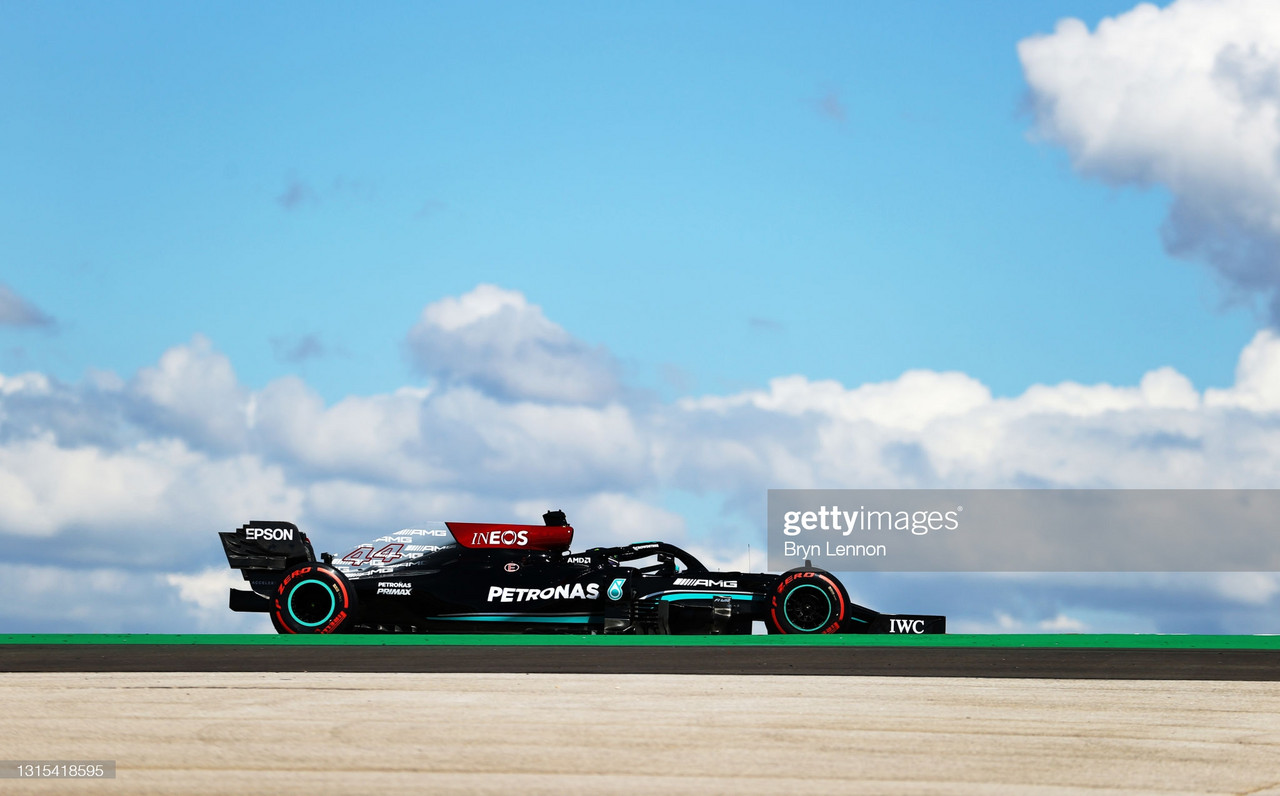 The session started 10 minutes late today as the stewards had to head out on the track and investigate a drain cover problem, which last year caused a delay in the starting of the Qualifying session.
During this session, the track was hotter than it was in the morning, with the track temperature rising to 29 degrees. The wind was a difficult factor when it came to going up the hills, which were also reconstructed this year and made steeper. Many drivers were finding it difficult to find space and also to go full throttle on the hills and successfully brake on the way down. The FIA crew also added track limits at Turn One and Turn Four.
For the second practice session of the day, Red Bull upgraded Sergio Perez's car with a new floor. The Mexican finished the session in tenth place despite the refurbishment of the car. The tires could have well been a factor in Perez's slow pace, as many drivers in the paddock were complaining about the limited tire selection that Pirelli had offered, considering a track like Portimao.
His teammate, Max Verstappen encountered a brake problem during the first 10 minutes of the practice session. It seemed that the brake paddle was failing as the Dutchman was pressing it. The Red Bull mechanics investigated the matter immediately in the pits and checked whether it was a brake-wire failure or just a software issue. Luckily there was no big problem for Verstappen as he returned to the track to top the table with a time of 1.20.322.
While talking to Sky Sports, Christian Horner commented on how "the cars are behaving pretty decently" and so the team hopes for a good weekend for both drivers in Portugal.
It seems to be going great for Ferrari this year at Portimao, as both drivers finished in the top 10 and also recorded some fast times during practice.
Carlos Sainz seems to be getting more comfortable in his new Ferrari after he finished the session fourth with a time of 1.20.197. Throughout the session, he was battling it out with Verstappen for the fastest time, but the Dutchman's Red Bull proved to be faster.
His teammate Charles Leclerc also had a decent afternoon despite finishing seventh. Testing out the soft tire compound didn't leave him much time to go on a flying lap, and so finished off below both Alpines.
After not having a strong start to the season, both Alpines managed to have a great session with good pace. F1 Legend Fernando Alonso ended up in fifth place while his French teammate Esteban Ocon finished just below being only a few milliseconds slower.
Last year, Ferrari had a nightmare of a season and were prepared to have a slow comeback this year. They are doing much better than they expected and so this pace can see them secure a great position on the grid for Sunday, but Alpine is on their tails and are good competition to test Ferrari.
McLaren and Aston Martin Struggling
Everyone expected more out of these two names but it seems that today they could not get a fast pace.
After having a smooth pre-season testing session, McLaren was expected to be one of the main competitors this season, and in fact, young driver Lando Norris managed to secure a podium during the Imola GP. Today though he only managed to finish in 12th while having a time deleted due to track limits in the last 10 minutes. His teammate Daniel Ricciardo on the other hand managed to finish off in eighth, but more is expected of the Australian and his team.
Meanwhile, after signing with Aston Martin, Lance Stroll and Sebastian Vettel were set to be on top of the times in the table but they are also struggling. The Canadian finished off the session in ninth while his teammate Vettel only managed to finish in 15th place.
The German had a difficult season with Ferrari last year, and better performances were expected of him after he completed the move to Aston Martin. The four-time World Champion has never driven a Mercedes' engine during his time in Formula One, so it could be one of the factors that are affecting his performance. The 33-year has this season and two more to go with Aston Martin, so it's surely not because his time with Formula One is coming to an end.