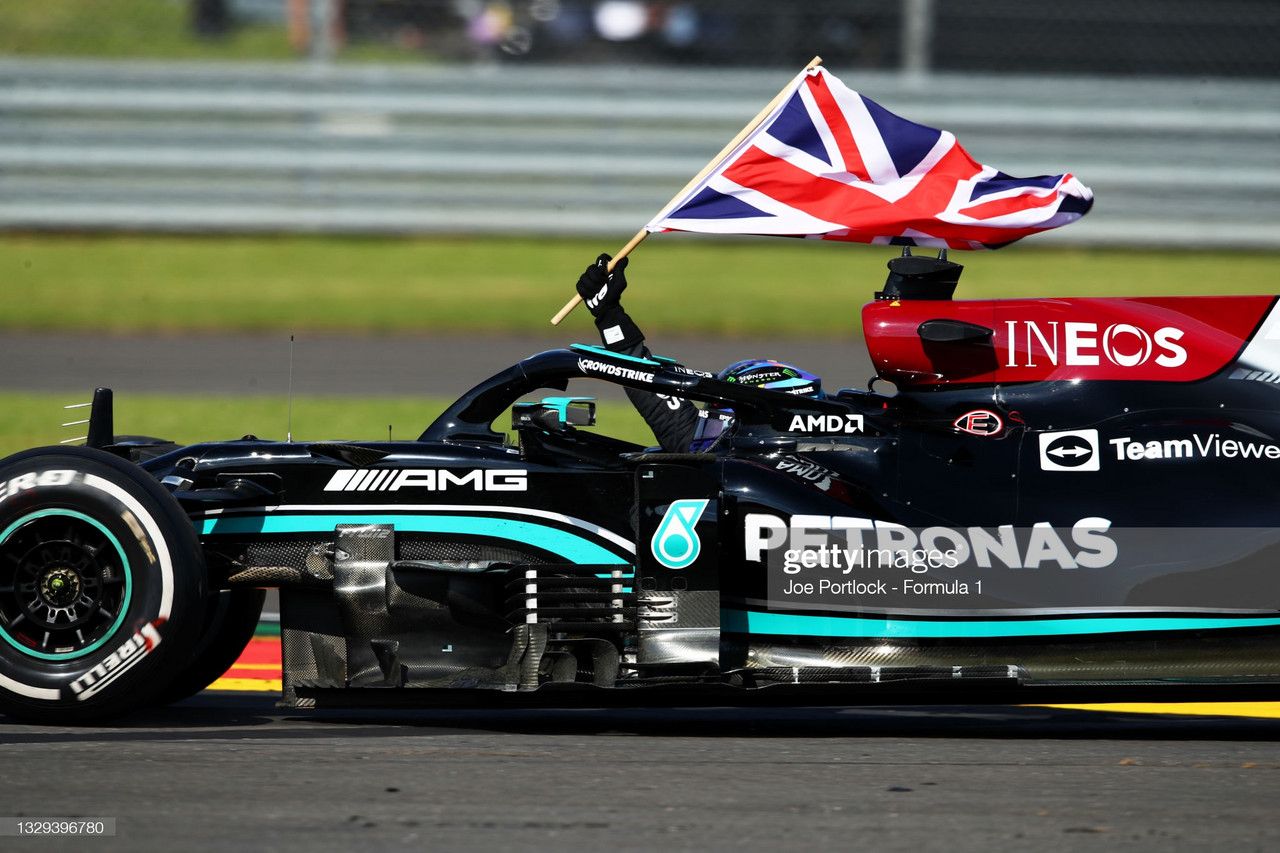 Formula One returned to its original home of Silverstone for the 2021 British Grand Prix. And what a race it was. Big crashes, big controversy, big final lap drama. It had all the makings of a classic. And that's not even mentioning the brand-new race format.
So, without further delay, let's dive straight into the five biggest talking points from the weekend…
Sprint Qualifying is OK
All anyone could talk about going into Silverstone was the Sprint Qualifying. The sport is trialing a new race format at three Grand Prix in 2021, to see if it will provide a competitive shake-up. You can read more about how the format works here but was it a success in its first outing?
Well, reception to it has been tepid at best, with m reserving judgement until it is seen again later in the season. It is widely speculated that the Italian Grand Prix at Monza will be the venue for the second trial. One major upside of Sprint Qualifying, is that fans get to witness another race in the place of an otherwise boring practice session. There have long been calls to have less practice on a race weekend and moving standard qualifying to Friday means live supporters get more bang for their buck over the whole weekend.
On the downside, a race to determine the main grid seemingly undermines the point of qualifying, something Aston Martin's Sebastian Vettel was keen to point out. Furthermore, it takes away the fun of seeing drivers making massive gains at the start of the main race. This was evident when Fernando Alonso drove the wheels off his Alpine to move up from P11 to P7 in the Sprint Qualifying. A remarkable feat of course, but one that would have made more of an impact in the main race.
It would seem that for now, the jury is out on Sprint Qualifying.
The BIG incident
The incident that will be talked about for the rest of the season, if not beyond, the collision between Sir Lewis Hamilton and Max Verstappen is undoubtedly the most dramatic moment yet in this roller-coaster of a season.
After sparring on the opening few corners, the two title rivals found themselves near neck-and-neck at the right-hander Copse, Sir Hamilton on the inside, optimistically looking for the overtake. With neither willing to give up the good fight, the two collided and Verstappen was sent spinning into the barriers, suffering an impact of 51G.
Sir Hamilton kept going and, after much debate and deliberation, was handed a 10-second time penalty. This decision is still being debated. Some believe the punishment too lenient, none more so than Red Bull chiefs Christian Horner and Helmut Marko, the latter even going as far as to suggest a race ban for Sir Hamilton.
But some take the view that the collision was just a racing incident. Both drivers were racing hard and were unfortunate to make contact. Sure, Sir Hamilton could have pulled out of the move, but equally, Verstappen should have left more room for the Mercedes.
Predictably, both drivers expressed different opinions on their incident. Verstappen tweeted:
"Very disappointed with being taken out like this. The penalty given does not help us and doesn't do justice to the dangerous move Lewis made on track. Watching the celebrations while still in hospital is disrespectful and unsportsmanlike behavior."
Sir Hamilton meanwhile commentated that:
"I will always race hard but always fairly."
The ramifications of what happened are seismic. Verstappen's lead in the championship has been cut to just eight points and Red Bull's to just four. But bigger than that, overnight Sir Hamilton has been the subject of torrid, racist abuse on social media.
Just a week after players from the England Football Team were abused following their Euro 2020 Final loss, this is sadly not unexpected. The reaction from the F1 community in the wake of this news has been supportive of Sir Hamilton, but more must be done to tackle the issue of racism, both online and beyond.
Leclerc (Nearly) Does The Impossible
While it was exciting to see Sir Hamilton fightback from his penalty to claim victory, one can't help but feel sorry for Charles Leclerc. The last three races have been nothing short of disastrous for Ferrari so a great showing at Silverstone was much needed for the Monegasque driver. And boy did he deliver.
Starting P4 on the grid, he made quick work of Valtteri Bottas, before jumping into the lead following Verstappen and Sir Hamilton's collision. Despite reporting power unit problems all throughout the race, Leclerc held onto the lead until the very end when he was pipped to the chequered flag by a resurgent Sir Hamilton.
While he missed the opportunity to become the first non-Mercedes/Red Bull driver to win in 2021, this was still Leclerc's first podium of the year and a springboard to greater things.
British Drivers Impress Home Crowd
But it wasn't just Sir Hamilton who the home crowd was cheering for. The two other Brits on the grid also had impressive weekends.
Lando Norris is the only driver to have scored points in all 10 Grand Prix this season and kept up that streak with another brilliant drive to P4 this weekend. The McLaren driver ought to have finished on the podium, but a slow stop allowed Bottas to jump him. Still, Norris can take heart in reclaiming third in the driver standings, especially after he admitted to still being shaken after getting mugged outside Wembley following the Euro 2020 final last week.
George Russell's long quest to score points in a Williams did not come to a triumphant end at Silverstone. 'Mr Saturday' strutted his stuff on Friday evening, qualifying an astonishing P8 and only dropping one place in Saturday's Sprint Race. This should have seen him in contention for a points finish on Sunday.
Alas, he was handed a harsh three-place grid penalty for coming together with Ferrari's Carlos Sainz Jr. on the opening lap of the sprint. P12 is where Russell would eventually finish, and while that will be a disappointing result for the young Brit, he has still proven his quality and remains very much in contention for the Mercedes seat next year.
F1 Needs Fans
The Covid-19 Pandemic has wreaked havoc upon the F1 world over the last 16 months, with almost all races being held behind closed doors. Even those that have been able to host some spectators have been far from full capacity.
So it was beyond delightful to see over 300,000 passionate fans lining the Silverstone circuit to watch Sir Hamilton win a record-extending eighth British Grand Prix. The atmosphere at any Grand Prix is incredible but at Silverstone, it really is quite special. The roar of the crowd as Hamilton took the lead at the very end was deafening and proof that Formula One, like any sport, is nothing without its fans.