Takaaki Nakagami (IDEMITSU Honda Team Asia) continues his confident run after his win at the TT circuit Assen last round, to take the pole position for the Moto 2 race tomorrow at the Sachsenring, Germany. As Alex Rins (Paginas Amarillas HP 40) and Johann Zarco (Ajo Motorsport), put in their best efforts to keep up with the Japanese rider, he was untouchable as he pushed himself onto the front spot of the grid.
The Moto2 paddock looked happy about the sunshine in FP3
It was a bright, and most importantly, a dry free practice three session this morning. Riders took to the track to make the most of these conditions ready for a sunny qualifying later on. It was clear right from the start that the riders were really enjoying the weather, as straight away they were improving on their times and beat yesterday's top time from Nakagami.
Yesterday's quickest time was beaten in only a few minutes in practice
It was Simone Corsi (Speed Up Racing) who was first to put in a quick time, and was the first rider at the top of the time sheets. He beat Nakagami's time from yesterday with 1:25.152, but this was also soon beaten.
Thomas Luthi (Garage Plus Interwetten) was the first rider to take us into the 1:24's with a time of 1:24.845 putting him to the top of the timesheets. German rider, Jonas Folger (Dynavolt Intact GP), and Nakagami were next to reach into the 1:24's putting them in second and third.
Luthi's time was unbeaten as he stayed at the top, and he was even unable to beat his own time. Corsi and Folger challenged his time but only managed to sit in third and fifth, but have shown to have good a pace.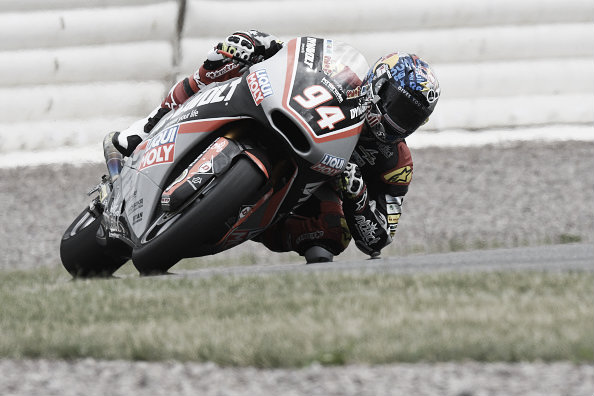 Championship contenders struggled to keep up during practice
Birthday boy, Zarco, improved on his time from yesterday as he reached the 1:24's. Although he was improving, he couldn't seem to keep up with Luthi and Nakagami. He finished in sixth place with 1:24.999, but was the last rider to reach the 1:24's with the riders in seventh place and below, only reaching 1:25 or higher.
Rins was unheard of at the start of the session, but with 22 minutes to go he suddenly appeared in eighth place with 1:25.199, getting closer to reaching the 1:24's. Towards the end of the session with just four minutes to go, he began to put in some faster laps attempting to reach the top. His speed wasn't enough compared to Luthi and Nakagami, as he was only able to end on 1:25.003 in seventh, just out of the 1:24 zone.
Sam Lowes (Federal Oil Gresini Moto2) was hiding down the bottom of the time sheets in 12th place for the majority of the session, sitting 0.7 off of the top time. It seemed he was running the harder tyre, and did a whopping 23 laps meaning he could have perhaps been working on consistency, rather than a quicker time. He ended in 14th place with a time of 1:25.519.
The championship leaders learnt from their practice run when it came to qualifying
The sun stayed out for the start of qualifying, allowing riders to use what they had learnt from the morning. Rins must have gained confidence from his practice session, as he pulled out a 1:24 right at the start. His time of 1:24.641 put him in provisional pole, ahead of Nakagami who was in second with 1:24.743.
With the top 9, at this point, now all reaching into the 1:24's, it was clear that the riders were improving, and the end result was seeming unpredictable. Although they had improved, it was still a quiet start to the session as there wasn't much swapping around of positions.
But then we saw the reigning world champion, Zarco, blitz a lap replacing Rins for the provisional pole position. He put in a time of 1:24.514 which was a huge improvement from this morning. Nakagami also showed he is still getting stronger as he put himself back in second place, ahead of Rins, with 1:24.570 only 0.056 behind the leader. But then just after the Japanese put in another fast lap, it was unfortunately cancelled after exceeding track limits at turn 12.
Lowes and Luthi struggled, whilst Marquez and Cortese stepped up
As Rins continued to try and put in continuous laps, the German rider Sandro Cortese (Dynavolt Intact GP), continued his fantastic pace delighting his home crowd. He put himself sixth on the grid with a time of 1:24.754. It was disappointing for Folger as he was unable to continue his run of appearing in the top ten, and finished the day 13th on the grid. Alex Marquez (Estrella Galicia 0,0 Marc VDS) also had an impressive session, sitting in seventh throughout the majority of the afternoon, but ending in eighth with 1:24.942. After renewing his contract this weekend, he will be wanting to prove he is worthy of the ride.
Lowes was continuing to struggle on the track, after failing to appear in the top 10 this morning. He suffered a fall at turn three towards to start of the session, which put him off the map for some time throughout the qualifying. When he did appear, he was still unable to keep up with his championship rivals and had to settle for 10th on the grid. Luthi also seemed to be having issues after a very quiet qualifying session, and eventually ended up in 12th.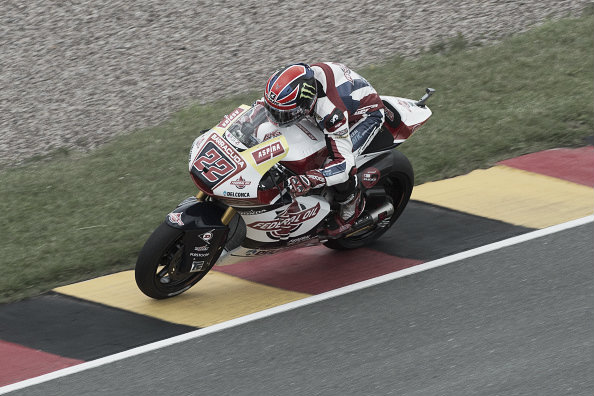 Rins had nothing left, as Zarco was narrowly beaten by Nakagami
Just as the final minute was ticking down on the clock, and the chequered flag was being prepared, we saw Nakagami on a fast lap. As Zarco thought he had perhaps done enough for the pole, he could only watch on from his bike as Nakagami put in a time of 1:24.274 sending him straight to the top.
Rins also had a go at improving on his time, but after getting caught up in traffic and riding through the pit lane to avoid this, it interrupted his performance and he had to settle for third on the grid. He finished the session with a time of 1:24.641, 0.367 off of the leading time.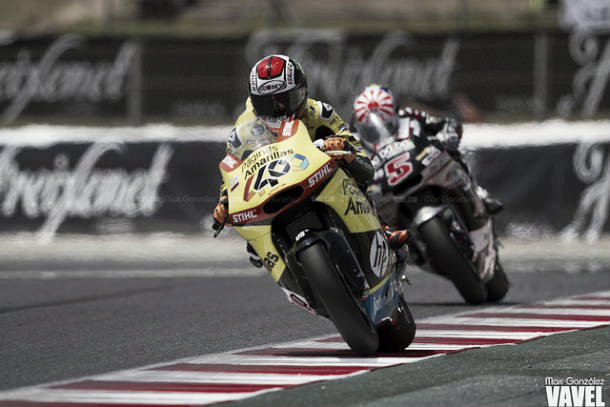 Danny Kent (Leopard Racing) will no longer take part this weekend due to a broken rib. This occurred during a go karting event throughout the week, and although he took part yesterday, it has been decided he cannot continue. This was after nearly high-siding this morning, which caused him to be in even more pain, sending him to the medical centre.
With an incredibly strong front row, and the rain set to move in tomorrow, it will be interesting to see how the race pans out. With the two joint leaders of the championship on the front row, let's hope for an exciting battle between them.
Moto 2 qualifying results

| | | | | | |
| --- | --- | --- | --- | --- | --- |
| Position | Rider | Nationality | Time | Team | Bike |
| 1 | 30 Takakki Nakagami | JPN | 1:24.274 | IDEMITSU Honda Team Asia | Kalex |
| 2 | 5 Johann Zarco | FRA | 1:24.514 | Ajo Motorsport | Kalex |
| 3 | 40 Alex Rins | SPA | 1:24.641 | Paginas Amarillas HP 40 | Kalex |
| 4 | 24 Simone Corsi | ITA | 1:24.680 | Speed Up Racing | Speed Up |
| 5 | 21 Franco Morbidelli | ITA | 1:24.731 | Estrella Galicia 0,0 Marc VDS | Kalex |
| 6 | 11 Sandro Cortese | GER | 1:24.754 | Dynavolt Intact GP | Kalex |
| 7 | 7 Lorenzo Baldassarri | ITA | 1:24.845 | Forward Team | Kalex |
| 8 | 73 Alex Marquez | SPA | 1:24.942 | Estrella Galicia 0,0 Marc VDS | Kalex |
| 9 | 23 Marcel Schrotter | GER | 1:24.964 | AGR Team | Kalex |
| 10 | 22 Sam Lowes | GBR | 1:24.976 | Federal Oil Gresini Moto2 | Kalex |
| 11 | 55 Hafizh Syahrin | MAL | 1:25.004 | Petronas Raceline Malaysia | Kalex |
| 12 | 12 Thomas Luthi | SWI | 1:25.030 | Garage Plus Interwetten | Kalex |
| 13 | 94 Jonas Folger | GER | 1:25.053 | Dynavolt Intact GP | Kalex |
| 14 | 49 Axel Pons | SPA | 1:25.056 | AGR Team | Kalex |
| 15 | 10 Luca Marini | ITA | 1:25.089 | Forward Team | Kalex |
| 16 | 44 Miguel Oliveira | POR | 1:25.143 | Leopard Racing | Kalex |
| 17 | 60 Julian Simon | SPA | 1:25.182 | QMMF Racing Team | Speed Up |
| 18 | 19 Xavier Simeon | BEL | 1:25.236 | QMMF Racing Team | Speed Up |
| 19 | 2 Jesko Raffin | SWI | 1:25.412 | Sports-Millions-EMWE-SAG | Kalex |
| 20 | 54 Mattia Pasini | ITA | 1:25.481 | Italtrans Racing Team | Kalex |
| 21 | 81 Remy Gardner | AUS | 1:25.871 | Tasca Racing Scuderia Moto2 | Kalex |
| 22 | 97 Xavi Vierge | SPA | 1:25.876 | Tech 3 Racing | Tech 3 |
| 23 | 77 Dominique Aegerter | SWI | 1:25.945 | CarXpert Interwetten | Kalex |
| 24 | 32 Isaac Vinales | SPA | 1:26.101 | Tech 3 Racing | Tech 3 |
| 25 | 14 Ratthapark Wilairot | THA | 1:26.143 | IDEMITSU Honda Team Asia | Kalex |
| 26 | 70 Robin Mulhauser | SWI | 1:26.378 | CarXpert Interwetten | Kalex |
| 27 | 57 Edgar Pons | SPA | 1:26.707 | Paginis AmarillasHP 40 | Kalex |