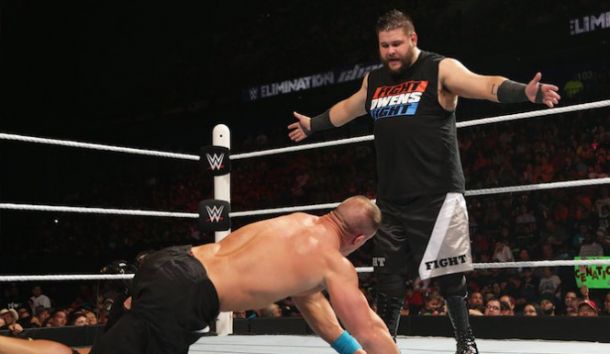 NXT Champion Kevin Owens has been wreaking havoc ever since coming to WWE. Owens attacked NXT Champion Sami Zayn his first night in the company, and then defeated Zayn for the NXT title. Owens followed that up with beating Zayn in the rematch as well. As if that wasn't impressive enough, Owens recently beat John Cena at Elimination Chamber. Owens will face Cena this Sunday at Money in the Bank in the rematch of the century. When all that is said and done, what is next for the monster of a NXT Champion, Kevin Owens?
We already know that Owens is going to be a top guy in this company. But what will the company have planned for him after his rivalry with Cena is over.
It would makes sense for Owens to drops the NXT Championship at the WWE Network live show from Tokyo Japan to Finn Bálor. Since Bálor is already a mega star in Japan and Owens just signed a main roster contract with the WWE. It might be time to give Bálor the spotlight in NXT and give him the NXT Championship.
Another Option for the WWE is to let Samoa Joe (who just signed with the WWE) take the title from Owens. Over the past few weeks on NXT Joe has been stopping Owens from hurting people like Crowe and Zayn. So making a Joe vs. Owens match for the NXT Championship would be a great option since Joe is already one of the biggest stars in wrestling history. Joe is most well known from competing in Ring Of Honor and Total Nonstop Action. Joe was a main event star in both of the companies for many, many years. Having Joe win the belt could bring added credibility to the NXT title.
Owens is not going to be in NXT long since he is already making a name for himself in the main roster. Expect Owens to be strictly on the main roster right after he loses his NXT Championship. Maybe he goes for a rematch clause but it is most likely that he will be strictly on the main roster in the next two to three months.
WWE has a couple of directions that they can take in this match. They can have Cena win the rematch cleanly which might not go well with the hardcore wrestling fans. Another option is have Owens beat Cena cleanly like he did at the Elimination Chamber or have Cena win by DQ.
After his feud with Cena is all over expect the company to keep booking him in high profile rivalries. Since the company thinks highly of him, Owen could be on his way to becoming the Brock Lesnar of the future (think about it, he is being booked in the same manner as Lesnar). Owens is an animal; he is extremely ruthless. Much like Lesnar, Owens is also a prizefighter; he does not fight for free he is fights for money.
Potential feuds for Owens could feature Roman Reigns, Dean Ambrose, or Randy Orton. The best option out of all of them is most likely is Roman Reigns. Roman is one of the young rising stars in the WWE so a feud with Owens would be interesting, since Reigns is a powerhouse and he never backs down from a fight.
No matter what the WWE chooses, Owens would do great in any rivalry. As long as the company books him right. Give Owens a few more months of competing on the main roster then maybe give him a minor title like the United States Championship. The sky is the limit for someone the caliber of Owens. So it will be interesting what the WWE has in store for him. One thing we know for sure is Owens is an absolute monster.