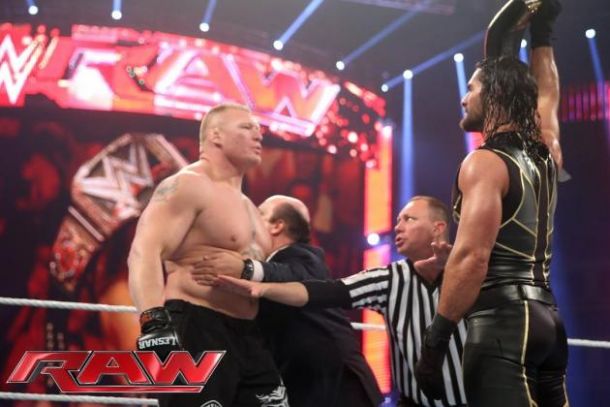 Show kicked off with one of the greatest managers in wrestling history, Paul Heyman entering the ring with his client Brock Lesnar. He was talking about how Brock Lesnar does not have respect for Seth Rollins great mic work from Heyman in this promo. He then says that Brock Lesnar will not go anywhere until he gets his hands on Seth Rollins before the end of the night, and he was going to take him to Suplex City. Heyman says that Lesnar is going to do things to Rollins, which he did not do to people like John Cena and Roman Reigns when he faced them, he does not respect Rollins. A lot of times during this segment the crowd break into a Suplex city chants, showing how popular Lesnar is right now with the crowd.
They show HHH in his office talking on the phone, when Seth Rollins and J and J Security walk in. HHH talked to Rollins about what he is going to do about Lesnar tonight. Rollins mentions that Kane is in Hawaii, and Jamie Noble still has broken ribs from a couple weeks ago from an attack from Lesnar. Rollins asks HHH for advice he simply told Rollins to defeat Lesnar at any cost at Battleground, HHH tells Rollins to stay away from Lesnar tonight to keep safe. Rollins gets the idea of calling out Lesnar to do what he did to him two weeks ago.
Rusev comes out with what looks like his new manager or girlfriend Summer Rae, he talks about how great Summer is and how she apologize on Smackdown. Rusev said he is going to apologize, the crowd breaks into a we want Lana chants he apologizes for everything that he had to deal with Lana. He blames her for everything that happened to him during the past year. Summer then gets on the mic telling the crowd that they should give him respect.
That brings out Dolph Ziggler and Lana he talks about every opportunity that he has got in this WWE is all because of Lana. Ziggler and Lana locked lips that made Rusev mad, Lana and Summer Rae went face to face with each other. Leading to Rusev hitting Ziggler with his crutch, it looks like Rusev ankle has healed and is at 100 percent. Summer Rae then kicks Lana in the back, Rusev goes back to assaulting Ziggler with his walking boot. He promised for weeks that he was going to make Ziggler pay, for everything that has happened during the past month.
Seth Rollins is shown coming out with J and J Security they all come out with axe handles. He talks about how he is future of the WWE; how he is the he has overcome everything ever since becoming champion. He shows a video of how him and Kane and J and J security assaulted Lesnar two weeks ago, he then talks about how he destroyed the shield, what he did at WrestleMania. Cashing in his Money in the Bank Contract during Roman Reigns vs. Brock Lesnar making it a triple threat winning the WWE Championship.
Brock Lesnar then come out with Paul Heyman walking down the ring, backing up and going towards J and J Security new car. That Rollins has got for them for all of the hard work that they have done for him he then brings out an Axe and stats destroying the new car. Busting up the windows, taking out the car doors, throwing it, destroying almost every part of the car. Sending a message to Rollins on what he plans to do to him at Battleground. J and J come out to save the car only to get hurt by Lesnar breaking one of the arms, and throwing the other one on the front window of the car. He then goes into the ring chasing Rollins. Seth was lucky that he ran out of the arena before Lesnar could catch him. He left the title in the ring while Lesnar picks up the title and poses with it.
John Cena then comes out issuing his US Title open challenge, they show a replay of Kevin Owens losing his NXT Championship at Beast in the East to Finn Bálor, He talks about how Owens lost his title at the show, that brings out Kevin Owens who looks mad still from this past weekend. He says that he sick and tired of Cena open challenge, he then says he wants does not want to wait till Battleground for his match. Brings out Cesaro he talks about how close he was to beating Cena last week, before Owens attacked him he then goes to accept his John Cena challenge.
Overall this was a great show really loved the segment that they put on; the matches were pretty good as well. The main event between Cena and Cesaro was one of the best matches that I have ever seen on Raw. It was a great long back and forth match between the both of them with Cena winning. Lesnar being there doing what he did made the fans happy.