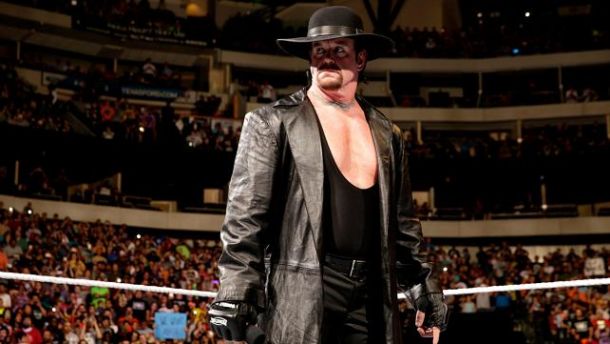 Six weeks until Hell in a Cell, Raw started off with WWE Hall of Famer, Stone Cold Steve Austin. Austin cut a promo and advertised his podcast with Brock Lesnar immediately following Raw before introducing the Undertaker...After a brief message from Undertaker, Lesnar interrupted (with of course his advocate, and the greatest philosopher of this generation: Paul Heyman). Heyman would (like always), cut an outstanding promo before Taker would interrupt, and Undertaker says he has nothing to lose. Undertaker invites Brock Lesnar to get in the ring. Brock Lesnar speed walks to the ring, before trolling Undertaker by walking back up the stage as the bell tolled.
Review: 8/10
After this, we went from great to meh. The WWE decided to place John Cena in a six-man tag that we as fans have already seen, along with the Dudley's against the New Day, instead of the open challenge. The ever entertaining New Day cut another magnificent promo running down the city of Dallas.
In a sub-par match up New Day picked up the victory and momentum heading into this Sunday. Cena AA'd Xavier Woods before ultimately helping the Dudleys put him through a table.
Review: 5/10
Raw comes back to commercial with the announcement that Randy Orton hasn't been seen. There is speculation that the Wyatts are behind his disappearance. We go to ringside to Team Bella. The Boss Sasha Banks and Naomi would take on Nikki and Alicia Fox. Nikki would then pin Naomi in an okay match... Sasha's still unpinned.
Review: 6/10
We come back from commercial with the Heartbreak Kid, Shawn Michaels. Michaels discusses the first ever Hell in a Cell, which he competed in with none over than the Undertaker (Badd Blood 1997). Rollins interrupts the Hall of Famer, claiming Michaels was told to start hour two introducing Rollins. Michaels comes back with using the fact he never followed instructions. After talking back in forth about the being the new Shawn Michaels, Rollins states his Mania moment was better than any HBK moment. Seth then throws a fit they wouldn't hit his music. Shawn Michaels announces that Rollins will face Ryback, and they hit HBK's music.
In another OK match, Rollins would outsmart Ryback and beat him with a pedigree.
Review: 6/10
What's next? Yet another six-man tag team match. This match would be between Cesaro, Dolph Ziggler, and Neville against Rusev, Sheamus and King Barrett. In a surprisingly enjoyable match, Sheamus brogue kick's Ziggler which allowed Barrett pinned him.
Rate: 7/10
We kicked off the first hour with Steve Austin, second hour with Shawn Michaels, and third with the limousine ridin', jet flyin', kiss stealin', wheelin' dealin' son of a gun, Ric Flair. Flair talks about the history in Texas, but promotes WrestleMania. Flair lets us know that Roman Reigns will be Ambrose's partner tonight. Roman Reigns makes his way to the ring. The lights went out and The Wyatt Family appeared. We see Strowman, Wyatt, and Erick Rowan? Reigns does a little sit in and hopes Wyatt comes in. Wyatt comes in and they sit face to face. Reigns decks Wyatt, then the Wyatt Family tried to attack but Ambrose comes out. But where's Luke Harper?
Rollins then says backstage if Ambrose and Reigns needs a partner, they've got one, after being coaxed into it by HBK.
Rate: 7.5/10
Next is Brie Bella - Charlotte. In a lackluster match, Brie submits to the figure eight.
Rate: 3/10
Next up is the greatest thing on cable TV today: Kevin Owens. Problem is he is up against Mark Henry. In a mediocre match, Kevin Owens reached new feats of awesomeness by pop-up powerbombing Mark Henry. After the match Ryback comes out, as Owens would retreat. Mark Henry would throw him back in as Ryback would powerbomb him.
Review: 6/10
In an interesting match, a very non-Shield, Ambrose, Rollins, Reigns team took on the Wyatts, without Harper though. Ambrose went for the tag and Rollins faked an injury and dropped off the apron. Strowman locks in the bear hug on Reigns and Ambrose destroys him with a kendo stick. After the match Strowman caught Ambrose in a spinebuster off of the suicide dive, as Reigns soars and takes out the Wyatt's. Ambrose and Reigns stands tall as Raw goes off air.
Review: 8/10, not too shabby of a match.
Overall review: 7/10