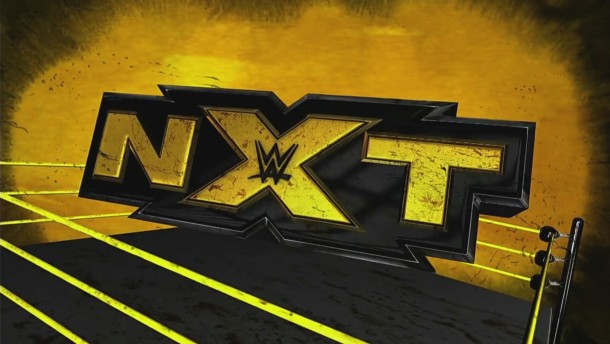 NXT Championship Contract Signing
NXT was kicked off with Michael Cole who quickly informed fans that he was in charge for the week as an 'interim' GM whilst William Regal recovers from successful surgery, and Cole was quickly hit with a barrage of boo's and jeers from the Full Sail crowd.
He announced that the nights main event, a match that Regal had refused to make but Cole claimed that WWE corporate wanted it to take place, Eva Marie vs Bayley for the Women's Championship was set, with the corporate storyline which would play out all night long.
The show itself started with a contract signing for the upcoming NXT Championship match, which will be the main event at Takeover:London between Finn Balor and Samoa Joe, and the champ was the first out.
Balor kept his message plain and simple, claiming he knows friends in the industry are few and far between following Joe's actions and promising to defeat him and retain the title, but it would be the actions of the challenger which would steal this opening segment.
Joe's music hit and he entered the ring, signed the contract and left. That was it, as simple as that, without hesitation or even a glimpse at his opponent, the saying 'actions speak louder than words' rang true here as Joe's statement was heard loud and clear.
Balor finished the formalities and headed to the back only to be ambushed from behind by Joe for a brawl to begin that the referee's struggled to contain, and once again it would be the submission specialist who walked out on top, making Balor pass out via the Coquina Clutch.
Analysis: It was a very different way to start a show, as WWE fans have come to expect contract signings in the final segments rather than to open, but it was a good change of pace and the contract signing itself felt fresh and unique due to Joe's actions which was good to see.
NXT Tag Team Title Match- Dash&Dawson (c) def. The Vaudevillians
The first match of the night came in the form of the first championship match as Dash Wilder and Scott Dawson defended their NXT Tag Team Championships against the men they defeated for the belts, The Vaudevillians.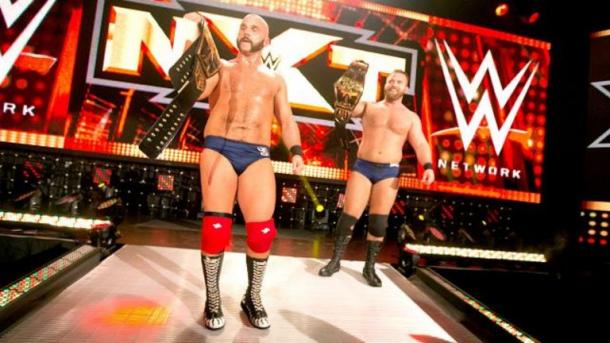 The champs retained. Source: SkySports.com
Dawson and Wilder would once again attempt to isolate a body part as they've done in previous match ups, this time focusing on Aiden English's arm as a way of weakening their opponents, but unlike when they successfully focused on his leg to win the title's this time it was less effective.
Simon Gotch managed to prevent that this time around and another solid match was put together by two of the best tag teams that NXT has to offer, but it would be the champions who retained after a quick tag allowed them to hit their devastating Shatter Machine for the victory.
Analysis: Whilst the match was not as good as their original title match, what the teams did with the time given was impressive and Dawson&Dash continue to impress with their brilliant teamwork and chemistry combining with their hard hitting style. ​
Post match saw the return of Enzo and Cass (Team SAWFT) following Cass' injury at the hands of the champions they headed to the ring for some revenge and took out the champions in dominant fashion.
Analysis: It's great to see SAWFT make their return, they are one of the most popular teams in the division and it would seem like they will be potentially heading to a title match at Takeover:London, whether or not they will finally win the big one will remain to be seen.
Backstage segment with Eva Marie
The WWE corporate storyline continued to play out backstage with Eva Marie being granted the use of Regal's office to prepare for her title match in the main event as it was bigger and corporate wanted to give her the chance to be fully ready for the title match.
Marie went on to show how she had received presents from E! and fans due to her role in Total Divas and more importantly revealed that Nia Jax was by her side.
Analysis: It was another sign of improvement from Marie who seems to be growing in confidence and ability each week, the heel role seems to be a natural fit for her and with the heat that she gets simply for being her, it's all playing into her hands.
Dana Brooke - Asuka (No Contest)
Next up we had a rematch from Takeover:Respect between Dana Brooke and Asuka, however the match never ended up taking place due to the actions of Brooke and Emma.
With Asuka already in the ring, Brooke would distract the Japanese star on the microphone whilst Emma attacked from behind, and even though Asuka put up a fight at the start, eventually the plan of the devious duo worked and Emma got the better of Asuka for the first time since she arrived.
Analysis: Even though we didn't actually get a match, the continuation of this rivalry continued and remains one of the most intriguing parts of NXT television, all three women have done a brilliant job so far, and a match between Asuka and Emma could be a potential show stealer with the talent they have.
Apollo Crews def. Jesse Sorenson
Before the match took place some exciting news was revealed for NXT fans, as a vignette revealed that former NXT Champion, Sami Zayn would be returning soon, which is fantastic news for everyone involved as Zayn is a phenomenal talent who brings plenty to the company.
As far as the match was concerned, it was a simple victory to make Crews look good as he builds towards Takeover, he dominated from start to finish before accepting Baron Corbin's challenge to a match in London.
Analysis: WWE has really invested into the match between the pair and it has a big fight feel about it, the fans in England should provide an excellent atmosphere and it's a huge moment for both guys who are desperate to prove they are the best, this author is looking forward to their match and has great expectations.
NXT Women's Championship Match - Bayley(c) def. Eva Marie w.Nia Jax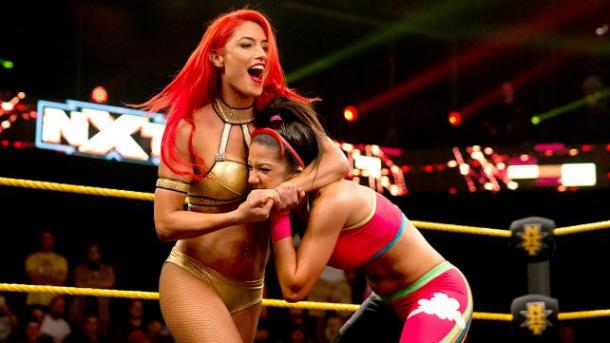 Both women worked hard to deliver. Source:www.pwpnation.com
Before the bell had rung the corporate storyline was allowed to develop again as senior official, Charles Robinson entered Full Sail and it was announced he was there to 'oversee' the match to ensure there was no controversy surrounding the finish.
The match had only taken place minutes and the champion hit a Bayley to Belly to a thunderous reception from the NXT Universe, just as it seemed to be over, Nia Jax would be involved pulling the referee out of the ring before he could hit the mat a third time.
This allowed Robinson to jump into the ring to take control of the main event, as he tended to the injured official Jax would once again be involved assaulting Bayley to allow Marie to take control.
From then on the story played out in the ring with Robinson seemingly trying to help Marie to ensure she gained the victory, with Bayley attempting offense only for Robinson to stand in front of the challenger to stop it from happening.
Both ladies worked hard which made for an entertaining match with great suspense, with the cards stacked against the champion, Marie would hit Sliced Red and it seemed like a new champion could have been crowned, until Bayley powered out at two and a half.
The Full Sail crowd were truly on the edge of their seats which is a testament to Marie and Bayley as well as the creative team for putting together a clever idea that worked to perfection.
The next twist in the tale came when Bayley pushed her challenger into Robinson taking him out, meaning that match up had no official, but the Hugster would go on to take out Jax and hit a Super Bayley to Belly from the top rope, with the original referee scrambling back to the ring to hit the three count for Bayley to retain.
Analysis: Overall a match that could have easily fallen flat given Marie's lack of in ring time worked fantastically and wouldn't have been out of place at a Takeover event given the crowd response, whilst the Authority gimmick is played out on the main roster it's fresh and new in NXT and for this situation it worked.
Huge credit should be given to Bayley who guided the rookie through the match brilliantly, showing she certainly has the ability to bring the best out of people and isn't out of place as the number one woman in NXT, but Marie gave as good as she got and put on her best performance to date, and her improvements are clear to be seen.
Following the match Jax would lay waste to the champion, ensuring she was the one left standing tall to finish the night, the potential for a match between herself and Bayley is there, whether WWE chooses that route will remain to be seen.
Score: 8.5/10
A solid show overall, it was jam packed from start to finish with plenty of action but NXT made it work and the hour flew by as normal. Takeover:London is shaping up to be a very strong card and could end up being the best Takeover yet.